Best Toilet Paper Holders of 2022 – Top Picks

A toilet paper holder, also known as a toilet paper dispenser, is an item that holds a roll of toilet paper. They come with various types, wall-mounted, suspended from the toilet tank or placed on the floor.There are so many types of toilet paper holders on the market and their quality varies. It takes a lot of time and effort to pick out a good toilet tissue holder. Take it easy! We have done this trivial matter for you. We have done a lot of research and summarized and listed the best toilet paper holder of 2022. So, check out the products mentioned below to choose the one that suits your requirements.
Nolimas Brushed Nickel Toilet Paper Holder SUS304 Stainless Steel Half Open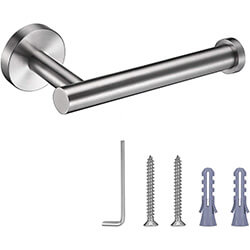 Here are our top picks for the best toilet tissue holders of 2022. The best thing about this inexpensive, durable toilet paper holder from Nolimas is that it won't fade, rust, stain, or get fingerprints. Made from stainless steel and brushed nickel, this minimalist, modern paper holder is easy to install in a variety of orientations – left or right, horizontal or vertical.
The round hook at the end of the rod prevents the toilet paper roll from slipping, another thoughtful design feature of this product. This stand comes with all the hardware you need and its screws are hidden.
YIGII Toilet Paper Holder Self Adhesive – Adhesive Toilet Roll Holder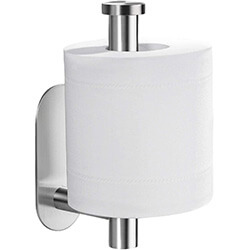 The YIGII toilet paper holder is a very durable product, completely made of stainless steel, with a beautiful appearance. The self-adhesive design makes installation very easy and can be fastened horizontally or vertically to suit a variety of preferences. Both options can easily accommodate huge toilet paper rolls.
While the finish is attractive, there are no other color options other than stainless steel. Also, it won't work with every surface in a typical bathroom, including wallpaper, concrete, and brick, but it will work with wood, ceramic, and marble.
WOWOW Bathroom Toilet Paper Holder Matte Black Bath Toilet Tissue Holder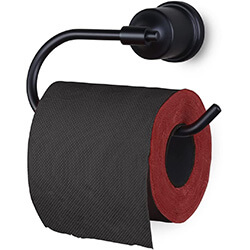 This toilet paper holder is made of food grade 304 stainless steel which is sturdy and durable. Multi-layer surface treatment process to prevent daily scratches, oxidation and corrosion. The classic matte black finish creates a simple and elegant style that complements your other bathroom accessories.
It can be used not only as a toilet paper roll holder, but also as a towel holder. It is installed with a hidden screw hole. The wall-mounted bathtub toilet tissue holder is more load-bearing, not easy to fall off the wall, and suitable for long-term use. Suitable for all smooth walls such as tiled walls, painted walls, etc.
KES Bathroom Freestanding Toilet Paper Holder Stand Modern Tissue Roll Holder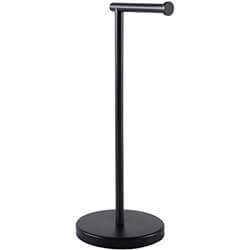 This freestanding toilet tissue holder is made of type 304 high quality stainless steel with added 18/8 chrome/nickel to prevent corrosion and rust, suitable for wet environments such as bathrooms and toilets. It fits most regular and large size rolls. The open design makes changing rolls quick and easy. A short pin at the end of the arm prevents the roll from slipping. With the heavier weight base, you can easily place the toilet tissue holder anywhere without tipping over. The perfectly smooth high-quality matte black finish resists everyday scratches, corrosion and tarnishing.
Polarduck Brushed Nickel Toilet Paper Holder, Self Adhesive Toilet Paper Roll Holder with Shelf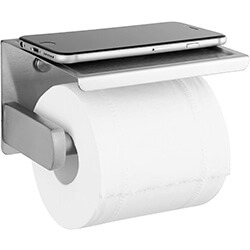 This smartly designed toilet paper holder has a straight shelf to keep different things safe. You can place mobile, air freshener, wipes, Bluetooth speakers, or others as per your requirement. The holder is made up of stainless steel that protects it from rust and corrosion. You can install the holder in two ways, either you can stick it using the 3M self-adhesive pad or install it using a drill and screws.
SimpleHouseware Freestanding Bathroom Toilet Tissue Paper Roll Storage Holder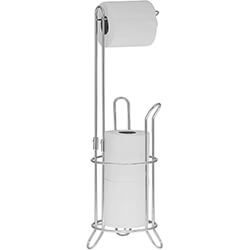 Simple and elegant, this two-piece toilet tissue holder will blend in with your decor. It seems to pour down easily, but actually the clever design makes it difficult to pour down. It will make your life easier than a single toilet paper roll holder. Easily assembled in minutes, the stand accommodates three jumbo rolls so you can easily access extra rolls if you run out of main rolls. This toilet tissue holder is available in bronze or chrome. The stand also comes with an extra set of screws, just in case.
mDesign Metal Free-Standing Toilet Paper Holder with Stainless Steel Tube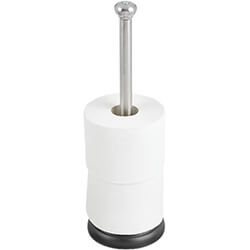 This mDesign toilet paper holder is a very simple design with a circular base and a rod that sticks out from the center. You can place three rolls of toilet paper of different sizes on top. This product can be used as a free-standing toilet paper dispenser or as a wall-mounted backup storage unit.
At 16.25 inches tall, this simple stand can be easily concealed in the bathroom. It's perfect for those with small and half bathrooms. Customers can use the stand made of brushed alloy steel or choose from a variety of other colors to complement the bathroom decor. They also don't have to worry about the product discoloring because it won't rust.
Day Moon Designs Matte Black Toilet Paper Holder with Shelf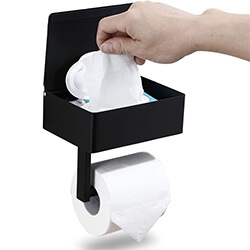 A toilet tissue holder with a wipe holder is the perfect solution to the problem of nowhere to store wipes. The wipes dispenser and toilet tissue holder are made of 100% high quality SUS304 stainless steel, which is rust-proof, anti-corrosion and environmentally friendly. You store them where you need them while hiding from sight. This toilet paper holder with shelves is available in two sizes, so you can choose the one that suits you. The toilet paper arm can be installed in either direction to best suit your bathroom.
Last Words on Best Toilet Paper Holders of 2022
The humble toilet paper holder can easily be overlooked when choosing a sanitary ware. But it is important to find the right choice that blends well with your bathroom decor and is comfortable for everyday use. Through extensive research, we've selected the best toilet tissue holders based on a few simple but necessary characteristics: ease of installation, durability, and style.
A toilet paper holder shouldn't be difficult to install, so we've opted for one that includes instructions and mounting hardware. Most of the products on this list are made of metal, which is a durable option worth the small bucks. Since you're looking at your toilet paper holder every day, we've also made sure to choose simple and stylish products to fit most bathrooms.