Verismo Design Interior Design Alliance
This case is located in the beautiful mountainous city of Chongqing, which is known for its foggy capital and famous for its mountain city. The design is inspired by the geomorphic features of the mountain city, where the cascading peaks and the gentle water surface form the landscape imagery of flowing clouds. The scenery of Chongqing is integrated into this case to close the distance between the city and nature and return to the simple essence of life.
01
Spirituality 
Reception area
The design of the reception desk is inspired by the special landscape of Chongqing. The straight lines are realistic and the curves are realistic. Between the straight and the curved lines, the "city showroom" of boundless landscape is constructed.
The combination of sand table and lighting strip, the overall space is hollow and high, which visually extends the scale of space.
02
Overlapping 
Negotiation Area
The design concept of cloud form is used to shape the tranquility and rhythm of urban life through the smooth motion.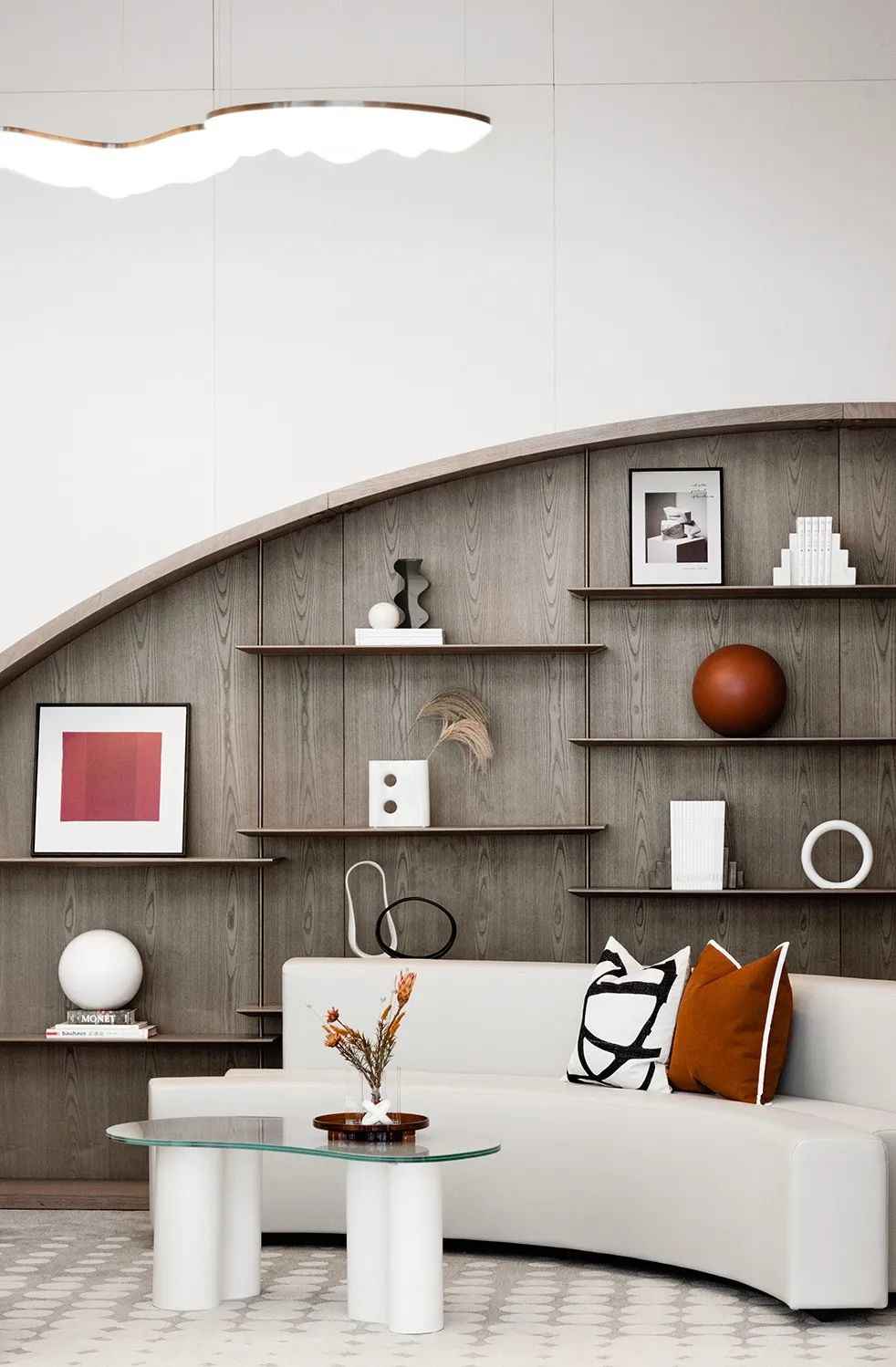 Breaking the routine and providing open space separation. The soft decoration restores the unique three-dimensional space experience of Chongqing.
03
Interactive 
Reading Area
Through the interweaving of nature and art, architecture and interior, the impression of the city and humanistic charm are mapped in the space under the warm light, creating a composite space with the theme of "interaction".
New and trendy elements create an interesting reading space. The dreamy experience of "wandering through the sea of books" takes the construction to a healing journey.
With the theme of "thinking" and "communication", the fashionable installation is an immersive way to experience the freedom of thoughts and inspire the soul, creating a Netflix reading space.
This case is the first chapter of the landscape and nature series design, a dialogue between the micro-room and curves and colors, an exploration of art and beauty. In the spiritual landscape and lively city, it settles time, heals the soul and finds a cozy quiet.
Project Name: Chongqing – Jinhui Jiangshan Yunzhi Sales Office
Project Address: China – Chongqing
Developer: Jinhui Real Estate
Project area: 770㎡
Soft furnishing design: Shanghai Verismo Architectural Design Co.
Hard furnishing design: Chongqing Pinchen Design
Design time: 2020.3
Space photography: Zheng Yan
About Verismo Design 

We re-examine the local culture from a contemporary perspective, and advocate the traditional craftsmanship of the East. We are committed to exploring the smallest details of people's daily lives and providing ideal design solutions for our clients with a professional attitude.
We focus on living places and spaces related to people's daily life, and develop reasonable design solutions according to different individual preferences and living habits.