Copper Kitchen Sink Pros And Cons: Is It A Good Idea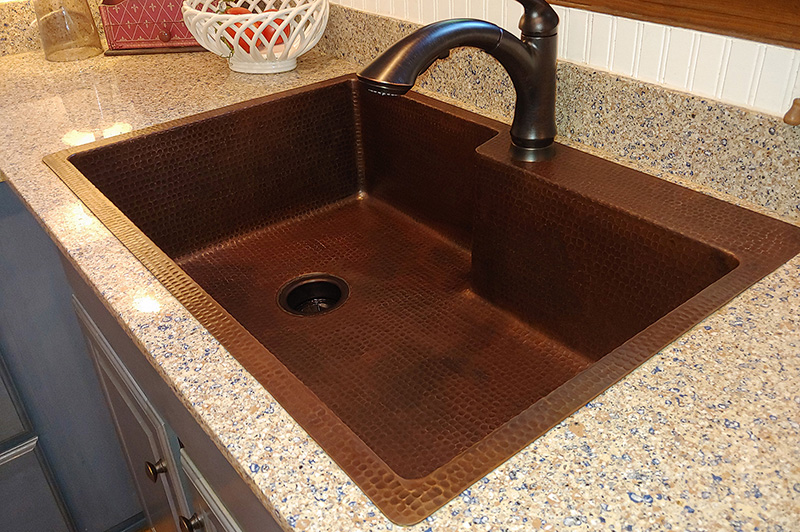 Copper's inherent durability and longevity are attractive features that attract many households to the material, especially kitchen sinks. The shiny finish of the copper sink ages into a beautiful, deep hue that creates a dynamic element in your kitchen. Light bounces off the surfaces, beautifully accentuating the striking core. However, as beautiful as copper is, most people want a sink that is easy to maintain and maintains well. Are copper sinks durable? Is a copper sink a good idea? In this post, we will discuss the pros and cons of copper kitchen sinks and other knowleage about copper kitchen sinks.
What is a copper kitchen sink
Copper kitchen sinks are made of copper (usually by hand) with a bit of zinc for strength. Just like sinks made from stainless steel or porcelain, copper kitchen sinks come in a variety of sizes and styles. They can also be installed in the same way as other types of sinks, whether you want a built-in sink or a top- or bottom-mounted kitchen sink. A copper sink adds a unique aesthetic to any kitchen.
Copper Kitchen Sink Pros And Cons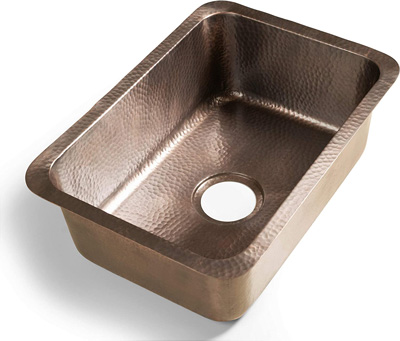 Pros of copper sinks
Unmatched style and quality – The rich warmth of pure copper is unlike any other material, and its timeless vibe makes it perfect for upgrading your kitchen that you may enjoy for years to come.
Easy to maintain – provided you understand the properties of copper and how your sink changes over time. As your copper sink is used over and over, it will begin to take on a rich, unique sheen. To be more clear, think about your sink light spending a penny; it won't stay bright and shiny forever, but if you like the look of living copper, you'll love watching your sink develop its own personality over the years.
Finally, copper sinks are very durable and do not easily get dirty. With just a little more care than you're used to with your sink, it can last a lifetime.
Cons of copper sinks
As mentioned, your copper sink will not retain its bright, shiny finish over time. This can be an advantage or a disadvantage, depending on how you feel about copper's trademark patina. If you prefer a clean, rustic design to a down-to-earth living look, you might want to consider a substance that doesn't change much over time.
While heavy duty copper sinks are very durable, it's worth noting that thin copper sinks tend to warp or dent. Unless you're very careful with your sink (or you don't mind paying for a replacement), it's worth paying more for a heavier, thicker copper sink to better withstand everyday wear and tear.
Finally, it's worth mentioning that copper sinks aren't the most affordable option. While they're not as expensive as luxury materials like marble, they're also not as cheap as typical stainless steel fixtures.
Are copper sinks durable
With proper maintenance, copper sinks can last for decades. So yes, they are durable, but you have to schedule them regularly to ensure longevity. A high-quality copper sink should last for many years and resist rust and corrosion.
Copper is a softer metal than other popular sink metals, so these sinks can be easily scratched. Scratches can be very noticeable on smooth copper sinks. However, on textured copper sinks, such as hammered copper sinks, scratches are more likely to fuse.
Is a copper farmhouse sink a good idea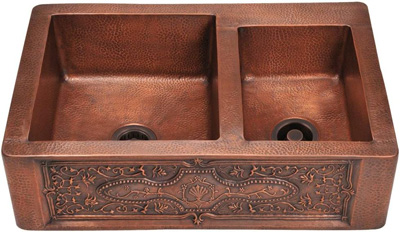 Attractive. Farmhouse kitchen sinks are known for their ability to add style and elegance to any space, whether traditional or contemporary. The warmth and appearance of copper sinks make them more attractive than porcelain and steel sinks. Design experts believe that warm materials and bronzed finishes help create a sense of comfort, and smooth reflective properties help reflect light throughout the room, adding elegance to any space. Warm undertones are especially welcome in spaces that are predominantly white and add to the space's feel as home. No matter the theme of your home, a copper sink will make the space more appealing.
If you have a traditional or country-style kitchen, duller copper will work well to add character to the space. If your kitchen is modern and predominantly white, smooth polished copper will reflect light throughout the room and add warmth to neutral spaces. If you have exposed brick or black cabinets in the space, polished copper will also add to the charm of the space.
Copper sinking and mixed metals are key trends in 2022 and are expected to continue. Searches for "country" and "farmhouse sink" were high on real estate websites last year, and a home with a copper farmhouse sink will undoubtedly offer aesthetic benefits that increase the value of your home.
How much does a copper sink cost
The upfront cost of a copper sink can be quite expensive, considering the purchase and installation costs. However, copper kitchen sinks have proven to be an excellent investment as they can instantly add style and elegance to any space and increase resale value. Opting to buy a higher-spec copper sink is also a huge investment, but it will pay off as you'll be able to avoid the expensive repairs that usually come with choosing a lower-cost model.
The average material and installation cost to install a sink is $400, but you can expect to pay anywhere from $400 to $2,000 for a copper kitchen sink, depending on the craftsmanship and level of customization that installed it.
Conclusion
A beautiful sink can dress up any kitchen or bathroom, adding sophistication and style to the space. While they are expensive when it comes to choosing sinks, they are a great aesthetic and investment value and can transform any space. Copper kitchen sinks add elegance and style to any kitchen or bathroom, whether the house is a modern masterpiece or has rustic farmhouse charm. They have also been shown to increase awareness among home buyers and increase the value of your home when it sells.