Best Shower Valves of 2022 – Latest Reviews & Buying Guide

Shower valve is a critical component in controlling the flow of water in the shower while maintaining the correct pressure and temperature. Therefore, the device appears to be essential for a safe and pleasant showering experience. But there are so many types of shower valves on the market and their quality varies. It takes a lot of time and effort to pick out a good shower valve. Take it easy! We have done this trivial matter for you. We have done a lot of research and summarized and listed the best shower valve of 2022. So, check out the products mentioned below to choose the one that suits your requirements.
GROHE 35015001 Grohsafe Universal Pressure Balance Rough-In Valve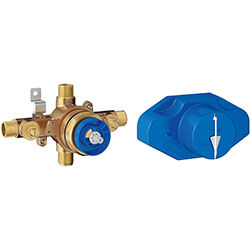 If you're looking for a quality shower valve at an affordable price, Grohe is worth considering. This pressure equalizing valve will fit any Grohe trim kit. It comes with two hot and cold water inlets and two outlets for the shower head and tub. However, if you prefer to use only the tub spout or shower head, there is a plug to seal the other spout.
This shower valve has extensive temperature adjustability and rotates 265 degrees between handle stops so you can make small adjustments. It also has a built-in check valve to prevent backflow of hot or cold water to another line. For maintenance, the Grohe has two built-in shutoffs so you can work on the wall without leaks.
Delta Faucet R10000-UNBXHF MultiChoice Universal Valve Body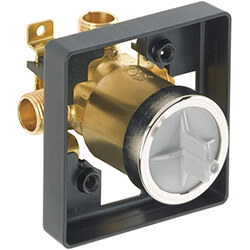 Delta's MultiChoice Universal Valve gives you the flexibility to upgrade your shower trim without changing the plumbing. It is compatible with most Delta single-function, dual-function or dual-function thermostatic trim kits.
Our favorite thing about this top-of-the-line valve is Delta's unique mechanism, which allows you to change shower functions without messing with the plumbing. This saves you time and effort and provides convenience in terms of functionality. This is a general model that works well in high traffic situations. It is the best shower valve in terms of modern technology and ease of use.
Kohler K-8304-K-NA Universal Rite-Temp Pressure-Balancing Valve Body and Cartridge Kit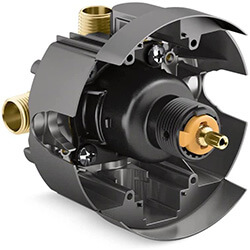 Kohler K8304 is a flexible pressure balanced valve. It can be installed with any trim Kohler makes, so you're not limited to a specific model. The device is also adaptable when set up. The compact construction enables it to be used with back-to-back, thin and thick wall installations. This valve does what it's supposed to do. Consider this valve if you're tired of arranging your shower to fit the rest of your plumbing.
PROFLO PF3001CLS PROFLO PF3001CLS Pressure Balancing Tub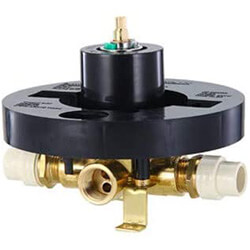 This is a cast bronze valve that allows you to adjust water pressure and temperature. It meets ASSE 1016-P scald protection standards, so you know the water won't get too hot. It comes with a plaster shield that can be quickly removed, while the stand is easy to install. The one-piece cartridge design also makes it easy to maintain. With its brass and ceramic construction, this will last a long lifespan.
SR SUN RISE Square Manual Bathroom Single Function Shower Mixer Valve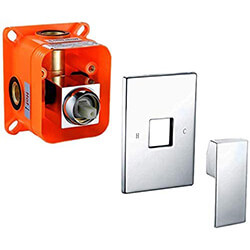 SR Sun Rise is a top rated shower valve available as a complete kit. One of the great things about this valve is that it has a slim and compact profile, so you can easily install it behind the wall in your shower. Additionally, since the unit is constructed of brass and plastic, it will not corrode and is extremely durable.
Speaking of durability, the handle valve inside this model is made of ceramic, which means you can turn the handle thousands of times and it still won't break. In addition, this valve is also very efficient and does an excellent job of maintaining a constant water temperature regardless of pressure.
Moen 2580 Posi-Temp Brass Pressure Balancing Shower Valve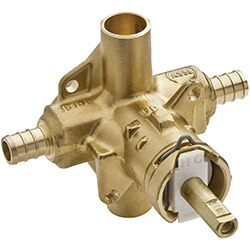 The valve is equipped with positive temperature technology that ensures controlled water temperature. This M-pact compatible Moen valve is a common valve system that features a positive temperature valve that can also be used to maintain and protect sudden changes in water temperature. It can be easily upgraded and installed without replacing any plumbing. The valve is made of metal for strength and heat resistance, so you can use it for many more years with ease and confidence.
Symmons S-46-2-BODY Temptrol Brass Pressure-Balancing Tub and Shower Valve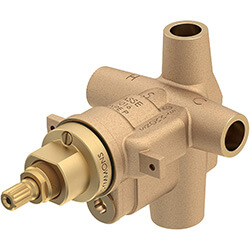 Symmons is another trusted name in the valve industry, so you can definitely rely on the brass and bronze construction of this model to extend its life expectancy. Even if it does wear out a little early, you can get a replacement through the device's lifetime warranty.
As for the performance of this shower valve, this valve is made with an adjustable stop screw. This feature works well with this model's integrated temperature limiter to prevent burns or a sudden influx of hot water. Moreover, this valve isn't just a pressure equalizing valve, you can also get a valve that includes an optional integral diverter for shower/tub setups.
GP76851 Mixer Cap and Pressure Balancing Unit Cartridge Replacement Kit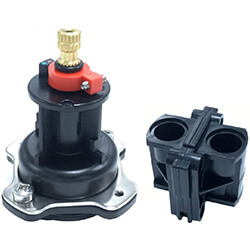 It's a good old-fashioned simple system that works well. It has a cartridge unit and a lid adjustment for easier use. The cartridge valve will be perfect for a range of shower accessories from different companies. It will handle Kohler and Moen shower trim just fine. The valves here are manufactured for universal compatibility. All openings are ½ inch and they are easy.
Final Thoughts on Best Shower Valves of 2022
Having said all that, you should now have a pretty idea of what to look for in a high-quality shower valve. All of the products on our list are amazingly efficient and durable enough to give you a great bathing experience. Whether you want a shower valve that can help you maintain water pressure or regulate temperature, you'll find something for you.