Best Shower Systems of 2022: Reviews & Buying Guide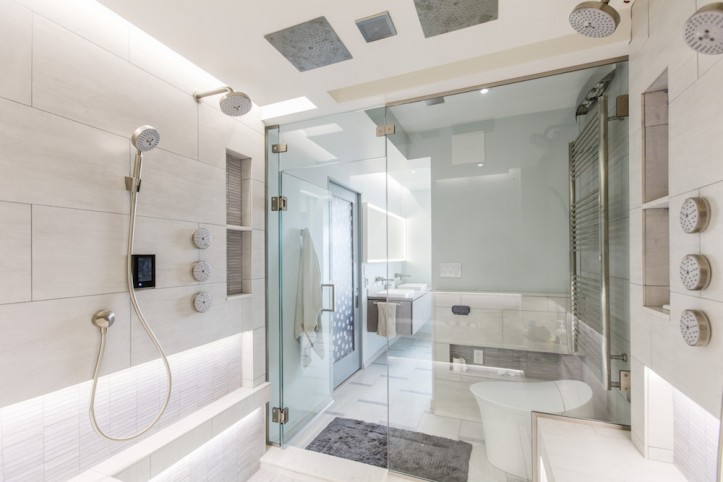 A good shower system can give you relief from the fatigue of a day's work and enjoy the happy hour of bathing. However, if you don't know much about shower systems, you may waste money on unnecessary factors. We spent hours researching the top options on the market and decided on shower heads to test, retest and triple-test over the past several months.This post summarizes 10 best shower systems of 2022. Read on to find everything you need to know about shower systems!
Best Shower Systems of 2022 List
SR SUN RISE SRSH-F5043 Bathroom Luxury Rain Mixer Combo Set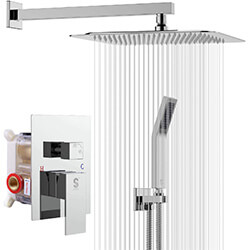 If a full panel shower faucet is taking up too much space, you can consider the SR SUN RISE SRSH-F5043 Deluxe Rain Shower Mixer Shower Kit, which includes a 1.5 gpm hand shower wand, a 2.5 gpm rain shower head, and two temperature and flow specific Control speed. The set also comes with a solid metal shower arm, stainless steel shower hose and shower wand holder to keep your shower set organized and efficient.
The single faucet mixer on this shower faucet set features a pressure equalization system for flow control, so sudden changes in hot or cold water flow (such as flushing a nearby toilet) won't leave you scalded or frozen in the shower. This shower faucet set comes in standard chrome or more expensive brass, nickel or matte black finishes to give your bathroom a unique look.
Moen T8342EP15CBN Commercial M-Dura Posi-Temp Shower Trim Kit without Valve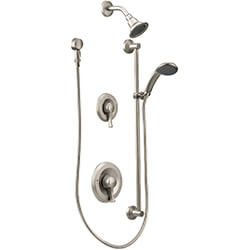 If you are looking for ultimate luxury, this shower system is just what you need. This Moen shower system is of reliable quality and has a long lifespan. It's our top pick for the best shower system with WaterSense certification to keep your energy and water consumption low.
The design is warm and charming thanks to the beautiful brushed nickel finish. Also, it has more flexibility considering it is equipped with the Moen Universal Valve System. This means you can update your faucet style at any time without changing the plumbing in your home. However, you will need to purchase the valve separately to install this product.
PULSE ShowerSpas 1011-III-BN Kauai III Shower System with 8″ Rain Showerhead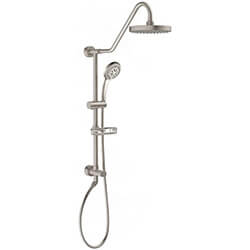 Pulse brings us a retro-inspired shower system, available in a variety of finishes: polished chrome, brushed nickel or oil-brushed bronze. You can choose the design that best suits your existing bathroom decor or a new renovation. You can also choose between two water streams, 1.8 or 2.5 GPM.
The set includes an 8-inch rain fixed shower head, a hand shower head with a hose, and a wall mount bar for height adjustment. There's also a wire tray on the shower rod to keep your soap within easy reach. The entire system is designed to be installed on your shower wall and comes pre-installed with plumbing for easy installation.
GABRYLLY Shower System, Wall Mounted Shower Faucet Set for Bathroom with High Pressure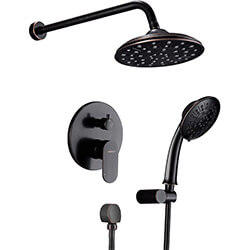 The simple layout of this shower – a rain shower head and separate handheld wand – makes it a great option for those who want a hassle-free shower without unnecessary bells and whistles.
The shower system has useful flow settings like a pulsating massage mode – perfect for tired muscles. The oil-brushed bronze finish gives it an elegant, stylish look, and the durable brass fittings make it a great choice for longevity.
Blue Ocean 52" Stainless Steel SPV878392H Shower Panel with Rainfall Shower Head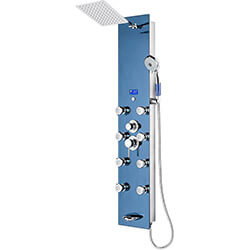 Made of high-quality stainless steel and tempered glass, the Blue Ocean shower panel is a durable option worth considering. It is ISO-9001 compliant, so there is no need to worry about its overall quality.
Having said that, the unique design of this lightweight panel facilitates its flat wall installation. Once set up, all of its functions work in harmony to ensure proper water pressure. Thanks to two control valves, you can also adjust the water flow and temperature. Plus, a digital display helps you keep track of your water temperature, further adding to your convenience.
So rest assured, it always ensures a relaxing shower after a hard day's work. With its adjustable 8-nozzle spray, you also have the option of enjoying a spa-like feeling in the comfort of your home. Plus, we love its blue tempered glass finish as it adds a touch of sophistication to any traditional bathroom decor.
GROHE 27867001 Retro-Fit Euphoria 25 Inch Shower System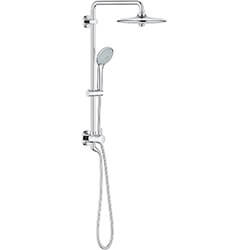 Best among Grohe's shower systems, the Grohe 27867000 Retro-Fit Bundle is an ergonomically designed shower system which can provide premium bathing experience. This shower system has built-in temperature control and comes with Grohe CoolTouch technology.
You can use both the shower head and hand shower simultaneously. It is very easy to install and is very sturdy. This Grohe shower system is specially designed to last many years. Given its reasonable pricing, you can easily choose this shower system over any other in the market.
EMBATHER Shower System with Waterfall Tub Spout- 12 Inches Chrome Rain Shower Tub Faucet Set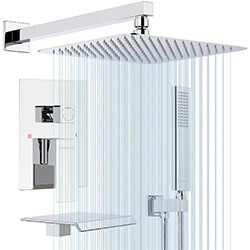 The Embather shower system features a 12″ rain shower head, hand shower mixer and waterfall tub mixer. The system uses air jet technology, which means air and water combine to enhance the flow of water, providing a high-pressure, gentle downpour.
The pressure balance valve core balances the supply of hot and cold water to prevent burns. It uses a universal threaded shower arm that meets US standards.
Happybuy 5 in1 Shower Panel Tower System Brushed Silver Stainless Steel Multi-Function Shower Panel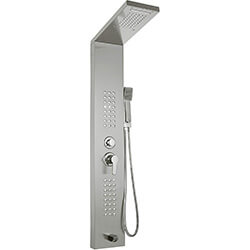 The Happybuy 5-in-1 shower panel comes in six styles and is made of 304 stainless steel with a thicker panel. Brass fittings, valves and explosion proof hoses make it heat and leak proof. It has an easy-to-clean anti-fingerprint surface. This shower panel system has five modes, the nozzles are made of rubber, are non-clogging and maintenance-free.
Hand showers can be used for pet washing and room cleaning. There are two knobs, one for switching between hot and cold water and the other for adjusting the shower mode. The shower system has reinforced plumbing on the back, standard plumbing connections, and comes with a mounting kit.
Wall Mounted Shower Faucet Set with 8″ Metal Rain Shower Head and Hand Sprayer, Black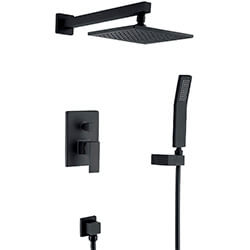 If uniqueness is your top priority, this might be a good faucet for you, as its black finish offers a stunning aesthetic. The Bwaiyuk shower faucet comes with something a little different and it actually works as it adds to your bathroom decor without functional tradeoffs. Plus, it comes with a 5-year warranty to sweeten the deal and protect you from any manufacturer defects.
The kit has impressive components and design that make it feel very solid. With a built-in valve, this model might be a wise choice since cleaning the shower won't present any challenges. Even better, this shower faucet provides the stimulus of rain; thanks to the design angle, it comes very close to actual rain. Additionally, it includes a valve to maintain high-pressure water flow.
Delta Faucet Windemere Single-Function Shower Trim Kit with Single-Spray Shower Head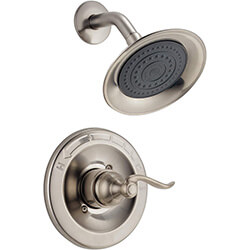 The faucet fits any type of shower faucet, even kitchen faucets. It is designed with shower valve monitor. This is used to closely monitor and control sudden changes in water temperature. My interactions with this faucet have helped me save nearly 20% on my water usage and bills. Therefore, it is very efficient in use and/or consumption and preservation.
The product is stainless steel and it always looks like new. To reduce your worries about your product, you can enjoy a lifetime limited warranty. Limited means that it only covers a specific section. So it means that the entire faucet is covered, not the adjacent parts. It has never stopped serving me since I purchased and installed mine. The product is built to last, which means you may not even need the warranty you asked for.