10 Best Bathroom Sink Drain Stopper in 2022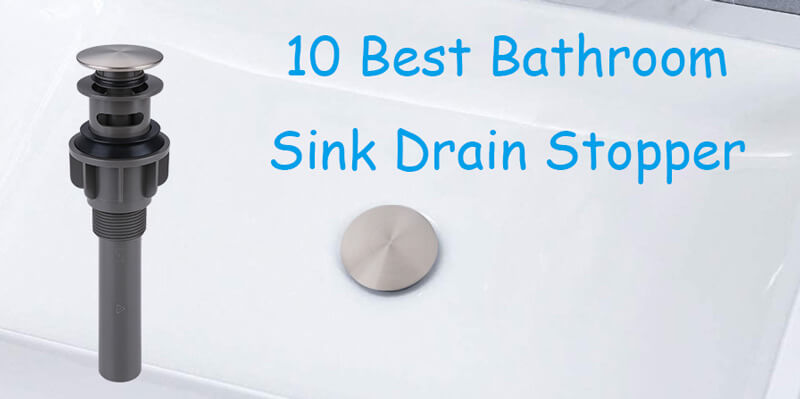 Bathroom sink drain stopper can stop debris and buildup, limit the growth of bacteria, and protect the efficiency of your garbage disposal and drainage system. That said, since it's often a plumbing's first line of defense, it is significant to choose a right sink drain for your bathroom. We had done lots of researches and summarized 10 best bathroom sink drain stopper in 2022 for your reference.
10 Best Bathroom Sink Drain Stopper List
Moen 140780 Bathroom Vessel Sink Pop-Up Drain Assembly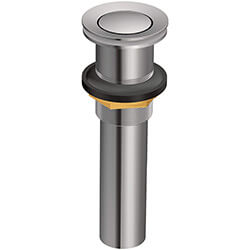 This Moen bathroom container sink features an excellent sink pop-up drain. Install it to give your entire sink a great look. This sink drain has a luxurious look and some great features. It does come with a pop-up plug and drain seat, and doesn't require plumbing putty, you just apply pressure to the seat gasket to make it work perfectly.
The Moen Bathroom Container Sink has a 2.25″ rim and a 2.15″ rim below. With a 2.62″ thread length, this product fits perfectly into a standard washbasin and weighs approximately 8 ounces. The sink drain measures 1.25 inches. So, you won't have any problems assembling because it can be installed on any US standard sink.
WOWOW Bathroom Sink Drain, Pop Up Drain Stopper for Bathroom Sink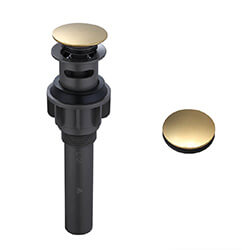 View on Amazon
This WOWOW vessel sink drain fits for 1-1/2 inch to 1-3/4 inch drain hole.Maximum sink thickness is 1.9″. Suitable for most of vanity, bathroom sink and standard sized U.S plumbing. The sink drain is well made of high-grade ABS construction and stainless steel, corrosion, scratch and rust-resistant, which makes it can serve you for a long time.
Different from the lift rod drain, the pop up drain stopper simply push the drain cap down to close and to seal, push again to open and to drain water. It brushed gold finish gives this sink stopper a sophisticated look, making it an attractive addition to your powder room or a master bath. With overflow drain assembly for installing a pop up sink drain easily without any tools.
KES Bathroom Sink Drain Assembly with Strainer Pop Up Drain with Overflow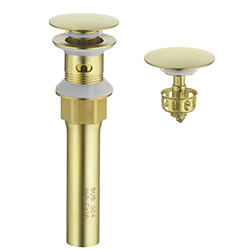 The drain body is made of high quality stainless steel with 18/8 chromium/nickel content to prevent corrosion and rust. Fits sink holes 1.46″ to 1.9″ in diameter and fits sinks up to 1.97″ thick. The tailpipe diameter is 1.25 inches. Designed for sinks with overflow.
This sink drain has a built-in anti-clogging brass filter designed to easily capture solids without affecting water flow. When it's time to clean, just take the filter out, clean it and put it back in! No harsh chemicals and messes needed.
This sink drain assembly comes with 1 heavy duty brass nut and 2 silicone washers. Make sure the gasket is in the correct position to avoid leaks. The one-piece body design is leak-free and easy to install.
Kruggo Universal Edition Bathroom Sink Stopper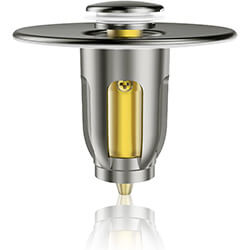 The drain stopper is mainly made of high-quality zinc alloy material, which is rust-proof, crack-proof and integrally formed. Good rebound strength, quick sealing and drainage with one press.
Upgraded bathroom sink plugs are more convenient and practical than regular sink plugs. This bathroom sink drain has an anti-clogging basket inside that catches any hairs in the bathroom and keeps the drain from getting clogged with small objects like rings. Either a bathroom sink drain or a bathtub drain in the shower will work.
This sink drain filter can be used on 99% of sink drain holes. (Inner diameter 26mm-50mm) Whether it is a basin, a bathroom sink drain or a shower tub drain, it can be used. Due to its simple structure, you can easily install the pop-up sink plug without any tools, just take the old one out and insert it.
REGALMIX Antique Brass Pop UP Drain, Bathroom Vessel Lavatory Vanity Faucet Sink Stopper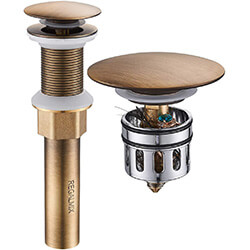 This bathroom sink drain stopper features a multi-antique brass finish that resists everyday scratching, corrosion and tarnishing. Unlike regular button drains, this drain plug has an anti-clogging basket filter inside, which neatly collects hairs and prevents the drain from clogging up so things don't get into the drain like jewelry, rings, dirt, etc.
Explosion-proof and crack-proof thickened stainless steel, one-piece seamless, no water leakage. Thickened ladder silicone gasket, no need for plumber's putty, anti-oxidation and anti-leakage. Anyone can install a pop-up drain because of its simple construction, no tools required, and the thickened extension nut allows for free-hand installation. Fits 1-1/2″ to 1-3/4″ standard American bathroom sink drain holes.
Yodel Bathroom Sink Drain Stopper Pop up Drain With Overflow for Vessel Sink Lavatory Vanity, Brushed Nickel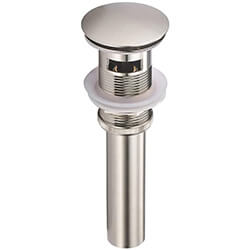 This brushed nickel pop-up sink drain features premium materials and a premium brushed nickel finish to help prevent rust and corrosion.
This brushed nickel pop-up sink drain can easily upgrade your bathroom ambience. This metal sink drain is designed without overflow holes and can be used with bathroom sinks without overflow, including container sinks. It measures 8.3″ high with popup open and 7.9″ with popup closed. The product weighs approximately 12.7 ounces with a pop-up stopper.
ESFORT Pop UP Drain with Overflow, Bathroom Sink Drain Assembly Vessel Sink Assembly For Bathroom Faucet Vessel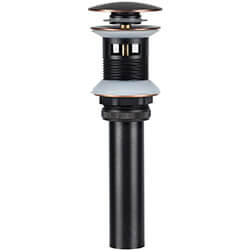 This is one of the best sellers of bathroom sink drain on amazon. The pop-up drain assembly is constructed of solid brass and plated with a lifetime oil-rubbed bronze finish for trouble-free use. Enjoy years of use thanks to its high-quality construction. The superior finish is corrosion and rust resistant.
Container sink pop-up drains include rubber seals and fasteners for easy installation. No other equipment is required to install it, just the tools you have at home.This bathroom sink drain plug is designed for use with container sinks with overflow. It is compatible with glass, stone, ceramic or any sink with a 1-5/8″ to 1-29/32″ drain.
WOWOW Bathroom Drain Assembly Stopper with Lift Rod for Bathroom Faucet Vanity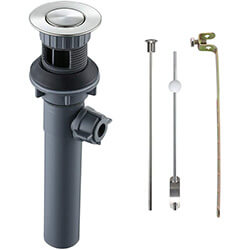 With Over Flow Fits Bathroom Vanity Sink with A Drain Hole Diameter of 1-1/2" or 1-3/4". With brushed nickel finish, this bathroom drain assembly stopper looks much beautiful and simple. Besides, it can prevent corrosion and rust. The design of the lifting rod can drain water well. It's more convenient and sanitary. Simply pull the lift rod to drain water. For routine cleaning, just wipe it with a cloth.
REGALMIX Vessel Sink Drain, Bathroom Faucet Vessel Sink Pop Up Drain Stopper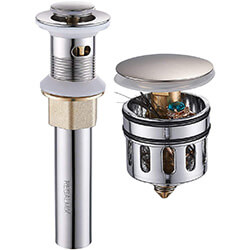 REGALMIX brings you another low cost bathroom faucet container sink popular drain plug. It comes with a built-in anti-clogging filter. It has a scientific design and a beautiful finish.
This item is 8.5″ (216mm) high and the pop-up closed total height is 8.9″ (226mm). Weighs approximately 12.3 ounces. The drain can be installed on any standard American sink with a 1.5″ (38mm) to 1.75″ (44mm) diameter drain hole.
It has a pop-up drain plug with blast and crack resistant body. The gasket is made of silicone to prevent water leakage. It can be quickly installed on any standard sink. First-class anti-clogging facilities are a premium, first-class feature of this product. If you buy this, it will give you a hassle-free, clog-proof sink experience.
Artiwell Sink Pop-Up Drain Stopper Assembly with Lift Rod and Overflow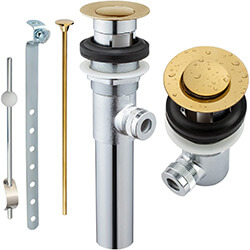 This kind of pop-up drain stopper features durable solid brass construction with High Quality plating layer , resists corrosion and withstands physical impact, what this means to you is a long lasting drain assembly. Complement the existing look and function of your various lavatory sink, Choose from Seven color options to perfectly match with your faucet and the rest of your bathroom décor.
Artiwell pop up drain assembly with Overflow Fits bathroom vanity sink with drain hole diameter of 1-1/2" or 1/3/4" , Compatible with various lavatory sink faucets. Artiwell pop up drain assembly is very easy to install , it provides clear step-by-step instructions with pictures to guide you through the installation process ,Please make sure the gaskets are in the right position to avoid leakage.