Best Pot Filler Faucets in 2022 – Reviews & Buying Guide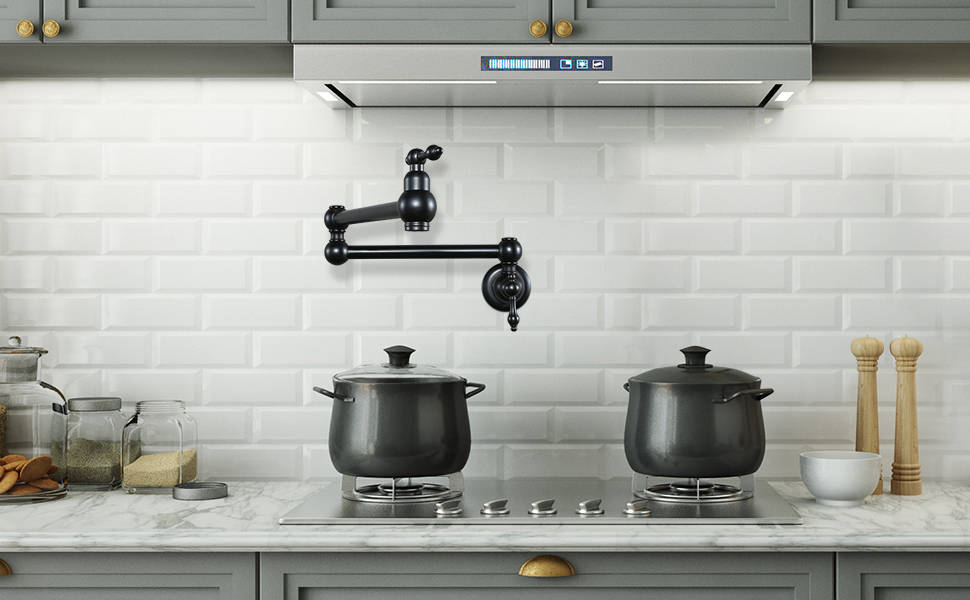 Pot filler faucets are a neat little feature you can add to your kitchen. You might be wondering, why on earth would you want a canned filler? In short, it makes your life easier. They also make your kitchen more stylish and modern. If you have a large kitchen with a stove that is far from the sink, a pot filler faucet is a good idea.
There are plenty of decent pot filler faucets on the market. However, not all pot filler faucets are created equal. How can you choose the right pot filler faucet for your kitchen? Here you are going to read some of the best out of 10 best pot filler faucets in 2022 with all their features in details, pros and cons.
Best Pot Filler Faucets of 2022 List
Moen S665SRS Modern Wall Mount Swing Arm Folding Pot Filler Faucet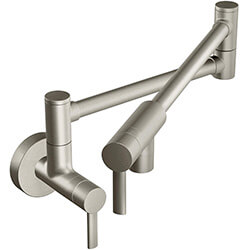 This pot filler faucet has a beautiful finish that resists fingerprints and water stains and maintains a nice clean look throughout the kitchen. It's wall mounted like all the other models and is very practical as it frees up more space on the countertop and also means it won't get in your way at all times.
It is up to 24 3/8 inches from the wall. You can conveniently place it on the backsplash next to the stove, so you can use it quickly and easily while cooking without having to move a water-filled pot between the sink and the stove.
WOWOW Pot Filler Folding Faucet Brass Pot Filler Faucet Wall Mount Matte Black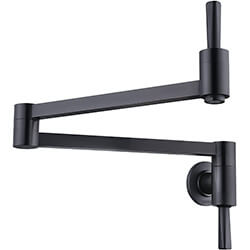 This pot filler faucet features copper with high density pure brass construction, prevent rust and corrosion; polished inner surface, every drip passing through the pot filler is natural and healthy, no harmful material. Dual handle matte black pot filler with two brass valves provide smooth turning action and prevent dripping. The foldable design is convenient for fill pots on your stove and saves your kitchen space. It comes with drip-free brass cartridge, durability and prevent dripping.
The high-pressure Neoperl ABS aerator in it provides steady water pressure and straight consistent water flow, creates a perfect aerated stream, quiet and no-splash. Most importantly, it's water-saving. Universal 1/2 NPT pure brass connecting thread, single hole wall mount installation, no need complicated tools, just use the included wrench to install it easily.
Delta Faucet Traditional Stainless Steel Pot Filler Faucet Brushed Nickel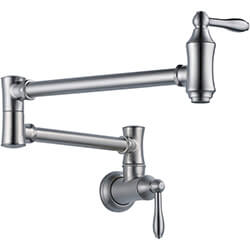 No worries when filling the pot, as this pot filler faucet has many nifty and handy features, such as a quarter-turn handle, which opens and closes without turning the handle all the way. The double handle design makes this can filling machine easier to use.
Made of brass material and arctic stainless steel finish, you'll find this pot filler faucet will be a great addition to your kitchen. You should be able to use it for a long time due to its durable quality. It has a nozzle range of up to 23.63 inches, so no matter which burner you use, you should be able to fill your pot.
Kohler 99270-VS Artifacts Pot Filler Vibrant Stainless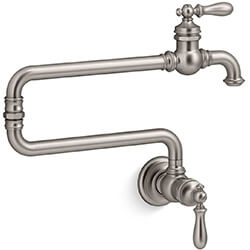 Now, with this Kohler pot filler faucet, you don't have to carry heavy pots in the kitchen. Its classic, timeless design blends seamlessly with most kitchen styles. It certainly won't make your kitchen cluttered. The Kohler wall mounted pot filler faucet is not only beautiful, but functional. You can mount the faucet on the stove wall and fill up cauldrons in minutes without having to carry them around.
With a spout up to 22 inches, this faucet can easily fill any pan, no matter what stove it's on. Our favorite thing about this wall-mounted faucet is its 360-degree rotation. This provides a superior clearance and simplifies the movement of the faucet arm. And don't worry about shaking or leaking because this Kohler pot filler faucet includes a ceramic disc valve that meets industry longevity standards.
Kingston Brass KS8103DL Wall Mount Pot Filler Kitchen Faucet, Antique Brass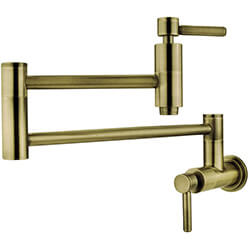 View on Amazon
This is Amazon's Choice, the Kingston Brass Wall Mounted Pot Fill Kitchen Faucet with all the amazing features. This pot-fill kitchen faucet is made from solid brass, which is what makes it durable. The disc case is probably the most important part of any faucet, and this one gives you a drip-free ceramic disc case.
For the installation, you have to remember that it is designed for single hole installation. It is very easy to operate with the swing arm spout. Highly recommend it, and indeed one of the best canned faucets on our review list.
Hansgrohe Talis C Tall 2-Handle Pot Filler with 360-Degree Swivel in Rubbed Bronze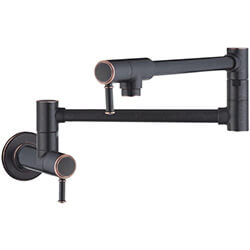 View on Amazon
The oil rubbed bronze finish on this pot filler kitchen faucet looks really cool. It has worn metallic look and that gives it lots of character and helps it stand out without turning it into a focal point for the room. This is a single handle lever design which makes it easy to use and convenient while also maintaining a clean and simple design suitable for a variety of different interiors.
It's designed to be installed onto a wall and has a long swing-arm spout which can be rotated and extended, then pushed back when not in use, which can save your space of kitchen. The inner workings of this faucet are designed to prevent leaks and drips. The entire faucet is lead-free and safe to use. If you are looking for a pot filler at a bargain price, this model could fit the bill.
WOWOW Gold Pot Filler Faucet, Wall Mount Copper Folding Faucet 2 Handle with Double Joint Swing Arms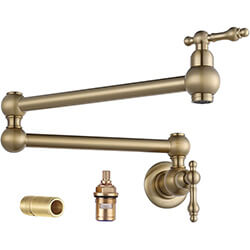 View on Amazon
This pot filler is made of solid brass material, non-rust and non-erosion. Water quality is guaranteed by unique technique for preventing lead and scaling, which is beneficial to a healthy lifestyle. The single hole wall mounted faucet in double-joint and swing arm design can retract when not using. It saves kitchen space and makes cooking more efficient, sanitary.
The exquisite multi-layer Brushed Gold finish resists scratches and corrosion, not easy to oxidize or fade. Equipped with removable water-saving NEOPERL aerator, which provides steady stream water flow. High-pressure ABS aerator, less splashing and drip-free. We offer a brass-made connector that can serve you for a long time, not easy to break (1/2" NPS to 1/2" NPT). It supports single hole wall mount installation, with an installation flange for stability. a spare spool for replacement also included.
Danze D205058SS Parma Wall Mount Pot Filler, Stainless Steel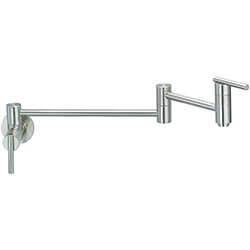 View on Amazon
Danze D205058SS modern pot filler faucet becomes an essential part of your daily routine in the kitchen due to its superb functionality. Its look can grab anyone's attention in the kitchen. Due to its sleek and slim design, it does not take up too much space near the cooktop. The spout reach is 22-inch and designed for cold water use only.
Durable and rust-free body due to the use of brass material.You will never face any leakage problem in Danze commercial pot filler faucet because it has 2 ceramic disc valves. The dual valve also provides smooth use of the handle.To make its body, Danze has used high-quality material that is used to make commercial pot filler, this has increased the strength of pot filler even more. Two valves make it easy to use. Valves near the wall shut on or off the water supply and other valves near the spout control the water flow.
Havin Black Pot Filler,Pot Filler Faucet Wall Mount,with Double Joint Swing Arms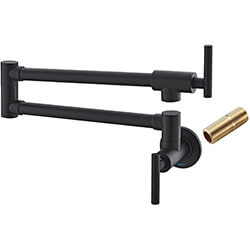 View on Amazon
Add glamour to your kitchen with the jug filling faucet in matt black brass construction. It is easy to clean and does not rust. The faucet can be rotated 360°, which is a plus to free up space when not in use. The high-quality physicochemical of the faucet guarantees that there will be no leakage problems even after many years. Installation is so easy as it is a wall mounted single hole faucet.
In addition to the two valves included with the faucet, 1 spare valve is included for future replacement. To get your job done in minutes, a high flow rate of 2.2 GPM is the quality of this faucet. Therefore, having a matte black brass faucet is a smart choice for your kitchen.
KOHLER K-6228-C11-VS Karbon Wall-Mount Kitchen Faucet with Silver Tube, Vibrant Stainless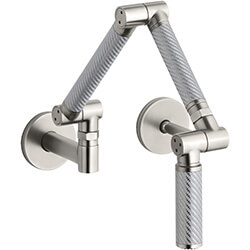 The vibrant steel pot fill faucet with a gorgeous design is a wonderful addition to your kitchen. This faucet is made of carbon fiber and metal to ensure its durability. The uniquely designed spray head provides water flow in the form of spray or laminar/turbulent flow, which is the outstanding quality of this wall mounted faucet. It has multiple movable joints that allow you to set it in the ideal position and easily retract it again. You can also use it for canning and washing purposes. The faucet is easy to use with just a few clicks.