Best Touchless Kitchen Faucets in 2022 – Consumer Reports & Reviews

Touchless kitchen faucets not only create a cleaner cooking environment, but also make hand washing and dishwashing easier than ever. If you're looking to buy a touchless bathroom faucet for your kitchen, check out our top picks for touchless faucets, which online reviewers say are easy to install, great value for money, and perform very well. We've rounded up budget-friendly options, high-end splurges, and everything in between and listed the best touchless kitchen faucets in 2022, so you can find a touchless kitchen faucet that meets your needs.
Best Touchless Kitchen Faucets of 2022 List
KOHLER Simplice Response Touchless Pull Down Kitchen Faucet in Stainless Steel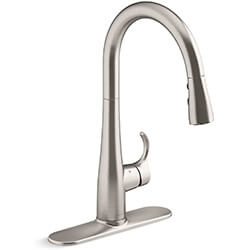 Kohler is one of the giants in the home improvement industry. Featuring a modern ergonomic gooseneck design, this touch-free kitchen faucet features a drop-down spray with three functions: flow spray, boost spray, and streak spray. For stuck dirt, there is an acceleration technology that increases flow by 30% at the touch of a button. The handle is rotated 90 degrees forward to prevent contact with the tailgate.
State-of-the-art motion sensor activation activates water flow for reliable contactless functionality. There's an LED indicator that lets you know when the faucet is running, and a temperature memory feature that lets you set your desired temperature before using it. This faucet has a flow rate of 1.5 GPM, saving water. This Kohler unit is easy to install and comes with an AC power adapter.
Delta Faucet Leland Touch Kitchen Faucet Brushed Nickel, Kitchen Faucets with Pull Down Sprayer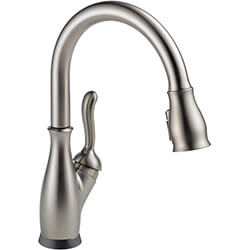 This kitchen faucet is a hybrid of standard and touchless fixtures, as it turns on and off with a simple tap of your wrist, finger, or object. Because it's not as high-tech as other models, it's a great pick for households with young children.
The user-friendly design still allows you to reduce the spread of germs and easily turn on the water with messy hands. The faucet's patented design reduces leak points and wear on seals, which makes it one of the most reliable options on the market.
Moen 7594ESRS Arbor Motionsense Two-Sensor Touchless One-Handle Pulldown Kitchen Faucet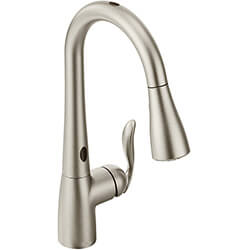 This Moen automatic kitchen faucet is one of the best touchless kitchen faucets you can buy. With a brushed stainless steel finish, this automatic kitchen faucet looks gorgeous, healthy and resistant to fingerprints, mineral build-up, and spots. It has two motion sensors (powered by batteries) installed in the spout. The first is activated by waving and is located at the top of the arc. And the other is under the spout, which is activated when you place your hand or an object (like a pot) under it.
Its retractable drop-down nozzle and magnetic docking system ensure it can reach hard-to-clean places. And it always comes back in place, so your kitchen space will always look neat. This faucet can easily switch between three spray modes at the touch of a button. PowerClean spray technology ensures that its spray power is 50% higher than other pull-down Moen faucets.
Pfister Stellen Touchless Pull Down Kitchen Faucet with React Electronic Motion Sensor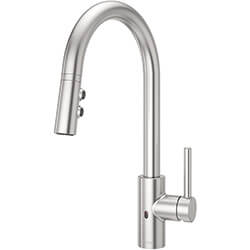 Pfister has established a good brand image among its customers with its sturdy and stylish faucets. This top rated touchless kitchen faucet adds a premium feel to the kitchen. A reliable product with an elegant design that will look beautiful in any modern kitchen and is available in 3 colours – chrome, steel and matte black. The installation of the faucet is not difficult, you can install it in single and triple holes.
The Pfister kitchen touchless faucet saves more water than other faucets on this list of best touchless kitchen faucets because when the sensor senses any movement it goes into working mode and starts water flow, but if not Pull the handle aside and the sensor will not be falsely activated and will save water.
FORIOUS Brushed Nickel Touchless Kitchen Faucet with Pull Down Sprayer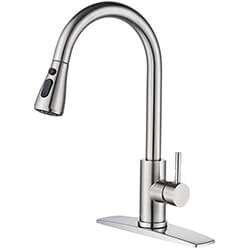 Are you looking for a reliable touchless faucet to service your double sinks? Then consider this touchless kitchen faucet. This faucet can be rotated 360 degrees and easily installed in one or three holes for easy rotation.
It has infrared motion sensors to accurately deliver or stop the flow of water. Controls make it easy to switch from spray to flow, and manual spray is activated whenever the sprayer is pulled out.
The battery lasts up to two years, which is much longer than most competitors. You can only do it once with this faucet, but it does look great, so there's no way you'll regret it.
APPASO Bronze Kitchen Faucet with Pull Down Sprayer Single Handle High Arc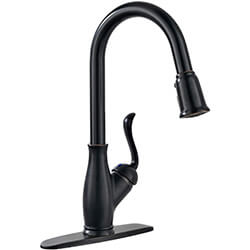 The price is very reasonable and attractive, if you prefer a touchless kitchen faucet that is cost-effective, it will be the best choice for you. This pull-down kitchen faucet features weight balls that snap your faucet spray wand into place and hold it there. The wand stays docked when not in use and does not sag over time.
Refusing aesthetic fatigue, this touchless kitchen faucet can give you a new vision, show your uniqueness, and make your eyes shine.The oil-brushed bronze finish and dynamic shapes exude a captivating atmosphere, transporting you back to the glorious Bronze Age and indulging in the culture of bronze vessel excellence.
ARRISEA High Arc Touchless & Touch Activation Pull Down Kitchen Faucet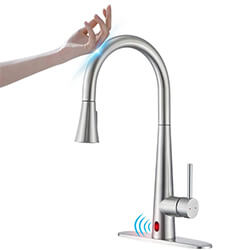 This touchless kitchen faucet has two activation modes. One is the new faucet with touch and motion sensor capabilities. The other is the low battery indicator. It can be helpful to remind you that the faucet is dead. Finally, the split signal wire makes the sensor more stable than older model faucets.
With this touchless kitchen faucet, you'll no longer have messy hands using the switch handle, just touch anywhere or wave your hand in front of the IR sensor to start and stop the flowing, near touchless cleaning design. The infrared sensor faucet interface adopts multi-layer rubber gasket sealing technology, which can ensure no water leakage within 10 years of service life, and the manual switch adopts a 3-level kit design to ensure that it works like new.
Delta Faucet Trinsic Gold Kitchen Faucet Touch, Touch Kitchen Faucets with Pull Down Sprayer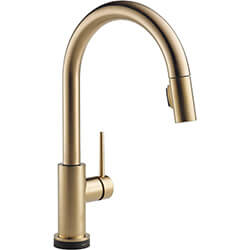 Always messy hands in the kitchen? With this touchless kitchen faucet, this situation will not happen. You can touch anywhere on the kitchen spout with your wrist or forearm to start and stop the flow of water or use the single lever handle manually. Check your water temperature from across the room using the TempSense LED indicator light that changes color to reflect water temperature.
This touchless kitchen faucet uses powerful magnets to snap your kitchen sprayer into place so it stays docked and won't sag over time like other kitchen faucets. Its patented DIAMOND sealing technology reduces leak points and lasts twice as long as the industry standard, ensuring leak-free operation over the life of your kitchen faucet.
GIMILI Black Gold Touchless Kitchen Faucet with Pull Down Sprayer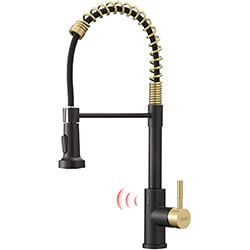 In order to better enjoy the convenience of kitchen and the happiness of life, this touchless kitchen faucet has introduced a new motion-activated technology. you don't need of the hands' touch, the water will flow out through the sensing system and turn off automatically within 3 minutes, which is definitely a good way to prevent unintentional touch.
This pull down sprayer kitchen faucet with 2 setting modes :stream for filling water, spray for strong cleaning wash.This touchless kitchen faucet provides its a kind of unique flexibility for kitchen operation, which allows you to easily switch from a splash-free inflation flow to a powerful pre-rinse spray. The lead-free solid brass body keeps family members away from harm. And the ceramic cartridge which has passed 500,000 cycle testing will sweep your worry of tap's water-leaking away. Reliable quality materials with smooth operation will bring you a good life helper.
CWM Touchless Kitchen Faucets with Pull Down Sprayer Stainless Steel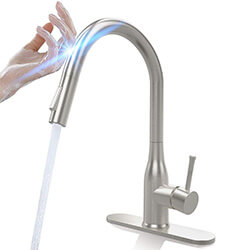 Humanized Touch on kitchen sink faucet:unlike traditional touch on faucet, you can use wrist, your back of your hand or forearm to start and stop the flow of water when your hands are in a mess. Spray modes and stream modes can meet all task for kitchen cookware. Classical kitchen sprayer head design will be an ingenious decoration for modern furniture.
High quality ceramic cartridge can reduce leak point. Besides, the kitchen sink faucets and faucet hose are made of food grade materials, safety for your health in daily use. The superior corrosion & rust-resistant finish of this touchless kitchen faucet can prevent dirty from sticking to kitchen faucet surface, you just need to clean faucet by cloth in daily use.
Closing Thoughts on best touchless kitchen faucets of 2022
We choose from various brands and consider different factors. The top 10 best touchless kitchen faucets of 2022 listed above were screened by us through extensive research and comparisons. After reading this article, you should be able to choose the most suitable touchless kitchen faucet for your home's design and daily demands.