Newest – 10 Best Kitchen Remodel and Renovation Ideas for 2022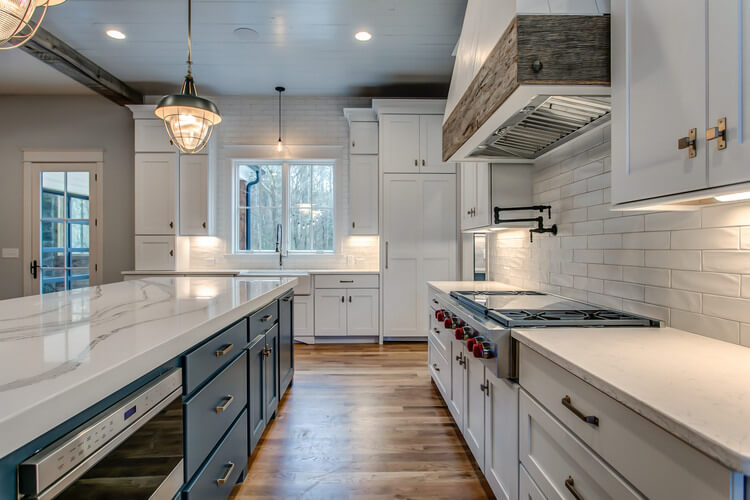 Kitchen remodeling and renovations can be time-consuming and demanding. While renovations can present all kinds of challenges, updating a kitchen is never a bad idea. Choosing new finishes, fixtures, appliances and materials can really help you connect with the space and make your kitchen yours. The kitchen is one of the most used spaces in any home and should be a place where you enjoy spending time! As fashion trends change and kitchen technology updates, choosing new kitchen designs and materials can be intimidating. Read on to check out our 10 best kitchen remodel and renovation ideas for 2022 and let us help you design your new kitchen. This post is full of inspiring kitchen pictures, so be sure to keep scrolling to check them out!
Best Kitchen Remodel and Renovation Ideas List
1. Neutral paint color
There's a reason light colors have always been popular in the kitchen! Give your kitchen an open and airy feel with neutral wall paint, cabinets, countertops and finishes. From smaller workspaces to large open chef's kitchens, neutral paint colors are both inviting and classic. Neutral backgrounds also make it easy to replace light fixtures as design trends change. Read on to see some of our favorite kitchens with neutral paint colors!
Large kitchen with white cabinets
Light colours are used in this spacious open kitchen to complement the abundance of natural sunlight that floods in through the oversized windows. This modern kitchen features many classic fixtures such as a large dining island, farmhouse sink under the window and breakfast nook. Mixed metal finishes in the cabinet hardware add a touch of modernity, while the chrome kitchen sink faucet anchors the traditional design. This classic eclectic kitchen is stunning!
Neutral kitchen with large dining peninsula
This smaller kitchen really shows the value of using neutral paint colors in home design! White walls and a traditional quart countertop provide a neutral backdrop without sacrificing style. A large black central kitchen faucet and matching black faucet complement the black cabinet hardware, giving the design a modern, contemporary feel. Featuring a large kitchen peninsula with cantilevered counters, this kitchenette offers ample dining and storage space. The white palette allows wood trim, stainless steel appliances, and other stunning fixtures to shine as centerpieces, rather than competing with brighter wall paint. A classic brass pendant light gives the room a slightly retro feel while also making the room feel taller and more open.
Neutral kitchen with modern black pendant lights
Using a neutral paint color in your kitchen renovation doesn't mean your new space will be boring! This large kitchen shows how beautiful neutrals can be incorporated into a bold kitchen design. Stark white cabinets and classic quartz countertops provide a bright backdrop for the striking grey backsplash tiles. This open plan modern kitchen features many traditional elements such as stainless steel appliances, chrome fixtures and cabinet hardware, and a large kitchen island. A unique black pendant light brings a touch of modern elegance to the kitchen.
2. Kitchen pantry space
There can never be too much storage space in the kitchen. Choosing to include pantry space in your kitchen renovation will add lasting functionality and value to your home. Even in smaller kitchens, it's ideal to include a separate standing cabinet to increase pantry space. From exterior cabinets to built-in closets, any type of pantry is a must! Check out our favorite kitchens with plenty of pantry space below!This is a real dream kitchen! From island meals to classic modern farmhouse vibes, this kitchen is amazing! Probably the biggest selling point, though, is the large walk-in pantry closet located near the main cooking area. This complementary pantry workspace has plenty of cabinet space to store all your kitchen supplies and plenty of counter space for display. There's even a mini bar tap and sink for easy cleaning! This is a true butler's pantry, the perfect addition to this gorgeous modern kitchen.
A walk-in pantry in a farmhouse kitchen
This spacious open plan kitchen features many modern elegance, including an oversized island dining room, state-of-the-art stainless steel appliances, and generous cupboard space. A walk-in butler's pantry is the perfect addition to this stunning kitchen! Open shelving provides ample storage space, while generous counter space provides ample workspace. The pantry also features a built-in dishwasher for easy cleaning and storage. In a large kitchen with lots of storage, a separate pantry may seem redundant, but you'll never regret using the available space for extra pantry storage!
Modern walk-in pantry
It's hard to see the oversized peninsula in this modern, open kitchen. Between a state-of-the-art stainless steel cooktop and double boiler sink, this kitchen offers a lot of functionality and ease of use! Just off the main kitchen, there is a large walk-in pantry closet with ample shelving and cupboard space to store all kitchen supplies and tools. The option to store kitchen tools off-site gives the kitchen a modern yet minimalist look.
3. Unique kitchen equipment
When renovating a kitchen, it's a good idea to include unique fixtures that truly make your kitchen your own! From built-in wine cabinets to functional pieces like pot fillers and pet storage boxes, including one-of-a-kind fixtures in the kitchen is a great way to really make it your own. Even in a small kitchen, you can easily install a high-tech faucet or a cabinet door refrigerator, adding to the design and value of your kitchen. Check out some of our favorite kitchens with bold fixtures below!
Matte Black Finish Delta Glass Washer
Delta Faucet is the leader in kitchen innovation! Their exclusive Glass Rinser holder allows you to easily clean any glass at the touch of a button. Its sleek design fits comfortably using any empty countertop surface, such as those for soap dispensers and hand sprayers, while taking up minimal countertop space. Simply press a glass, travel mug, baby bottle or any other cup onto the rinser and a powerful jet of water will blast out to speed up rinsing! Channel outlet design allows water to easily drain into the sink below, leaving zero mess! The powerful water jet is designed to wash away the most stubborn residues, leaving nothing to scrub away. Delta Glass Rinsers are available in a variety of kitchen finishes, allowing them to match seamlessly with your new kitchen faucet.
Stainless Steel Pot Filler
A pot filler is a sophisticated fixture that allows you to easily fill a large pot for cooking directly on the stove! It's ergonomically designed to fold tightly so it doesn't get in the way while cooking, then retract to access the different burners on top of the stove. This functional fixture is a great choice for any home cook, as well as families with elderly or disabled family members who may have difficulty filling a cauldron in the sink. Pot filler instantly adds modern charm and sophistication to any kitchen design!
Hidden Kitchen Pet Food Storage Drawer
Nothing is more unique and custom in a modern kitchen than a hidden dog cupboard! This pull-out cupboard tray provides enough space for pet food and water bowls, and can be easily stored after your pet has eaten. The seamless design complements the rest of your cabinets easily, and when pushed in, it looks like any other drawer. If any good idea for an organized and pet-friendly kitchen, include a designated space for pet bowls. The ability to easily hide unsightly pet supplies makes this one-of-a-kind fixture a practical option.
Modern farmhouse kitchen with wine cooler
Nothing complements a large modern kitchen like a built-in wine cooler! This kitchen boasts a range of stylish fixtures such as a large apron sink, cabinet door dishwasher and a state-of-the-art stainless steel collection. Wine cabinets add an element of sophistication and modern functionality. Glass doors make it easy to see cold drinks inside, while adjustable shelves can be moved to accommodate bottles of various sizes. You can also use the wine cabinet as extra storage for other frozen liquids like juices and teas!
4. Stylish kitchen fixture finishes
Kitchen finishes change with each generation, but it's never a bad idea to follow trends! Using stylish finishes like Champagne Bronze and Matte Black from Delta is ideal for adding a modern touch to any kitchen. From cabinet hardware to light fixtures and faucets, incorporating stylish finishes in your kitchen can really make it feel like home while maintaining a sleek and contemporary style. Keep scrolling to see some of our favorite kitchens with stylish finishes.
Modern minimalist kitchen with gold finish
Gold and brass finishes have long been the industry choice for modern sophistication. While brass may seem dated in some home designs, this kitchen proves that brass can still be a sleek and stylish addition to any modern style. Dark cabinets and floor tiles provide a basic backdrop for the brass hardware to shine! Brass is a great choice for mixed-metal designs, as we've seen here with stainless steel appliances, complementing the sheen of cabinet hardware. Brass hardware is timeless and a great choice for adding eye-catching appeal to your kitchen renovation.
Modern kitchen with black finish
Black finishes have quickly become the go-to for contemporary and modern home design. In the kitchen, the black finish reminds us of traditional and timeless design. This kitchen seamlessly incorporates black finishes, black cabinet hardware, black kitchen faucets and side sprayers, and black floor tiles. Dark cabinet color complements black hardware for a sultry and romantic feel, while modern stainless steel appliances and a classic white subway tile backsplash reflect plenty of natural light that streams in through the large sink window.
Large kitchen with gold finish
Delta's Champagne Bronze finish is very sophisticated and modern. In this large kitchen, the champagne bronze kitchen faucet shines as an elegant centerpiece against the backdrop of stainless steel appliances. Modern gold hardware complements neutral white cabinets for a bold and stylish look. With plenty of counter space and a dining island, this kitchen truly is the center of the home.
5. Bold Kitchen Sink Backsplash and Decorative Tiles
Tiling across the backsplash and throughout the space can really set the tone for a kitchen renovation. Even in a minimalist kitchen, adding a bold tile design to your backsplash will set your kitchen design apart. Whether it's a backsplash made up of totally adventurous colors, or some unique accent tile in the space, combining eye-catching tiles is a great way to upgrade your kitchen!
White and Grey Herringbone Kitchen Tile Backsplash
Herringbone tile designs in the kitchen are both classic and eye-catching! This kitchen features traditional white subway tiles in a modern herringbone design. A special grey mortar adds an element of modern sophistication, while also coordinating with the stunning marble countertop. The unique light blue cabinet color and gold finish handles make this one-of-a-kind kitchen design a bold statement for home improvement!
Blue and White Kitchen Tile Backsplash
Nothing beats a bold backsplash in modern kitchen design. This large kitchen features an oversized backsplash and a unique patterned tile design. The shades of blue give this room a sleek, modern feel that complements the state-of-the-art stainless steel collection. Stark white cabinets and quartz countertops make this kitchen feel open and airy while complementing other modern designs. Bold backsplash tile designs easily incorporate unique custom elements and are a great way to add a personal touch to your kitchen design.
Oversized Kitchen Backsplash Designs
This uniquely shaped kitchen has a lot of unique elements. From the traditional ceiling molding and large windows above the sink, to the bold blue island cabinet color, this open kitchen is certainly unique. The oversized backsplash comes in a striking blue hue that complements the Big Island perfectly. Installing a sizable countertop on the cabinet backsplash makes the kitchen look taller and adds a modern element. The white background of the tiles also complements the kitchen cabinets and reflects the abundant sunlight streaming in through the large windows.
6. Functional kitchen countertops
Choosing the perfect countertop material for a kitchen renovation can be both exciting and stressful. Countertops should be functional as well as stylish, and there are many different materials to choose from that cater to both! As one of the biggest expenses in kitchen remodeling, you want to choose something that is durable and can last through many different style trends. Read on to see some of our favorite functional countertop options!
Modern kitchen with quartz countertops
Quartz is one of the most popular choices for functional kitchen countertops. Quartz is not only cost-effective, but ideal for a chef's kitchen. The cool, smooth surface is great for kneading bread and easy to clean after cooking messy meals. The striking white complements almost any kitchen design, while the classic grey texture mimics the style of traditional marble, giving the kitchen a sophisticated feel. The navy blue cabinet color and classic stainless steel appliances continue the modern design, while the white and gray backsplash complements the counter color. Quartz stone is a great choice for adding modern function and style to any home renovation.
Farmhouse Kitchen with Butcher's Counter
One of the most practical options in countertops is the cut of meat. This stunning wooden island is both a durable work space and the eye-catching centerpiece of this large modern kitchen. Traditional cutting boards are made by pressing multiple planks together to create a highly durable and unique countertop that can be fully customized to fit your specific home design. As a functional fixture, the cutting board can be used as a cutting board, a generous work space and a stunning design element. The butcher block countertops also complement traditional quartz and marble for a hybrid counter design like the one pictured here!
Modern Kitchen with Butcherblock Island Counters
A kitchen island with plenty of cabinet space, a functional countertop, and a useful bar sink and faucet are practical fixtures in any kitchen. This modern kitchen features a large dining island and a large butcher countertop that can be used as a functional workspace. The one-of-a-kind cutting board design ensures that each counter is unique and ideal for a specific kitchen design. A classic wooden chopping board offsets a sophisticated tiled backsplash with a traditional and timeless element. Butcher blocks are timeless and functional for future generations!
7. Unique Kitchen Lighting
Light fixtures are often the heart of any space and the most striking light fixture in any room. Choosing unique light fixtures can add a bold look to your kitchen and enhance your design style. Using uncommon materials and shapes, or combining striking colors and finishes with your kitchen light fixtures can spice up your designs and make your kitchen feel more like a place you love to spend time. Check out some of our favorite unique kitchen light fixtures below!
A minimalist kitchen with bold black pendant lights
This kitchen has a lot to offer, but the statement chandelier is by far the star here! A white color scheme throughout the kitchen provides a neutral backdrop for the bold black finished pendant light. Hanging light fixtures add height to the space, while a modern farmhouse style complements traditional elements throughout the kitchen. These unique hooded chandeliers also feature one-of-a-kind gold accents for a contemporary look. Kitchen lighting should complement your design while also reflecting your personal style!
Farmhouse cage pendant light kitchen light
Over the past decade, elements of traditional farmhouse design have slowly appeared in nearly every home style. Here we see a stunning modern kitchen with unique marbling on the walls and countertops and high-tech stainless steel appliances. However, this kitchen wouldn't be complete without a brilliant modern farmhouse pendant light mounted above a large kitchen island! The white metal design complements the color scheme throughout the kitchen, while gold cages and mounting hardware keep these fixtures stylish and sophisticated. Adding traditional elements to an otherwise modern kitchen can extend the life of a design beyond future changes in style trends.
Unique Wicker Pendant Kitchen Lights
This year's trend is to use uncommon materials in unique kitchen light fixtures! This uniquely designed kitchen features two large woven basket pendant lights mounted above island fixtures. These personalized light fixtures bring a new texture and unique design element that complements the woven hanging window treatments. In smaller kitchens, lightweight materials and ventilation make the room feel more open and taller. These beautiful basket light fixtures are unique in modern kitchen design!
8. Upgrade your kitchen appliances
Appliances are obviously the heart of every kitchen, so why not make them unique and eye-catching? Choosing a bold colored oven or cabinet refrigerator is a great way to spice up your kitchen renovation and add value to your home. Upgraded appliances are a great selling point, and your home will be ideal if you choose to sell it later. From pot fillers to professional-grade ovens, appliances can make or break your kitchen renovation. Read on to see our favorite kitchen appliance upgrades!
Modern kitchen with double stainless steel collection
Modern farmhouse designs are becoming increasingly popular in kitchens for their timeless appeal. The minimalist white and black color scheme is perfect for generations of designs. This truly is a chef's dream kitchen, with plenty of counter space and space to store all your favorite gadgets and kitchen tools. But the most striking element of this splendid kitchen is the stainless steel double oven! Featuring extra burners and an additional convection oven, this range is designed to cook an entire Thanksgiving meal at once! Adding a matching stainless steel pot filler allows home cooks to easily and safely fill large pots of water where they will be used, rather than carrying them from the sink. These modern appliances enhance the farmhouse design and add great functionality and value to this renovated kitchen!
European white and gold series
Adding uncommon appliances to your kitchen renovation is a great way to really make your kitchen yours! This stunning modern farmhouse-style kitchen has a lot to offer. Crisp white cabinets and unique backsplash tiles create a striking backdrop for the extraordinary gas cooktop. Gold cabinet hardware complements the collection's gold handles and hardware, continuing an element of sophistication throughout the space. The unique design gives the collection an old European feel, making the kitchen feel extremely luxurious and bespoke. An open vent design and large golden pot bars keep the workspace open, leaving plenty of room for cooking and creativity in this sophisticated kitchen space.
Rustic Kitchen Stove
This particular emerald green collection is irresistible. The appliance's unusual look adds an element of interest to this kitchen, while the unique design feels retro and rare. Farmhouse kitchen designs feature bold centerpieces like the Uncommon Collection. Minimalist white cabinets and tiled walls provide the perfect backdrop for the extraordinary range of colors. Brilliant greens are exciting and really personalize the overall feel of the kitchen. From one-of-a-kind cabinet hardware and extraordinary collections, this kitchen is the epitome of customization!
9. Kitchen island
Kitchen islands have long been a staple in any chef's kitchen, big or small. Even in a smaller kitchen, an island is a great way to add extra storage and work space. With the popularity of kitchen islands, we've seen many different kinds of fixtures, including large wooden tables, bulky cabinets, built-in cabinet fixtures, and even mismatched fixtures that add an extra design element. Check out our favorite kitchens with unique islands!
Farmhouse style oversized kitchen island
A large farmhouse kitchen is every home cook's dream! Not only does this kitchen feature an array of bold and advanced appliances such as a cabinet fridge, gold pot filler and an eye-catching oven, but it also offers an oversized kitchen island. Considerable counter space makes this island the perfect place to knead bread or make other kitchen creations. This large island features a unique dining table design with a counter that doubles as a dining nook. With plenty of natural sunlight, bold finishes and a one-of-a-kind design, this spacious kitchen is sure to be the ambition of any home cook!
Modern eat-in kitchen island
A large kitchen is the heart of this modern home. Gorgeous cream cabinets and quartz countertops add a sophisticated feel to this open space. With stylish stainless steel appliances and plenty of natural light, this spacious kitchen is spectacular. The sizable island features a large over-the-top worktop mounted on two statement posts in a unique design. Ample storage and seating space makes this key accessory the heart of a functional fixture. Functional islands are timeless and will continue to change through many kitchen trends.
Large modern kitchen with double island
An eclectic modern kitchen is the perfect place to showcase a range of stylish and functional fixtures, bold appliances, and eye-catching finishes and accessories. This spacious and airy kitchen with dual island fittings doubles as a functional work space as well as a dining space. The use of two contrasting cabinet fixtures gives this kitchen a modern and bespoke feel while also adding to its uniqueness. The built-in double-pan sink adds functionality, making this island timeless, able to withstand many design changes. Incorporate a unique island fixture into your next kitchen reno!
10. High Tech Kitchen Sink Faucets
The kitchen is a great place to showcase your best home tech! Delta Faucet offers a wide variety of innovative technology for the kitchen including things like touch and voice activated faucets and fixtures like pot fillers and glass cleaners! All of Delta's kitchen faucets include their Lifetime Warranty, covering the finish and the function for the lifetime of the faucet. You want your kitchen to be a place you look forward to spending time in. Make sure to install a one-of-a-kind Delta faucet in your high tech kitchen!
Delta Instant Hot Water Faucet
One of Delta's most exciting innovations for the kitchen is the instant hot water dispenser faucet! This stunning faucet provides instant near boiling water with the turn of the handle. You can easily prep hot water for cleaning, or make a warm beverage instantly! The traditional design of this high tech faucet seamlessly complements nearly all Delta kitchen faucets, making it an easy addition to your kitchen design. The single handle body utilizes minimal counter space for installation, while the solid brass design ensures your faucet will endure generations! Include this one-of-a-kind innovation in your next kitchen reno to add lasting value and functionality!
Delta MagnaDock Bar Faucet
This innovative bar faucet features some of Delta's most unparalleled technology. The single handle design offers a unique pull-down faucet head that doubles as a hand sprayer. This one-of-a-kind feature allows the faucet head to tightly dock into place with precisely placed magnets, releasing with a gentle tug to be used as a hand sprayer. In addition to this exceptional technology, this Chrome single handle faucet also includes Delta's Touch20 programming which allows you to turn the water on and off with a single tough anywhere on the faucet body or handle! The Touch20 technology can be activated with a touch of the forearm or wrist, making it ideal for those times when your hands are covered in kitchen grease! With two of Delta's most innovative tech advancements, this bar faucet is the perfect choice for your busy kitchen!
Delta Touch2O Kitchen Faucet
More often than not, the kitchen is where everything happens at once and messes pile up quickly. Delta had a hectic kitchen in mind when they created their unmatched Touch2O technology. A Delta touch faucet can be activated with a simple touch of the hand, wrist, or forearm, allowing you to easily turn the water on and off whether your hands are filthy or full! You can easily set the water temperature and pressure with the single handle, turning the water on and off with a touch anywhere on the faucet body or handle, for a precision water flow every time. A touch faucet is also a great addition to a family kitchen. Children can easily turn the faucet on and off without changing the water temperature, reducing chance of burns. A Delta Touch2O faucet is the best choice for your next kitchen renovation!