Best Pull Down Kitchen Faucets of 2022 – Latest Reviews

Many homeowners prefer pull down kitchen faucets because they can enable us to handle the housework in the kitchen more conveniently, which is an ergonomic solution. There are so many types of pull down kitchen faucets on the market and their quality varies. It takes a lot of time and effort to pick out a good kitchen faucet with pull down sprayer. Take it easy! We have done this trivial matter for you. We have done a lot of research and summarized and listed the best pull down kitchen faucets of 2022. So, check out the products mentioned below to choose the one that suits your requirements.
Best Pull Down Kitchen Faucets List
Moen 7594SRS Arbor One-Handle Pulldown Kitchen Faucet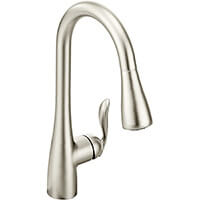 From the design point of view, Moen created a best modern kitchen faucet that fits perfectly into traditional or more contemporary kitchens. With just one handle and a drop-down sprinkler head, the look is clean but not as minimalist as other faucets on our list. They have adapted the tap perfectly for this purpose. This luxury kitchen faucets resists fingerprints and water spots, resulting in a cleaner-looking kitchen. This means that you can spend more time enjoying your home and less time to clean it.
Another amazing feature of the Arbor faucet is its PowerClean technology, which provides more water pressure to eliminate sticky and caked crusts in the sink and kitchen dishes. The pull-out rod of this best quality kitchen faucet of 2022 offers two modes of spraying to cover everything from washing products to scrub pots and heavy pans.
Kraus KPF-1610SS Bolden 18-Inch Commercial Kitchen Faucet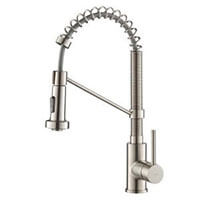 The Kraus KPF-1610 is one of the best budget options. This faucet can provide a perfect fit in almost every kitchen, as it is the perfect height to fit under most home kitchen cabinets. It is an eco-friendly commercial kitchen faucet model that uses lead-free materials in its composition but is ultimately durable.
The 20-inch retractable hose lets you direct water exactly where you need it. The 180-degree swivel nozzle also provides more range of motion. The tall curved faucet spout provides plenty of room for almost any task in the sink, is available in a variety of incredible finishes, and can be easily installed in a single-hole or three-hole sink.
WOWOW Single Handle Brushed Nickel Kitchen Faucet with Sprayer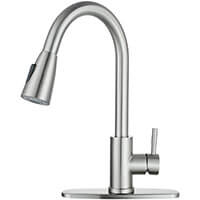 Made of premium SUS 304 Stainless Steel, this WOWOW kitchen pull down faucet features 30-inch reach, 1.5 m PX pull out hose, which is perfect for both single and dual kitchen sinks. This pull out kitchen faucet with splash-free aerated stream is convenience to filling the bowls, pans and pots. Modern kitchen faucet comes with brushed nickel, simple and stylish, is perfect match for your kitchen style. Powerful spray mode can wash dishes and sinks vigorously. Single handle kitchen faucet is more convenient and simple to control water temperature and water flow range.
Delta Faucet Essa Brushed Nickel Kitchen Faucet, Kitchen Faucets with Pull Down Sprayer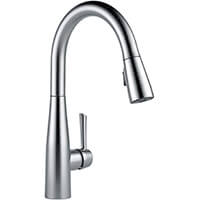 This best pull down kitchen faucet of 2022 that everyone will love. It is said to last two times longer than other faucets thanks to the patented Diamond Seal Technology. This technology reduces leaks for the life span of the faucet. This faucet also has a magnetic dock. The Magnetite docking uses a powerful magnet to hold sprayers and other attachments into place. This easily installed faucet can fit a three-hole sink, with an 8-inch configuration. No need to soak your hands in chemical cleaners as this faucet has a touch clean spray hole. You can get rid of chemical and lime residue with just a touch.
KOHLER Simplice Pull Down Kitchen Faucet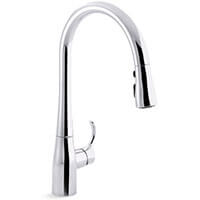 It's one of the best pull-down kitchen faucet models on the market right now. Its novel design and robustness make it ideal for most homes. Pull-down faucets are rich in planning and practicality and are ideal for all cleaning jobs. It is accompanied by a high-curve surge that rotates 360 degrees. A faucet with a pull-down spray is excellent at performing the three main jobs in a specific range of showers, pauses, and running water.
Besides, the shower head features an etched latch that prevents rapid water entry during washing, even with slippery, soapy hands. The shade is vibrant and spotless, and its dimensions are definitely 9 x 2 x 16.6 inches. The water flow rate and water consumption were 1.8 GPM. The levers are single opening deck mounted for easy fixation.
Hansgrohe 6-inch Tall Pull Down Kitchen Faucet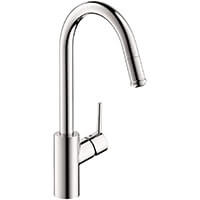 This is a simple but beautiful pull down faucet. While this model may not offer the modern look of some of its competitors, this faucet takes a simple and classic approach. The neck of the faucet also features a magnetic docking system that swivels 150 degrees and offers an old school style with few bells and whistles. Laminar sprays provide an air-free mixture and are ideal for reducing spatter. While this model's lack of spray functionality may limit some, others will find this simplicity a welcome option.
KOHLER Bellera Pull Down Kitchen Faucet with Pull Down Sprayer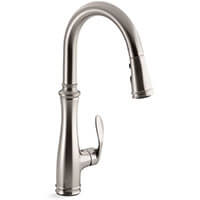 Kohler kitchen faucets feature a three-function spray head; choose from Stream, Boost and Sweep sprays, depending on your needs. The corrosion-resistant Kohler has a robust construction and includes an innovative ball joint in the head of the retractable nozzle. These are loaded with sweeping jets that give you a powerful flow of water with a large oval pattern and angles that help with deep cleaning. It has a pause option to quickly disable the water flow when needed. It's easy to use and install. This is one of the best pull-out kitchen faucets. That's why we recommend it to our list.
Grohe 32665DC3 Concetto Dual Spray Pull-Down Kitchen Faucet
With an innovative and beautiful design, simple accessibility and intuitive use, Grohe Concetto kitchen faucets are perfect for any kitchen. Its sleek, sophisticated design with a tall, swivel nozzle makes it easy to use in any home!
Grohe designs everything they do so you never have to worry about quality or performance. It features a high swivel nozzle that makes filling cans and cleaning the backs of dishes easy. With its 360-degree swivel radius span, it flows effortlessly around every corner.
The dual spray option lets you switch between regular water flow and spray at the touch of a button, making this design perfect for any sink size! This product features an anti-lime system made from lead and nickel-free materials like no other!
Advantages of Pull Down Kitchen Faucets
One of the most notable benefits of a pull down kitchen faucet is its impressive overall appearance when placed in any kitchen! This is certainly a visually stunning feature that provides a more modern and contemporary look than the average, basic and dull kitchen faucet. However, its practicality is also the reason why people prefer the pull-down kitchen faucet, and there are many of them. Simple and quick to install, they allow you to do more around your sink, especially those with a higher spout height.
They also ensure that you don't have to struggle to turn on the water if you have something on your hands or even dirty hands with a one-touch design. Their selection of spray modes also ensures you get just the right amount of hydraulic power when you need it (also consider a pull-out kitchen faucet if it's the main feature you're looking for). In the end, these are the models that are less likely to leak than those older faucets.
What to Consider When Buying a Pull Down Kitchen Faucet
A kitchen faucet is a very simple fixture. You install it, connect the water line, and you're done. However, there are a few things we should pay attention to when buying a pull-down faucet.
Spout height
Pull-down faucets are usually tall compared to other styles of faucets. Their long necks and graceful curves are two of the many reasons why homeowners love them so much. But it also means taking into account the space between the wall-mounted cabinets and the countertop. If you plan to install the faucet on a kitchen island with lots of vertical space, or something like that, obviously you don't have to worry about it. However, for those with limited kitchen space, measure the distance and height of potential future faucets before purchasing.
Cabinet space
Basically, the long pull down hose is under the sink, and its self-retraction happens in the same space. Also, the way the hose works requires some space to be optimal.
Therefore, two points need to be noted:
1) Allow sufficient vertical space for hoses in the base cabinet under the sink.
2) Clean the surroundings and make sure the hose can hang/move freely after installation.
Spray pattern
Another reason people love dropdowns is how easy it is to clean with them. From scrubbing the sink to washing the dishes, the drop-down sprinkler is truly a useful aid. Some companies have even developed exclusive technologies (Moen's Power Clean, Delta's ShieldSpray, etc.) to improve the experience. So keep an eye out for those before deciding on anything.
Docking mechanics
While we're on the topic of sprinklers, let's also talk about its docking. Now, for most users, a sagging spray wand is probably no big deal. For others, however, I'm pretty confident it's a big deal. I will explain. If the sprinkler cannot be docked, the entire faucet can still be used. Everything else will work fine. Water will still flow. You can still pull out the hose and maneuver it without any problems. One thing here is that it doesn't dock. However, for anyone else who likes myself, it does make us want to rip the faucet off the sink. The dangling head is aesthetically incredible. The exact opposite of "sore eyes". Not to mention someone with OCD.