Complete Shower System Buying Guide – How to Choose A Shower System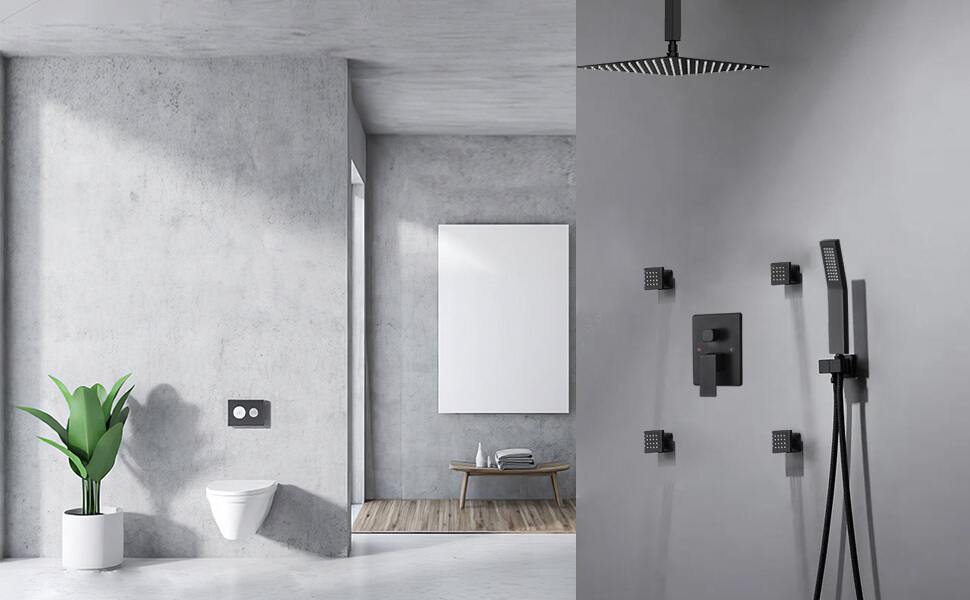 There's no denying that bathroom remodeling is a tough job, and there aren't many safe shortcuts available, but having the ability to design your own shower space makes it all worth it. There are options to customize your bath and shower experience to include exactly what you want, and what you don't or won't use. The technology makes life easier, and with some shower systems, even installation is easy. Finding the perfect shower for your bathroom based on the features you want to use is easier than you might think.
Browse General Shower System Categories
If you already know what type of shower system combo to buy, this can be a very useful way to just buy a complete shower system with the exact peripheral spray configuration you want. For example, if you know you want a shower system with a shower head and hand-held spray, then you can click the link to jump to the shower system page with that specific configuration. Browse the options below and you're sure to find the complete custom shower system of your dreams!
Shop Shower Systems by Special Features
If you know you want a specific feature from your shower system, the links below can help! After selecting a feature from the options below, you will be taken to a page with all available shower systems that meet that standard. Shop by Feature and find the best complete shower system for your bathroom today!
Shower System Considerations
Before installing a shower system, it's important that you consider the essential components of your existing plumbing system and make any necessary upgrades to make your shower system perform at its best. You will need to install enough shower outlets to fully accommodate the number of outlets you haveA installed – shower heads, body sprays and hand showers, so as not to exceed the minimum flow of any one valve, which will degrade the performance of your shower system.
Another issue is that for shower systems with three or more outlets, your recommended pressure is at least 50psi. Lastly, you should also have a dedicated 100-gallon water heater to make sure your shower has enough hot water (though a 50-gallon water heater is enough for a shower of 8 minutes or less).
If your plumbing is connected to a water softener, this can limit the flow of hot water needed for the shower system combo to function properly—many homeowners simply install a water softener designed for such high flows.The drain in the shower should also be large enough to eliminate the amount of water that the shower system can drain. Ideally, your shower system should have one 3″ drain and two 2″ drains.
Shower System Buying Guide – Want to Learn More About Shower Systems?
At WOWOW we specialize in Shower Systems. WOWOW Faucets is a leading manufacturer of high-quality, super stylish shower systems combo, perfect for any master bathroom renovation or new construction project. To build your own custom shower system combo, you will first need to understand how all the component parts are interrelated. When planning out a shower system, it's important to understand the relationship between the mixing valve, diverter valve, and the various spray outlet groups (wall showerheads, ceiling rain showerheads, hand shower kits, body sprays, and even tub spouts).
There are many different combinations supported by the WOWOW shower fixture components, however it's important to understand the plumbing if you want everything to perform as expected. Furthermore, it's good to know about all the special features that can be included in your shower system combo. There are nearly infinite options and combinations possible when it comes to creating your own custom shower system combo. Using our 10+ years of experience in the plumbing industry, we have written many detailed guides to help you plan out the best shower system based on your requirements.
In our Buying Guides, we provide a huge amount of free information on shower systems (and a variety of other topics as well) to try and give you all the information you will need to get started planning your new master bathroom.