Best Kitchen Faucets 2021 – Reviews and Buying Guide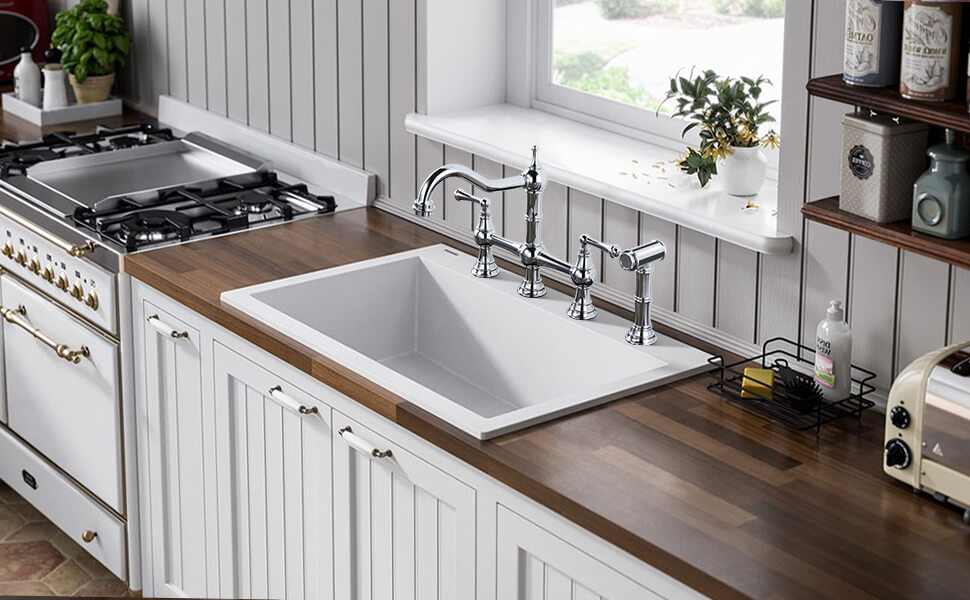 It is said that the sink area is the heart of any modern kitchen, and the faucet is arguably the most impactful part in terms of function and style. It is very important to choose the right kitchen faucet that will make your daily work easier.
For those of you who don't have much experience in the faucet market, finding what you need is easier said than done. In this article, we'll discuss the most important things when you're trying to differentiate a quality faucet from the rest, then take a look at some of the best kitchen faucets 2021 we've managed to find.
Best Kitchen Faucets 2021 List
1. KOHLER 596-VS Simplice Pull Down Kitchen Faucet, High Arch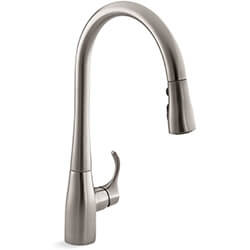 Buy on Amazon
It is one of the best kitchen faucets 2021. This stainless steel pull-down faucet features a three-function spray head. The head pressure can flow, boost and purge – three different water pressures for different jobs. The boost function increases water flow by 30%, while the sweep function provides an angled spray for removing food and debris from pots and pans.
The faucet is available in a 1-hole or 3-hole configuration with spouts up to 9 inches. A magnetic docking system keeps the spray head in place. Ceramic disc valves are durable and have a finish that resists both corrosion and rust. Kohler also offers a limited lifetime warranty on this model. Available in vibrant stainless steel, matte black and polished chrome finishes.
2. Moen 7594ESRS Arbor Motionsense One-Handle Pulldown Kitchen Faucet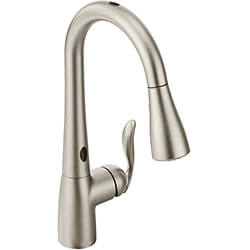 This is one of the best kitchen faucet with motionsense function. Marrying form with function, this faucet model offers convenient, hands-free operation with the wave of your hand. The wave sensor (on top) and ready sensor (in front) initiate and stop water flow when either one detects motion.
By adjusting the control box under the sink, you're also able to change the default temperature of the water when the sensors activate the faucet. The Moen factory setting is lukewarm, but you can adjust it.
The Moen Arbor MotionSense Faucet has a 100-degree-rotating high-arc spout — great for filling and cleaning large pots. The spout with a pull-down spray head offers three functions: an aerated stream, a strong "PowerClean" spray for heavy-duty cleaning, and a pause that temporarily stops the water flow (1.5 gallons per minute maximum).
3. WOWOW Black Kitchen Faucet with Side Sprayer
Bridge kitchen faucet features 2-handle design and comes with supply hoses (cold&hot), which can help control water volume and temperature precisely. High arc 360° rotating faucet is also perfect for double sink.
The heavy-duty bridge faucet is made of premium solid brass, non-rust, non-erosion. Water quality is guaranteed by unique techniques for preventing lead and scaling, which is beneficial to a healthy lifestyle.
With one push of a button, the high-pressure brass side sprayer can spray a strong stream of water to clean dishes and the dirt in the corner. The included hose can be pulled out up to 27.5 inches, which is easy to clean any position around the sink.
Antique brass kitchen faucet is a beautiful addition to your kitchen. Vintage kitchen faucet comes with all necessary hardware and user instruction, which makes the installation easier with 30 minutes.
4. Kraus KPF-1610SFS Bolden 18-Inch Commercial Kitchen Faucet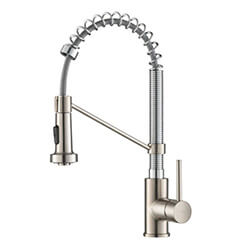 Commercial style kitchen faucets have an industrial look and have become an increasingly popular style in modern kitchens. If you are looking for this type of faucet, the KPF-1610SFS Bolden Commercial Kitchen Faucet is the best kitchen faucet for you.
It offers the flexibility of a classic pull-down kitchen faucet with a spray head that works in two modes – aerated stream for everyday use and a powerful spray for heavy duty cleaning – and it also has a docking arm with a stand , to hold the sprayer securely in place when the spring is not in use.
While this is a popular choice for island sinks, its compact design and 18-inch height will fit under almost any kitchen cabinet.It also features a premium ceramic disc filter element for long-term leak-free use, and is available in 13 different finishes, including some anti-spot and stainless steel versions.
5. Delta Faucet Windemere 2-Handle Kitchen Sink Faucet with Side Sprayer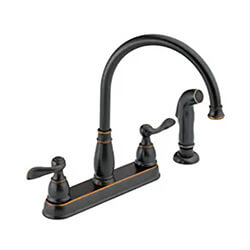 This is a standard two-handle faucet with a high curved gooseneck spout. Unlike the other options on this list, its body is made of plastic but has a metal finish, and the side sprayer is constructed the same way.
These materials make it lighter and attractively priced, but it makes sense that the plastic parts wouldn't be as tough as brass. There are three finish options: chrome, oil-brushed bronze and stainless steel. The bronze colour complements the Victorian details. Stainless steel doesn't look as good on this faucet, but it's more resistant to tarnishing.
6. KOHLER Simplice Response Touchless Pull Down Kitchen Faucet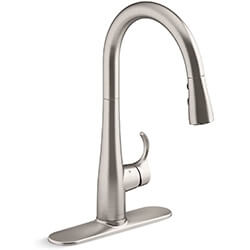 Kohler is another leader in the home improvement industry known for its plumbing products. Simplice touchless faucets allow you to enjoy a cleaner, more hygienic kitchen environment. It features intuitive responsive technology that keeps up with your every move.
The smart faucet turns it on or off with just a flick of your hand or an object like a pan. Don't worry; not every action activates the water. The sensor is precision engineered to prevent false activation.
The stainless steel Simplice also features many of the bells and whistles of high-end faucets, such as goosenecks, drop-down spouts, a magnetic docking system located within the spout, and an optional power boost for cleaning and filling planters.
Naturally, contactless technology comes at a price. However, if you're in the market for a solid touchless faucet, this model is well worth considering.
7. Grohe 32665DC3 Concetto Dual Spray Pull-Down Kitchen Faucet
With an innovative and beautiful design, simple accessibility and intuitive use, Grohe Concetto kitchen faucets are perfect for any kitchen. Its sleek, sophisticated design with a tall, swivel nozzle makes it easy to use in any home!
Grohe designs everything they do so you never have to worry about quality or performance. It features a high swivel nozzle that makes filling cans and cleaning the backs of dishes easy. With its 360-degree swivel radius span, it flows effortlessly around every corner.
The dual spray option lets you switch between regular water flow and spray at the touch of a button, making this design perfect for any sink size! This product features an anti-lime system made from lead and nickel-free materials like no other!
8. WOWOW Spring Kitchen Faucet with Pre-Rinse Pull Down Sprayer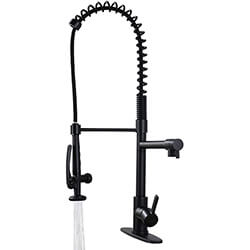 High arch 360° swivel faucet provides enough space for any kitchen task – cleaning, filling, etc. Magnetic coupling arm to keep the spray head stable and prevent it from falling. 90° adjustable single handle design easy to control water temperature and flow volume at the same time.
1 or 3 hole installation. We provide you with detailed instructions, installation accessories and tools, including the cover deck plate, 0.5m tucai water hose in quality assurance, gloves and so on. Easy installation by yourself without a plumber.
Pre-Rinse Sprayer head offers a high-pressure powerful spray to flush away food residue, it can stay open just with one press of the handle and no need to hold it. Stream mode for filling large pots and pans in minutes. They can work on at the same time and rotated around 360° which makes cooking more efficient.
The heavy-duty pot filler faucet is made of premium solid brass and weighs 9.7 Ibs. Brass kitchen sink faucet with matte black finish is rust, corrosion, leak-resistant, and ensures water safety and a long lifespan.
9. Pfister G13310SS Pfirst Series 1-Handle Pull-Out Kitchen Faucet
It comes with a dual function spray head that can switch between two spray modes depending on the application. With a high arch design, you'll get extra clearance and reach so you can still use your sink comfortably.
This kitchen faucet will fit in both 1 and 3 holes, making it more versatile as it means you can use it on almost any sink. Installation is also a quick and straightforward process.
While this cheap kitchen faucet has no hoses and a relatively small base plate, these are just minor issues. For these lines, they are inexpensive and widely available, while the backplane is still large enough to provide adequate coverage.
10. WEWE Single Handle High Arc Brushed Nickel Pull Out Kitchen Faucet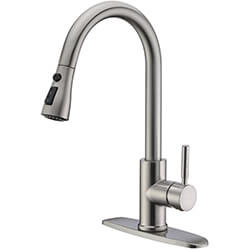 This WEWE kitchen faucet has three different modes – a spray one, a stream one, and a pause one. You can easily switch from one mode to another according to your needs. As far as the installation of this product is concerned, you won't have to pay a plumber to do it.
Following the DYI steps, you can mount the faucet by yourself for less than 30 minutes. For your convenience, the handle of the faucet can be installed on the left or right-hand side as well as in the middle. In addition to this, the spout can rotate in 360 degrees.
Another good feature of this item is that you won't need to put a lot of effort into cleaning it. Using a simple cloth to wipe the spout is enough. Due to its rust and corrosion-resistant finish, the faucet doesn't get covered with dirt.