Best Bridge Kitchen Faucets for 2023 – Latest Reviews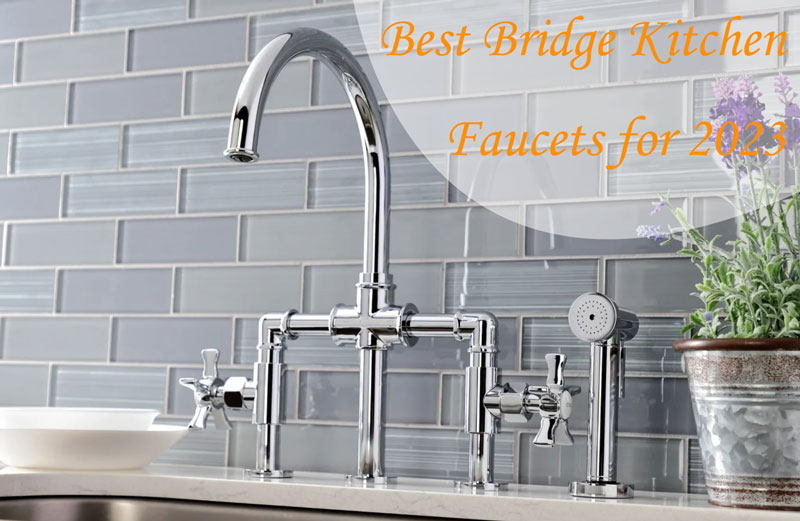 Bridge kitchen faucets are named for their appearance the metal tubes that connect the hot and cold handles to the central spout create a bridge across the countertop. The attractive and classic designs of bridge kitchen faucets are often stunning with their wider designs.
Whether it's a traditional country style kitchen or a modern one, a bridge kitchen faucet is the perfect addition. However, there are a wide variety of bridge kitchen faucets on the market, and the quality varies. Choosing a good bridge kitchen faucets is not an easy task. After a lot of research, in terms of material, appearance, practicality, cost performance, etc., we have selected the 10 best bridge kitchen faucets on the market in 2023 for your reference.
List of best bridge kitchen faucets for 2023
Kingston Brass KS1273ALBS Heritage 8-Inch Kitchen Bridge Faucet with Brass Sprayer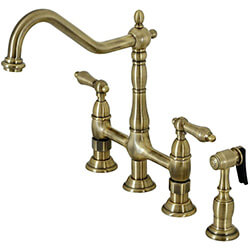 This is one of the top rated bridge kitchen faucets of 2023. The weight of the nebulizer unit is better than any other competing model. Gorgeous looking and available in a variety of colors, it's an easy choice for any kitchen decor. Its solid brass construction resists water damage and corrosion. The dual handle lever for hot and cold temperatures works just as well as the sprayer. Superb bridge design and functionality met our needs. If you are interested in bridge kitchen faucets, this one is your first choice.
WOWOW Gold Bridge Kitchen Faucet 2 Hole Antique Brass Bridge Faucet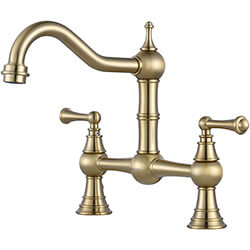 This WOWOW bridge faucet is another top rated bridge kitchen faucet that you can consider. It is made of premium solid brass and with a brushed gold finish, is rust, corrosion, and leak-resistant, and the faucet is safe and healthy for your whole family. High-density solid brass construction ensures a long lifespan. The bridge kitchen faucet features 2-handle design and comes with supply hoses (cold&hot), which can help control water temperature in a more precise way. This antique brass kitchen faucet is a beautiful addition to your modern or farmhouse kitchen and provides more versatility.
Pfister LG31-TDD Port Haven Kitchen Bridge Faucet with Side Sprayer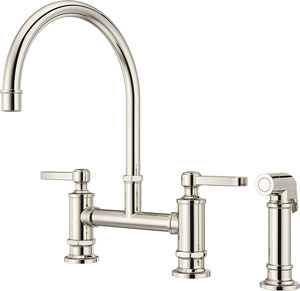 The great advantage of the Pfister LG31-TDD Port Haven Kitchen Bridge Faucet is its very elegant, statue-like shape, this faucet will make a statement in your kitchen and become the most eye-catching point. The perfect addition to both modern country, modern industrial and eclectic kitchen designs. This bridge faucet has a side spray that you can choose to install with or without. The side sprayer can make it easier for you to handle the kitchen work better. It is CALGreen compliant, which helps the average household save water by at least 20%.
Kingston Brass KS7751TALBS Tudor Bridge Kitchen Faucet, Polished Chrome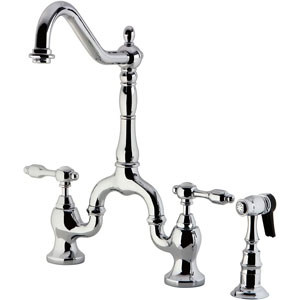 Inspired by the vintage elegance of mid-19th century design, this faucet pays homage to the past. Whether you're striving for a Victorian kitchen or a vibrant 1950s-themed space, the unique bridge design is a popular choice for those creating period kitchens. Due to its added architectural elements and details, the polished chrome finish will complement your surrounding kitchen decor. Allowed brass construction, side spout, and swivel capability provide a strong, resilient stationary use that works with any sink.
Blemoacha Bridge Kitchen Faucets with Sprayer, 3 Holes Modern Kitchen Sink Faucet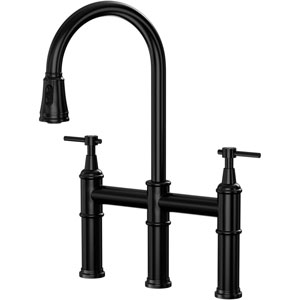 This bridge faucet with pull down sprayer is made of high-quality solid brass, high-end lead box, PVD brushed gold finish ensures durability, excellent anti-corrosion and anti-rust finish, prevents dirt from sticking, will not fade over time Fades and fades or loses luster over time. This faucet features an elegant spout that easily accommodates your largest cookware and adds a soft transitional aesthetic.
The kitchen faucet sprayer offers the flexibility to work closely together and extend around the sink; no need for a separate side sprayer. This bridge faucet with pull down sprayer is super easy to install and comes pre-installed with a motion hose and connecting hose that you can install separately.
Moen S713 Waterhill Two-Handle Traditional Bridge Kitchen Faucet with Side Sprayer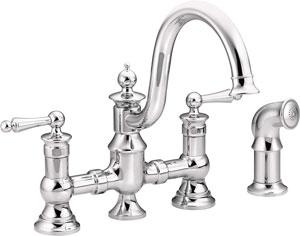 This Moen Waterhill kitchen faucets combine sophisticated country design with practical functionality to keep your kitchen running smoothly. From its top finish to the dramatic curve of its gooseneck spout, this faucet is undeniably elegant. The matching side spray is easy to install, practical and cute.
The standard design of Waterhill faucets means you can install them on virtually any sink or countertop. The Waterhill features a heavy-duty 1224 hot and cold grip cartridge for extended performance and is backed by a Moen Limited Lifetime Warranty.
Yawhite Industrial Bridge Kitchen Faucet with Pull-Out Side Sprayer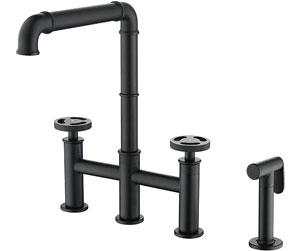 The Ruth Kitchen Faucet with 2 Handles and 1 Pull-Out Sprayer features a vintage design inspired by industrial steam pipes, perfect for your urban and modern kitchens. With 2 wheel handles, you can easily adjust the temperature and water flow. Durable brass construction and high-quality finish ensure durability. Designed with a 360-degree swivel pre-rinse nozzle, it provides greater coverage over the sink area and provides convenience during everyday kitchen tasks. The pull-out sprayer extends 59 inches, providing flexibility and convenience for cleaning and food prep.
Bottom line
Bridge faucets are a beautiful and unique statement for any kitchen. There are so many different styles to choose from in this retro style, and a bridge kitchen faucet is a great way to add style and divide a space. We hope our list of favorites helped you find the perfect match for your kitchen!
See more WOWOW Bridge Kitchen Faucets