Best Bathtub Faucets in 2023 – Latest Consumer Reports

A bathtub faucet is one of the must-have bath tools in most homes. A bathtub faucet is a fixture that controls the rate at which water flows out from the pipe and into the bathtub. A good bathtub faucet can not only make us more comfortable in the bathtub, but it can also decorate our bathroom and add beauty to our bathroom.
In choosing a faucet, you must put into consideration the type of bathtub you currently have.However, how to choose the right bathtub faucet for your home? We have put a lot of effort into researching various of bathtub faucets on the market and have picked out some of the best bathtub faucets for most homes in terms of finish, styling, functionality, and more. In this article, we have listed the top 10 best bathtub faucets in 2023 for your reference.
List of best bathtub faucets in 2023
Artiqua Freestanding Bathtub Faucet Tub Filler Faucets Black Single Handle Floor Mounted with Handheld Shower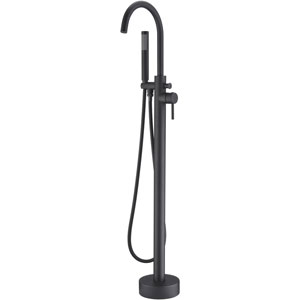 One of the best bath mixers of 2023, this modern bath mixer features a Neoperl aerator and a high-arc spout. These features work together to create the perfect flow of water to fill your tub. Both the spout and the hand shower holder can be swiveled through 360°. This means you can direct the flow of water into the tub from any direction.
The single-lever design allows you to easily switch the water flow from the faucet to the hand shower. The diverter has a reset function that automatically switches water from the hand shower back to the faucet after the water is turned off.
Delta Faucet Lahara 17 Series Dual-Function Tub and Shower Trim Kit with 5-Spray Touch-Clean Shower Head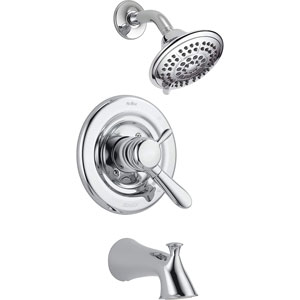 The Delta bath mixer lahara 17 collection is a two-function bath and shower trim set. It is one of delta's most cost-effective products. Not only does this product have five spray options, including a full body spray, a subtle rinse spray, a quick massage spray, a full body spray with massage and pause.
It protects against unexpected temperature changes. The included monitored pressure balance cartridge ensures that the faucet dispenses at a consistent temperature. The dual function shower handle also allows the user to determine the water temperature
Its diverter lever makes it easy to switch between a shower and a hand shower. Likewise, it can use both a shower head and a hand shower at the same time.
WOWOW Matte Black Roman Waterfall Bathtub Faucet

Featuring an arching waterfall spout mounted on the flat surface around the tub or the deck, which presents a sleek modern look to your bathroom. With an extra-wide waterfall spout, this roman tub faucet only suitable for 3 holes widespread installation(9 to 16 inches spread, hole center to center).
Equipped with a 7.08" wide waterfall bathtub faucet spout that creates a cascading stream of water, giving you a beautiful waterfall effect. The enlarged valve structure is paired with an extra wide waterfall spout. It provides a high water flow rate, filling your tub with water in minutes. Made of #59 solid brass with a black matte finish to ensure its quality and reliability in long-term use.
Ultra Faucets Icon Collection Roman Tub Faucet with Hand Shower, Rough-In Valve Included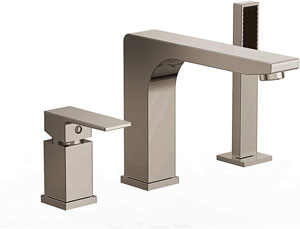 If you are looking for a product that meets your customer's needs, choose this product from TC Sportline. On the one hand, it has an integrated dual function, giving you maximum flexibility in water flow selection. Likewise, it comes with separate temperature and volume control handles.
Likewise, it measures 17.68 x 12.56 x 3.19 inches and weighs 9.11 pounds. What's more, there's a pause setting that provides plenty of room for lathering or shaving, and quickly restarts the water and temperature. Best of all, it comes with a limited lifetime warranty along with warranty service and US-free support.
American Standard Bath Slip-On Diverter Tub Spout, 4 inch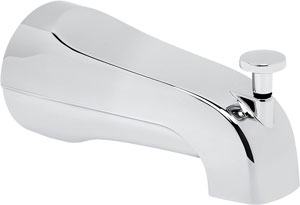 With all-metal brass construction, the American Standard Tub Spout is not only the best, but one of the most durable options on our list. It comes in polished chrome to prevent corrosion while enhancing your casual home decor. In fact, the reflective surface adds a touch of elegance to your bathroom. In addition to this, this durable tub faucet features a built-in slide-in diverter, perfect for your tub or shower system.
Kingston Brass KS265SN Clawfoot Tub Wall Mount Faucet, Brushed Nickel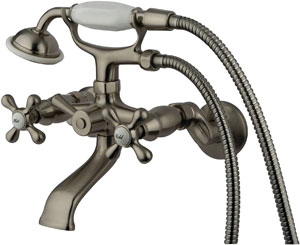 The most distinctive feature of the Kingston Brass Bathtub Wall Mount Faucet is the shape of its cross, knob and lever handle. This is one of the reasons it stands out. This will add stunning charm and a classy and vintage feel to your bathroom, the handle is very easy to use and is suitable for many different settings.
You can use the shower head or the faucet, so whether you prefer a nice, long, luxurious soak in the tub or a quick shower, this faucet has it all.
Delta Faucet T14164 Ashlyn Tub Trim, Chrome,6.00 x 6.00 x 7.94 inches

If you're interested in affordable, durable, and easy-to-use faucets, this bathtub faucet should be your first choice. It is very functional and easy to maintain. One of the great things about this faucet is that it's specifically designed to eliminate leaks and water waste, with a pull-down diverter that shuts off the water once the faucet is closed.
The overall dimensions of this tub faucet are 6.00 x 6.00 x 7.94 inches and weigh 1 lb. The spout is 5.25 inches long, ensuring you always enjoy a smooth, effortless cleaning process in the tub. It's made of plastic, but the chrome finish blends in nicely with the other fixtures. If you're interested in buying a relatively inexpensive tub faucet that has more features than its price, then this model is right for you.
SUMERAIN Bathroom Wall Mounted Tub Filler Faucet Brushed Gold

This Sumerain double handle wall mounted tub faucet will be the highlight of your bathroom. Paired with crisp lines and brushed gold, it has won praise not only for its good looks, but also for its long-lasting durability. Solid brass construction and ceramic disc cartridges provide years of excellent performance and are resistant to corrosion and leakage.
9.71GPM spout flow, 60PSI, this wall mounted tub faucet can fill your tub in minutes. 11-11/32″ extra long spout. Two simple lever handles provide smooth and easy control of water and temperature.
Best bathtub faucet FAQs
Q: Are bathtub faucets repairable?
A: While it is not recommended that you spend the time and effort to fix a broken faucet, they can be repaired if minor problems arise.
Q: How often do I need to replace my bathtub faucet?
A: Interestingly, you may not need to replace your tub faucet as often as you expect. However, you must pay attention to the quality of the materials used in the production of any faucet you are going to buy. If it's durable, you don't need to worry about replacing it anytime soon.
Q: How do I get a bathtub faucet?
A: Buying a bathtub faucet is easy. You can do this from the comfort of your own home. All you need to do is to find an online platform to trade and make your request. The only downside is that it doesn't allow you to touch the faucet and confirm its authenticity before buying.
Final thoughts
Bathtub faucets are no longer designed just to ensure a smooth flow of water. Today, each unit features sleek and attractive designs with stunning finishes that elevate the aesthetics of every bathroom. In fact, they also feature a durable construction that ensures consistent, long-term performance.
On that note, we've now concluded our review-based guide to the best bathtub faucets. After extensive research, we've been able to sift through several different types of top-notch options to help you make an informed purchase.