Best Black Bathroom Faucets in 2023 – Latest Buying Guide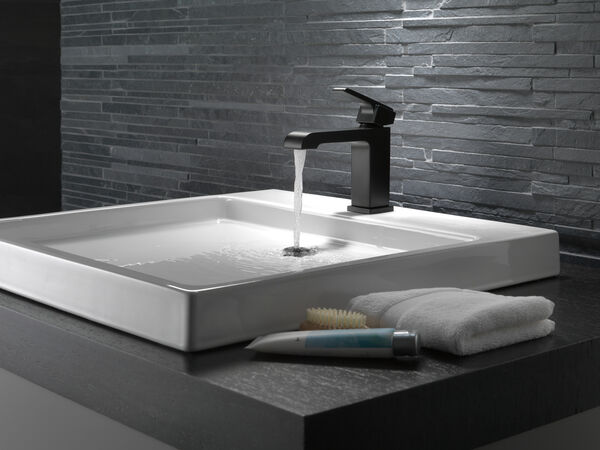 Black bathroom faucets and fixtures can really elevate a bathroom or powder room. The versatility of black bathroom faucets and shower fixtures means they can be incorporated into a variety of designs to be both beautiful and unique. There are many types of black bathroom faucets in the market, and the quality also varies. After a long time of research, we have compared a large number of black bathroom faucets on the market in terms of price, type, quality, etc., in this article, we have summarized and listed the best black bathroom faucets in 2023. Read this article and pick the best one for your bathroom.
List of best black bathroom faucets
YardMonet Black Bathroom Faucets, 2 Handle Bathroom Sink Faucet, 4-Inch Centerset Bathroom Sink Faucet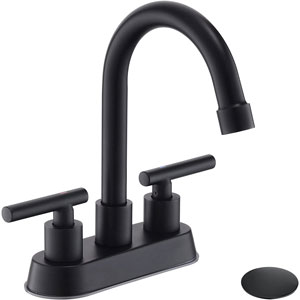 This is one of the best black bathroom faucets of 2023. Yardmonet bathroom faucet adopts 2 lever handles, the handles can be rotated forward 90° to boil water, suitable for installation in any space. 2 bathroom sink faucets are made of high quality 304 stainless steel. Classic matte black exterior design, anti-corrosion and anti-rust, not easy to leave fingerprints, making your bathroom more comfortable.
The 2-handle bathroom sink faucet can easily control the water temperature and flow. 4 inch center mounted bathroom faucet design, follow the installation guide for quick and easy DIY installation.
SOKA Brass Bathroom Faucet Matte Black Bathroom Sink Faucet Black with Pop-up Sink Drain Stopper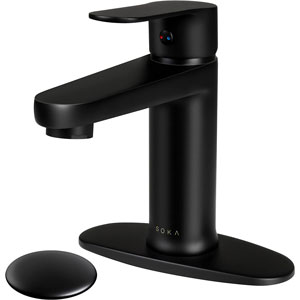 From durable construction to a modern design that complements your décor, this faucet is one of your bathroom's best picks for 2023. The matte black bathroom faucet has a superior corrosion and rust resistant finish, bringing a fresh, modern look to your bathroom. Constructed with a solid lead-free brass body and ceramic valve trim, this single handle faucet is leak-proof and rugged.
This bathroom faucet can be installed with one or three holes and comes with a 6-inch deck. Compatible with the included 1-hole or 3-hole or 4-inch center mount escutcheons, covers the 2 side holes for an aesthetically pleasing faucet. This elegant bathroom vanity faucet provides easy control of flow and water temperature, making your daily life more convenient.
3 Hole Matte Black Bathroom Sink Widespread Faucet Mixing Tap Deck Mount Double Handle Cross Knobs Faucet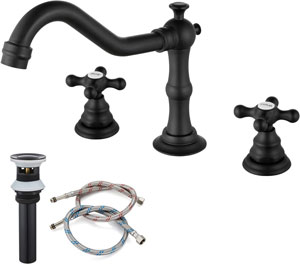 This black faucet features solid brass construction and a scratch and corrosion resistant ceramic disc valve to protect your health and ensure durability. The 2 handles are respectively connected to the hot and cold water pipes to precisely control the temperature and flow. Includes pop-up drain.
The top-notch surface design is durable, with abrasion-resistant, corrosion-resistant, and anti-rust coatings for a lifetime of use. Ceramic disc valves exceed industry lifespan standards by more than double, ensuring lifetime durability. 2 solid brass handles for ease of use. This black bathroom faucet is easy to install and can be done without the help of a plumber.
WOWOW Two Handles Widespread 8 inch Black Bathroom Faucet

This black bathroom faucet features a refined finish and retro wide bathroom style that is extremely durable, non-corrosion, rust and scratch resistant. In addition, the unique quick connection structure allows you to mix hot and cold water through quick installation of pipes without a wrench.
You also don't have to worry about burst pipes. 4-16 inch wide bathroom faucet supports 3 hole installation, the installation distance can be adjusted as required, with pop-up drain. Equipped with a high-sealing ceramic filter element, this black faucet allows for easy and precise control of water volume and temperature.
3-Hole Low-Arch 2-Handle Widespread Bathroom Faucets with Valve and Metal Pop-Up Drain Assembly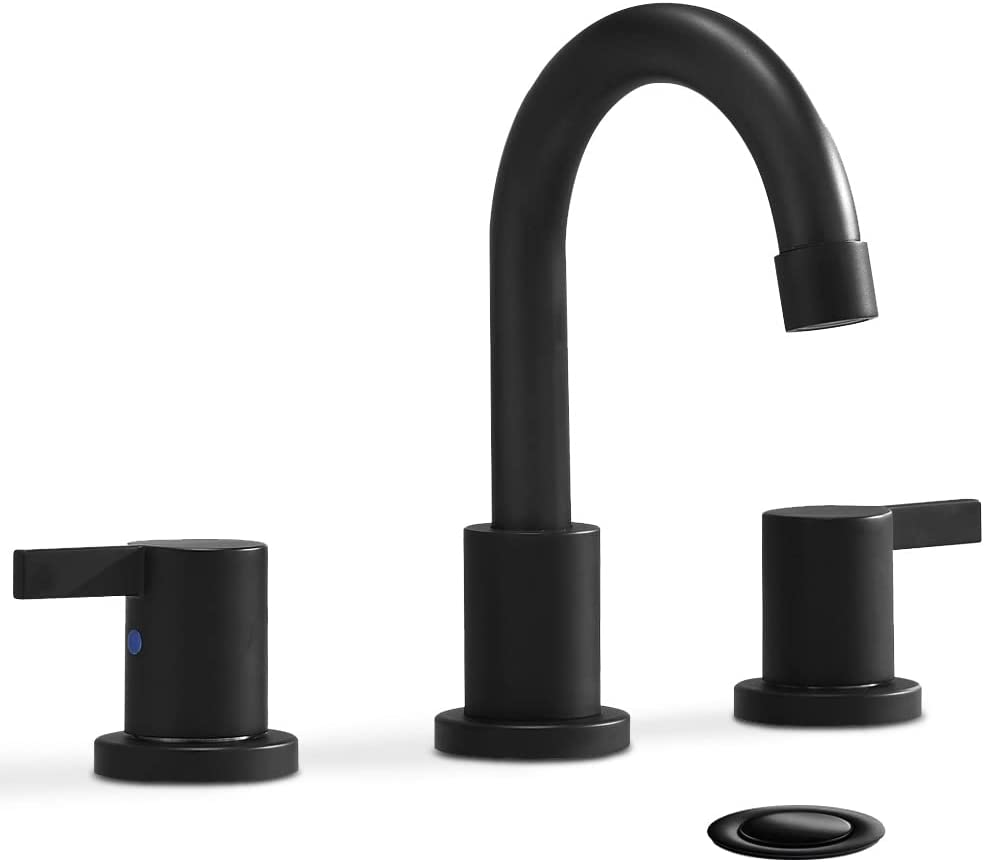 The solid brass body construction of this black bathroom faucet, the 360 degree high arc swivel spout provides more space and more convenient access to your sink. Phiestina 2 Handle 3 Hole Matte Black Wide Bathroom Sink Faucet with Overflow.
The entire drain is made of copper, durable and watertight. Newer pop-up drains are easier to install and use than traditional lift road drains. Original quick connection structure, no need for plumbers, easy to install by yourself!
ARCORA Wall Mount Bathroom Faucet Matte Black , Single Handle Bathroom Sink Faucet Wall Mounted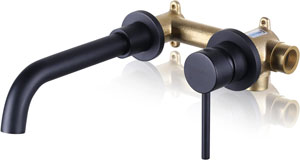 If you like wall-mounted faucets, then this black bathroom faucet is worth your consideration. The ARCORA Wall Mount Faucet is made of solid brass for durability. Its matte black finish lends a modern look and is highly resistant to rust and corrosion. This single handle bathroom faucet provides easy control of temperature and water flow.
Non-drip ceramic valve core for long-term operation and long service life. The long spout can be rotated 360 degrees, and is equipped with an anti-splash bubbler, the water flow is soft and delicate, saving water. The widely used bathroom faucet recessed design saves space, allows more space on your countertop, and is compatible with any bathroom vanity.
WOWOW Single Handle Bathroom Faucet 1 Hole High Arc Bathroom Basin Faucet Matte Black

This matte black single handle bathroom faucet with unique triple-curve twist design is sure to become the highlights of any bathroom decor. Made of high-quality solid brass material, the heavy-duty bathroom vanity faucet weighs 5.14 Ibs and effectively protects against rust & corrosion. A lead-free ceramic values seals tightly to ensure long-term use without dripping or leaking.
Single handle bathroom sink faucet is easier to control water temperature and water flow. A high-arc spout leaves ample room for any tasks. All installation accessories and instruction are provided, easy to install by yourself without a plumber! Besides, high-performance Neoperl Aerator offers a larger and smoother water flow and saves more than 50% in water usage. Easily removed the aerator for cleaning with the included tool.
Are black bathroom faucets in style in 2023
Even in 2023, the once-popular black bathroom fixture is still considered a well-known design choice on most interior design forums. Bold yet elegant and modern, they are timeless in matte black and won't go out of style easily. We believe matte black fixtures can bring desired elegance and sophistication to bathrooms and kitchens, whether in classic or contemporary homes.
Consider whether black fixtures, not only in your bathroom but throughout your house, will complement your current design vibe. However, there is no right or wrong when it comes to aesthetic appeal. It all depends on what you like and what works best for you, your family and your lifestyle.
Conclusion
Whether you're looking to upgrade your bathroom and kitchen, or just want to add a little class and sophistication, black faucets might be just right. We all love adding a touch of sophistication and class to our homes without breaking the budget, and black can easily achieve this.