Pot fillers are all the rage, and they simplify the cooking process by providing a quick, easy, and convenient way to fill pots with water. No need to lug a nearly overflowing pan back to the stove. They've slowly become a mainstay in many homes lately. So are pot fillers still in style in 2023? What are the pros and cons of having a pot filler in your kitchen? If you're interested, we're here to answer all of these questions and more, so read on to find out more!
What is pot filler?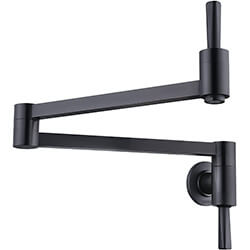 As the name suggests, the main function of the pot filler is to fill the pot. Instead of bringing a full pot from the kitchen sink to the stove, just bring an empty pot to the stove and use the pot filler to fill it up. The lid fits over the stove, usually to the right or left of the cooktop. This way, you don't have to reach directly over hot pots and pans to turn the water on or off. This compact light fixture doesn't take up much space, but makes a big impact both physically and visually. Pot fillers come in different price points and in different styles, lengths and finishes.
Advantages of Pot Fillers
The reason for the popularity of pot fillers is the vital role they can serve in certain situations in the kitchen. Here are the advantages of pot fillers.
Eliminate heavy lifting
Carrying those large pots and other dishes to the sink can be straining and painful for your hands and back. The main purpose of the jug tap is to provide a whole new way of filling water without having to carry a filled jug from one side of the kitchen to the other. This is one of the main advantages of pot fillers.
Helps with multitasking and saves time
Another benefit is that it saves you time. Instead of sitting at the sink and watching the kettle fill up, you can turn on the tap directly on the stove. You can continue doing other things on the stove, and you don't have to spend time carefully walking the floor with heavy pots that are ready to overflow.
be safe and avoid injury
Another benefit of canned faucets is safety. Moving a jug of water around the kitchen can be a health hazard to you and others. If you hit someone while lifting the pan, the water could overflow and cause a slip, which could eventually result in a broken bone or sprained ankle.
Disadvantages of Pot Fillers
However, nothing is perfect and neither is pot filler. They also have some disadvantages, listed below.
Structural and Leakage Issues
One of the disadvantages of basin faucets is construction and leakage issues. Just like any other faucet, pot filling faucets can have some leaking issues which can cause confusion and damage to your stove, kettle, stove and cabinets. Also, if the faucet is not installed at the proper height or length, this can be an annoyance for you.
Maintenance problem
Unlike other faucets in the kitchen, filling faucets are somewhat difficult to maintain and clean. Since this faucet is mounted directly over the stove, smoke and grease can tarnish it. It can be a hassle to clean and maintain properly.
Are pot fillers still in style in 2023?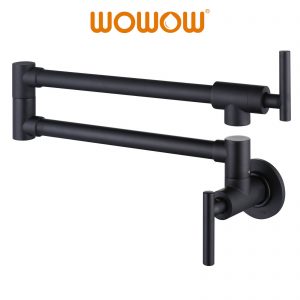 Definitely YES! Many kitchen designs and fixtures come and go as aesthetics change. Once the aesthetic changes, the related equipment will lose people's favor. Such as a farmhouse style kitchen. But the pot filler will not be outdated because it is very practical and can bring great convenience to people. Pot fillers will not go out of style until something with similar function replaces it! So far, no such products have appeared on the market, so they don't seem to be disappearing anytime soon. As a result, pot filler won't go out of style in 2023!
Frequently Asked Questions (FAQ)
Where can I buy a pot filler?
You can buy pot fillers at your favorite home improvement stores, as well as order them online from various retailers including Amazon.
How much does it cost to install pot filler?
Since all homes are different, the cost of installing a filling faucet varies greatly from one situation to another. If you're doing a kitchen remodel or starting from scratch, this will be much cheaper than ripping through the wall to add plumbing in the stove area. Here's our guide to installing pot filler on existing walls. Generally, the total cost of hiring a professional to handle the installation can range from $300 to $500.
Why do pot fillers have two handles
Two flow control handles make it easier to prevent spills. Plus, the handle design makes it easy to turn the water on and off at the spout end or on the wall. This makes filling faucets great for preventing wrist strain.