Widespread Vs Centerset Faucets: Pros, Cons and Differences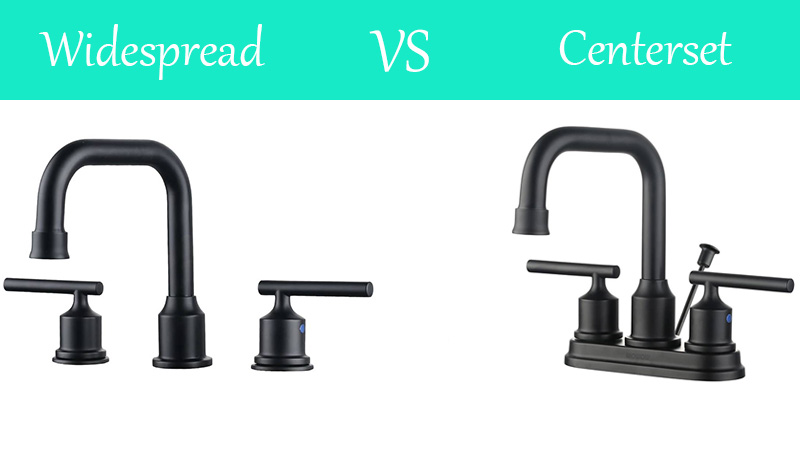 You should have heard of centerset faucets and widespread faucets, both faucet types that look and function exceptionally well. However, what confuses a lot of people is which of these two types of faucets is right for their bathroom and kitchen? What is the main difference between the centerset vs widespread faucets? What are their pros and cons?
If you are also confused about these, don't worry, here we'll help you make the right choice. Here, we differentiate between the two types and highlight some important pros and cons so you can figure out which faucet best suits your needs.
Widespread Faucet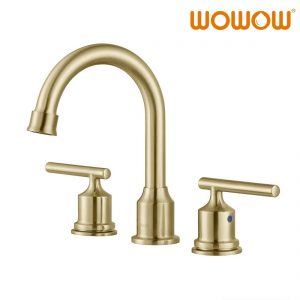 As we noted above, widespread faucets come as 3 separate pieces. One part exists for the spout and two parts are for handles. Widespread faucets are very popular due to their versatility and attractive appearance. By measuring the size and type of your countertop, you can easily adjust the gap between the spout and the handles. They are available in a variety of styles as well as finishes.
Pros and Cons
Below are the advantages and disadvantages of the widespread faucet for your consideration:
Pros:
Thanks to its three separate parts, the widely used faucet is fully adjustable and can be placed any way you want on the sink or countertop.
Widely used faucets come in a variety of designs and styles. If you want to beautify your bathroom decor, use a widely available faucet.
Widely used faucets are relatively easy to clean thanks to the proper space between the three components (spout and handle).
Cons:
Wide faucets are not recommended for small sinks and countertops because they require space.
Because the process is quite complicated, this type of faucet may require professional installation.
Centerset Faucet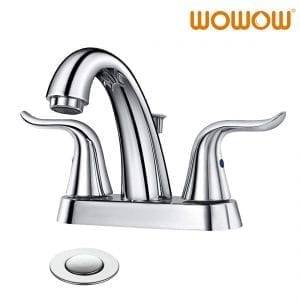 Center faucets are mainly used in bathrooms. This type of faucet dates back to the history of the sink and has been the standard in bathrooms for many years. You'll find a variety of center set faucets at any home improvement store. They are supplied as a unit with both the faucet and handle attached to the base or base plate. All parts required for installation will also be included.
Pros and Cons
Here are some pros and cons of centerset faucets.
Pros
These faucet types have a very compact design. You can easily install them in any bathroom or kitchen style to save plenty of space.
Centerset faucets are one piece, they have no parts so you can easily install them without any professional help.
Their designs look good. This style is found in almost every kitchen and is one of the most popular.
Cons
These are simple and decent, and if you're looking for a fancy design, they might not be the ideal type.
Since they are one piece, it is a bit difficult to clean. They are prone to dust, rust and other grime.
What are The Differences Between the Widespread vs Centerset Faucet?
The most obvious difference is that the Widespread faucet is a three-piece faucet with two handles and a spout, each of which can be installed individually. The Centerset faucet is only one piece and is very compact.
Widespread faucets are commonly found on kitchen sinks, countertops, and even bathrooms. The central faucet is mainly used for wash basins, mainly suitable for small spaces.
In most cases, the gap between the widely used faucet handles is about 8 inches, but it can be adjusted slightly to 12 inches, as each part can be fastened independently. Centerset faucets typically have 4 inches of clearance between handles, but other faucets may have slightly longer clearances, up to 6 inches. However, unlike common faucets, one cannot adjust the gap.
Widespread faucets allow one to remove one of the handles when not in use or in need of service, and automatically adjust to a single-lever faucet. However, it is nearly impossible to remove any parts with the Centerset faucet as they are all connected together as a whole.
Widely used faucets can usually be used for large and small sinks, while center faucets can only be used for small sinks because it does not allow more space between the handle and the spout.
Our Verdict on Widespread vs Centerset Faucet
Both the centerset faucet and the widespread faucet have useful applications for bathroom and kitchen sinks. They each combine form and function and install in a number of different settings. Yet, one type has a slight edge over the other. Widespread faucets offer more style options and specialized placements. However, centerset faucets are easy to install and inexpensive, with a number of stylish options.