Who Makes Ruvati Sinks – Is Ruvati A Good Brand
Ruvati is one of the premier names in kitchen sinks around the world. With manufacturing and distribution facilities in the US, Europe, and Asia, the Ruvati name is synonymous with exceptional quality products andoutstanding customer service. You may have heard of the brand Ruvati, but you may not really know about the brand. Who makes Ruvati sinks? Is Ruvati a good sink brand? Are Ruvati sinks good quality? If you are interested in Ruvati brand, read this article to learn more about Ruvati brand from every aspect!
Ruvati introduction – Who makes Ruvati sinks

Built in 2009, Ruvati is a faucet and sink company owned by Ashraf Hossain. Headquartered in Austin, Texas, Ruvati is committed to high-quality craftsmanship and original creativity, and has designed sinks suitable for various styles. However, Ruvati does not have its own factory and does not produce any products. Ruvati sinks and accessories are mainly imported from Chinese manufacturers. Ruvati is mainly engaged in business in North America, providing customers with a product portfolio that fully meets consumer needs.
Ruvati's design philosophy revolves around making exquisite sinks to the highest standards. The design of each product takes into account the real needs and preferences of customers. This commitment to design excellence is the core value of Ruvati's philosophy. Ruvati is committed to high-quality craftsmanship and original creativity to stimulate customized homeowners to create a fully personalized ideal living space. Each device is carefully designed to bring true luxury and refinement to any family.
Is Ruvati a good sink brand
Ruvati sink is a high-quality kitchen sink, suitable for any style of kitchen, and the price is reasonable. Their sink is made of granite, refractory clay and stainless steel. Their stainless steel sink is made of high-quality T-304 stainless steel, and the specification is 16 or 18. Not to mention that all materials come in different shapes and sizes, such as double bowl or single bowl sinks, colors, and finishes, so everyone can find something suitable for their kitchen. The company does a good job in making beautiful and durable fixtures. Their sinks can withstand a large number of uses, while the impact on the environment is as small as possible.
Ruvati sinks Features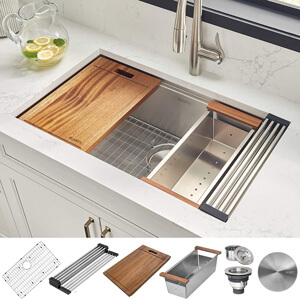 Their sinks are Italian, which is why they have an Italian name despite being an American company. If you value the quality and aesthetics of your kitchen sink, you might be impressed with a product from Ruvati. Let's move on to some details of their products.
Unlike other manufacturers who either focus on build quality or appearance, Ruvati made sinks are beautiful in design and function as good as they look. If a beautiful kitchen is important to you, then you'll love the sinks offered by Ruvati.
Compared to other companies that make sinks, Ruvati's designs are more minimalistic, which makes their products more suitable for kitchens with a distinctly modern design. Of course, this is not universally the case, and Ruvati has some products that would be lovely in a more traditional kitchen.
Ruvati's mission is to make high-quality products, which means their sinks are beautiful and sleek. These kitchen sinks are designed to last for decades, so you also don't have to worry about the reliability of these models dwindling.
Innovation is another strength of Ruvati. If you want a kitchen sink that will take advantage of the latest advances in the field as much as possible, then you'll want to stick with the Ruvati. As a cherry on top, all of Ruvati's sinks come with a lifetime guarantee to never rust.
Final thoughts
If you're looking for a quality kitchen sink at an affordable price, then Ruvati is a brand that deserves your consideration. Numerous Ruvati reviews prove that this brand can make kitchen sinks for just about everyone. From a wide variety of styles and clean designs to high-quality materials and proven craftsmanship, Ruvati kitchen sinks are a great addition to any kitchen. Not to mention, they offer accessories made specifically for Ruvati kitchen sinks to better change the way you work in the kitchen.