Who Makes Blanco Sinks – Is Blanco A Good Sink Brand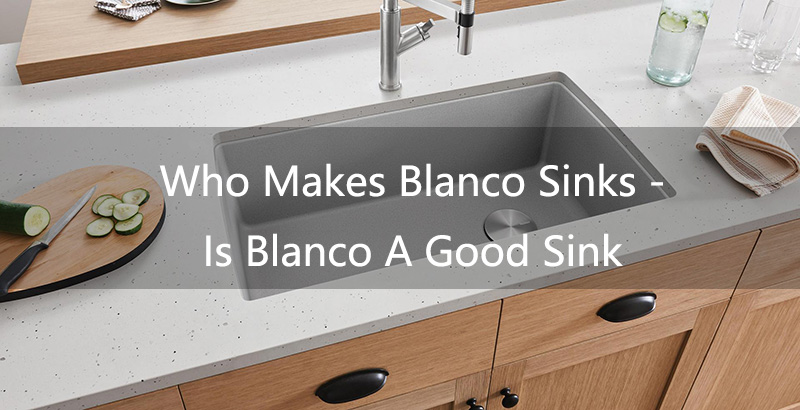 As one of the most popular sink brands around the world, Blanco is the superior choice for designers, builders, and homeowners when it comes to affordable, high-quality sinks. You may have heard of the brand Blanco, but you may not really know about the brand. Who makes Blanco sinks? Is Blanco a good sink brand? Are Blanco sinks good quality? If you are interested in Blanco, read this article to learn more about Blanco brand from every aspect!
Blanco history – who makes Blanco sinks

Blanco were founded in 1925 by German entrepreneur Heinrich Blanc. Blano's corporate headquarters and main production sites are located in southwestern Germany (Oberderdingen). Where are blanco sinks made? Blanco produces sinks at its factories in Bruchsal, Sinsheim and Sulzfeld. With subsidiaries in Europe, North America and Asia Pacific, together with its trading partners, it operates in approximately 100 countries around the world and provides customers with a product portfolio that is perfectly tailored to consumer needs.
One notable aspect of Blanco Sink Company is its constant adaptation to changing times in terms of product and customer service. As home designs have changed, so have their sinks. The company aims to continue to be an industry leader through its products that make everyday kitchen tasks more manageable.
Is Blanco a good sink brand
Absolutely! Blanco is one of the best sink brands on the market today. No matter what kind of material the sink is, it has been recognized by thousands of customers. Countless positive reviews also attest to the quality, durability and longevity of these sinks. Not only are Blanco sinks durable, they're affordable enough for a variety of homes. So, if you're looking for a new kitchen sink, Blanco is definitely a premium brand to consider.
What is Blanco silgrant?
Silgrant is a patented granite composite material made from up to 80% natural granite. This finely ground granite is blended with a premium acrylic source. This high-grade acrylic is manufactured in-house under careful supervision and mixed with specially selected pigments that colour the material all the time.
These are a great way to get the deep, durable sink that made the farmhouse style all the rage, but with less sink than cast iron or porcelain. Plus, these sinks are actually designed to be antibacterial.
Blanco sink reviews – are blanco sinks good quality
BLANCO 440182 Diamond Equal Double Bowl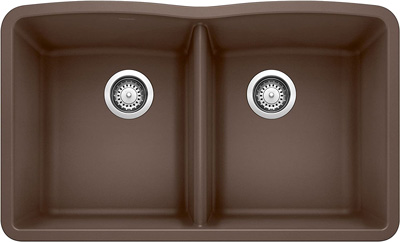 From Blanco's Diamond collection, the Blanco Diamond silgranit sink is one of the best choices for homeowners. This sink contains Blanco's durable silgranit, which perfectly resembles natural hard rock. The skin surface is smooth and completely scratch and heat resistant (up to 536 F).
Elegant colors and designs will make your kitchen look great. Thanks to its non-porous surface, this sink is resistant to stains, acids and alkaline solutions, so cleaning is effortless. If you are busy in kitchen, the Blanco Diamond Silgranit sink is worth a look. It is relatively affordable compared to other sinks on the market that offer the same size and durability.
Blanco 519547 Quatrus R15 Undermount Single Bowl Sink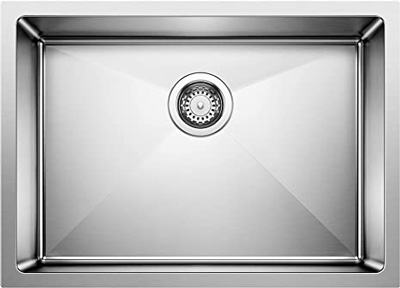 In addition to the patented Silgranit sink, let's take a look at one of Blanco's best stainless steel sinks. Made of high-quality 18/10 chrome-nickel stainless steel, this sink will basically last you a lifetime. So, if you're someone who doesn't use the kitchen a lot but relies heavily on the sink as the centerpiece of the kitchen, this is the perfect option.
All Blanco undercounter sinks are known for their absolute ease of installation. So installing the sink will not cost you any time and effort. However, as far as stainless steel sinks go, this is a very expensive option. They're not really the most affordable option on the market, but they're definitely worth the money.
BLANCO Metallic Gray 522428 PRECIS SILGRANIT Single Bowl Undermount Kitchen Sink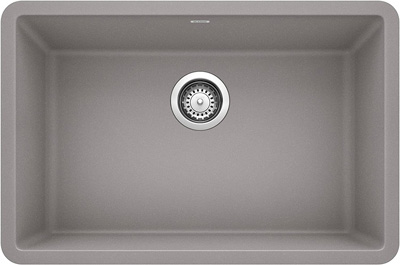 When it comes to granite sinks, most Blanco kitchen sinks share similar features and materials. The difference is the gauge and type of sink and intended use. Ideal for compact kitchens, this Blanco sink saves space while providing enough space for cleaning dishes.
This sink is designed for 30″ cabinets. The sink is 9½ deep enough to hold large pots and pans. The sink is made of hard 80% granite material, which is durable and resistant to damage and corrosion.
Frequently asked questions of Blanco sinks
How to clean a Blanco silgranit sink?
With advances in sink materials, cleaning your Blanco sink has never been easier. When installing a silgranit sink for the first time, a thorough cleaning is recommended to remove any debris that may have accumulated during installation. You can use simple dish soap or a soft scrub with bleach to clean the sink.
Are Blanco sinks easy to install?
Installing your Blanco sink is as easy as any other sink type. The vast majority of Blanco sinks are either under-mounted or drop-in. When installing a Blanco sink, use the sink harness kit for extra support.
Where can I buy BLANCO products?
You can go through their WHERE TO BUY  page which will help you find a dealer in your area. Make sure you contact the dealer or visit their website.
Bottom Line
Blanco has many years of experience in the manufacture of kitchen sinks. The most popular products are granite composite sinks or silgranit kitchen sinks. Made of high-quality materials and elegant style, these sinks are suitable for all types of kitchens.
From single basin sinks to double basin sinks, all have the same quality and unique design. The above kitchen sinks from Blanco are of high quality, cost-effective and long-lasting. No matter how trends change, Blanco will give you the durability and style for years to come.