Undermount Vs Drop In Sinks: Which Is Better?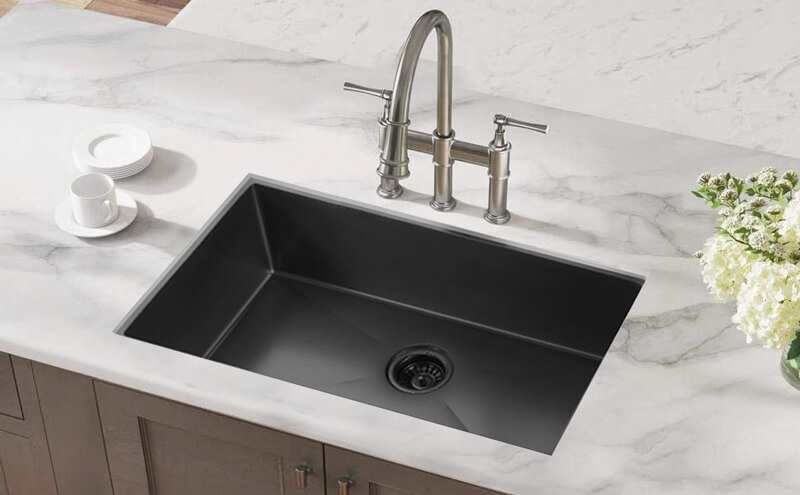 When choosing the best sink for your kitchen, you need to consider several factors such as cost, style, materials, and more. When you sift through the options, you'll find some similarities between multiple brands. Every major brand offers sinks in two main configurations: undermount and drop-in. If you're hesitating between choosing undermount sink vs drop-in sink, there are a few things to consider. We're here to introduce you to undermount vs drop in sinks, so keep reading to learn more!
Undermount sink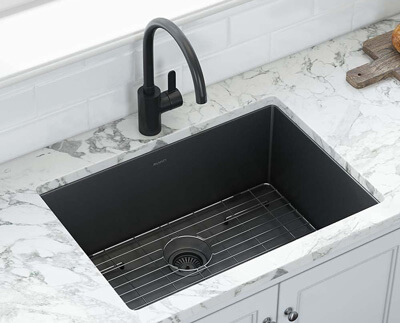 An undercounter sink is exactly what the name suggests – it installs under the countertop. A slight edge is attached below the countertop to give the countertop a seamless, cohesive look. Depending on the material, installing an undercounter sink can be tricky. If you do it wrong, you could have all kinds of problems considering the sink hangs below the countertop. Typically, installers use a two-part epoxy adhesive and silicone caulk to secure the undercounter sink to the bottom of the countertop for sealing.
In some cases, the sink may have special clips that secure the sink to the underside of the countertop. Alternatively, you can use brackets to hold the sink in place.
Undercounter sink design can be tricky with certain countertop materials. If the material is not waterproof, the exposed edges of the countertop may be damaged by water. For example, wood or raw laminate countertops are vulnerable to water damage because nothing covers the exposed, unsealed edges.
Pros and cons
Pros
Diverse choices
Seamless look
Easy to clean
Save counter space
Cons
May require additional support
Consumes extra cabinet space
Installation can be complicated
Requires a clean sink cutout
Drop in sink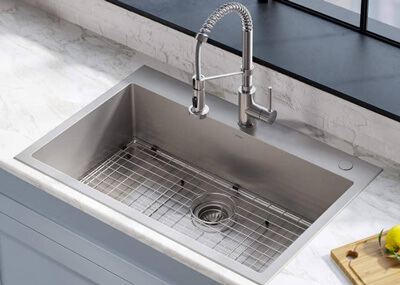 These sinks are known for their easy-to-install nature. Drop-in sinks feature a surrounding rim that rests on the countertop. This supports the sink, making installation much easier than some of the other options out there.
In some cases, clips might be necessary to secure the sink down to the countertop. Heavier sink materials usually don't require clips since they're hefty enough to stay in place. Once the sink is in place and secured with the clips, installers apply a bead of silicone caulk around the rim.
The caulk helps create a watertight seal that prevents water and dirt from seeping into the cabinet below. Given the straightforward installation process, it's no surprise that these sinks are one of the most popular types available on the market today.
Pros and cons
Like undercounter sinks, drop-in sinks have some advantages and disadvantages. Here are a few things to keep in mind:
Pros
easy to install
Affordable
More choices
Easy to re-caulk
Cons
Difficult to clean
May not provide a luxurious look
Undermount vs drop in sinks: which one is better?
Undermount sinks and drop in sinks are the most popular types. Despite some drawbacks, they all offer a range of benefits. However, the choice is yours. Every scene is different, so one type isn't always the best. For example, if you have a small, compact kitchen but limited counter space, an undermount sink might be the logical choice. On the other hand, if you have limited cabinet space but plenty of counter space, a drop-in sink might be better.
Frequently Asked Questions (FAQ)
Are drop in sinks outdated?
Today, kitchen trends lean toward clean, modern lines. This aligns better with undercounter sinks as they provide a seamless look. In this sense, built-in sinks are obsolete. Their resale value isn't great, but they're still a popular option due to their affordable price, flexibility, and ease of installation.
Is an undermount sink a good idea?
An undercounter sink can be a good idea in some situations, but a terrible idea in others. It depends on your specific situation. For example, they're a good choice if you want the clean, seamless look typical of a modern kitchen.