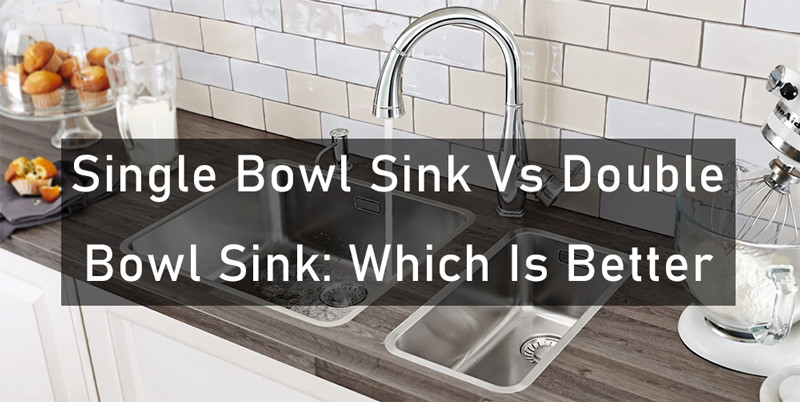 The kitchen, often considered the heart of a home, is a space where functionality and aesthetics coalesce. Among the myriad choices you'll face in kitchen design, selecting the right sink is a crucial decision. The debate between single bowl sink vs double bowl sink is one that surfaces frequently during the planning stages. Each option has its unique advantages and considerations, and understanding them can significantly impact the efficiency and visual appeal of your kitchen. In this comprehensive guide, we will delve deeper into the characteristics of single bowl sink vs double bowl sink, offering insights to help you make an informed decision.
Single Bowl Sink: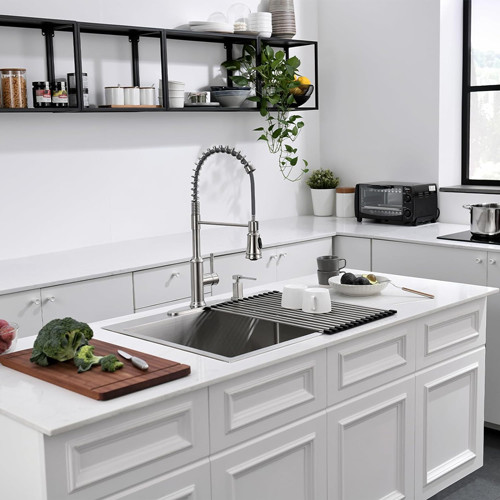 Single bowl sinks, with their uncluttered design featuring a solitary basin, appeal to those who appreciate simplicity and efficiency in the kitchen. The advantages and considerations of single bowl sinks are nuanced:
Advantages:
Ample Space for Oversized Items: The absence of a divider in a single bowl sink creates a vast and open space, making it particularly convenient for washing large pots, pans, and baking sheets.
Simplicity and Minimalism: The clean lines and uncluttered appearance of a single bowl sink contribute to a minimalist aesthetic, aligning well with modern kitchen designs.
Easier Installation: The installation process for a single bowl sink is generally simpler, requiring less plumbing work compared to its double bowl counterpart.
Considerations:
Limited Task Separation: While the open space is advantageous for large items, it may pose challenges when you need to perform multiple tasks simultaneously, such as washing dishes while prepping food.
Less Organizational Space: If you prefer to keep tasks separate, like washing on one side and drying on the other, a single bowl sink may lack the organizational features that a double bowl sink offers.
Double Bowl Sink:
Double bowl sinks, characterized by two separate basins, provide versatility and functionality, addressing specific needs for multitasking in the kitchen. Let's explore the advantages and considerations in greater detail:
Advantages:
Task Separation: The defining feature of a double bowl sink is the ability to perform multiple tasks concurrently. Washing dishes on one side while chopping vegetables on the other becomes a seamless process.
Enhanced Organization: The dual basins facilitate better organization, allowing for the separation of clean and dirty dishes or the designation of specific tasks to each basin.
Versatility in Bowl Sizes: Some double bowl sinks feature two equally sized basins, while others have one larger and one smaller basin, providing flexibility to accommodate various kitchen needs.
Single Bowl Sink Vs Double Bowl Sink: Which Is Better
Limited Space in Individual Bowls: The individual bowls in a double bowl sink are generally smaller than the single, spacious basin of its counterpart, potentially restricting the washing of larger items.
Complex Installation: Installing a double bowl sink can be more intricate, requiring precise measurements and additional plumbing work compared to the straightforward installation of a single bowl sink.
Choosing the Right Sink for Your Kitchen:
With a deeper understanding of the characteristics of single bowl and double bowl sinks, consider the following factors to guide your decision-making process:
Cooking Style: If you frequently engage in culinary endeavors that involve large cookware, a single bowl sink might be more practical. For multitaskers who appreciate designated spaces, a double bowl sink could be the optimal choice.
Kitchen Size: In smaller kitchens, a single bowl sink can create a sense of openness. Conversely, larger kitchens with abundant counter space might benefit from the enhanced functionality and organization that a double bowl sink offers.
Design Aesthetic: Reflect on the overall design aesthetic you wish to achieve. Single bowl sinks contribute to a modern, minimalist look, while double bowl sinks can cater to a more traditional or versatile appearance.
Installation Preferences: Consider your preferences regarding installation complexity. If you value simplicity and a straightforward installation, a single bowl sink might be preferable. However, if you're willing to invest in additional installation intricacies for enhanced functionality, a double bowl sink could be the right choice.
Conclusion:
In the ongoing debate between single bowl sinks and double bowl sinks, there's no one-size-fits-all answer. Both options have their merits, and the best choice depends on your individual needs and preferences. Your decision will undoubtedly play a significant role in shaping the functionality and aesthetics of the heart of your home. Whether you opt for the simplicity of a single bowl sink or the versatility of a double bowl sink, the key is to make a choice that aligns seamlessly with your lifestyle, cooking habits, and overall kitchen design vision.