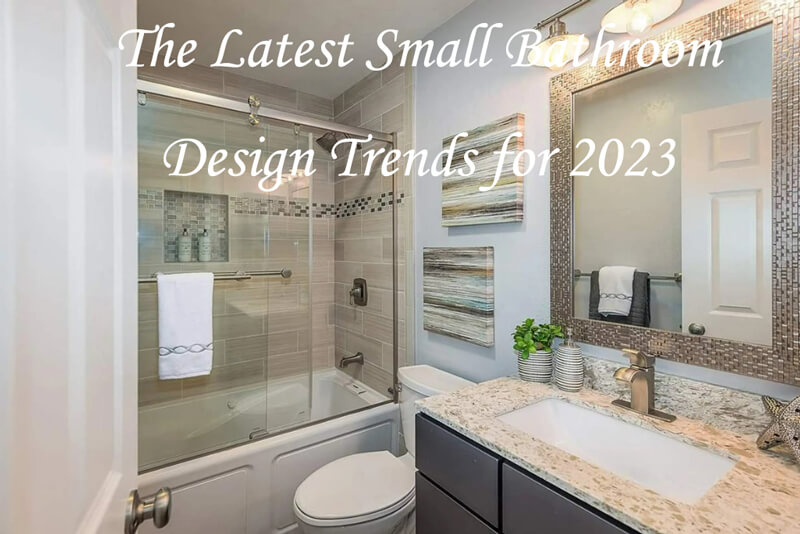 Small bathrooms are often the most challenging spaces to design. Limited floor space, low ceilings, and awkward layouts can make it difficult to create a functional and stylish bathroom. Fortunately, new design trends for 2023 can help you transform your small bathroom into a beautiful and functional space that you'll love. Here are the latest small bathroom design trends for 2023 that you can't miss.
Smart Storage Solutions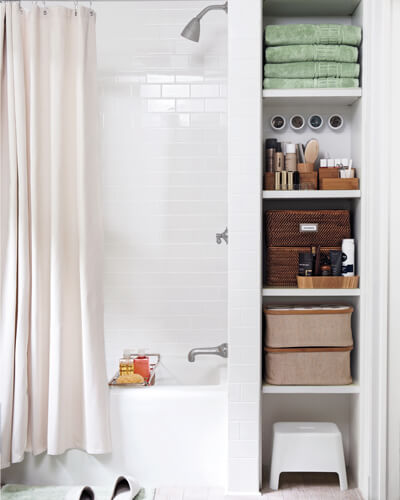 Storage is always a challenge in small bathrooms, but in 2023, designers are offering innovative solutions to help you maximize your space. Look for built-in shelving and cabinets that are specifically designed for small bathrooms, as well as wall-mounted storage options that don't take up valuable floor space. A combination of closed and open storage can create a balance of organization and visual interest.
Statement Lighting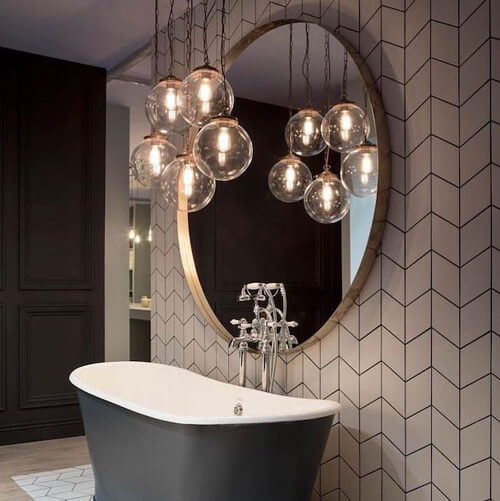 Lighting is a crucial element in any bathroom design, and in 2023, designers are pushing the boundaries with bold and creative lighting fixtures that can make a big impact in a small space. Look for striking pendant lights, sculptural sconces, and even chandeliers that can add style and personality to your small bathroom. Lighting can be an easy way to make a statement and add a bit of glamour to a small space.
Creative Tile Designs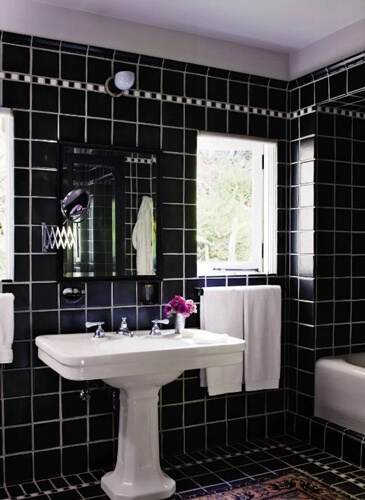 Tile is a classic choice for bathroom design, but in 2023, designers are introducing new and creative tile designs that are sure to make your small bathroom stand out. From bold geometric patterns to textured finishes, there are countless ways to use tile to add interest and depth to a small bathroom. Using a consistent color palette throughout the tile design can create a cohesive look in a small space.
Natural Materials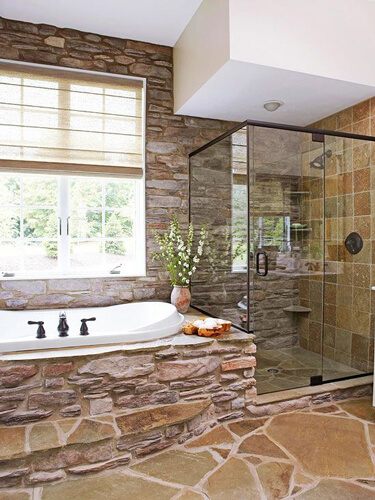 In 2023, there's a growing trend towards using natural materials like wood, stone, and marble in bathroom design. These materials can add warmth and texture to a small space, and they can help create a spa-like atmosphere that's perfect for relaxing. A natural and warm color scheme can also create a calming oasis.
Colorful Fixtures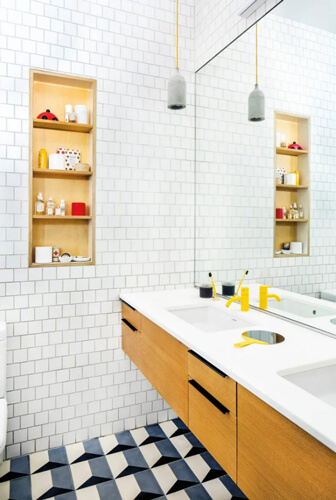 For those who want to add a pop of color to their small bathroom, colorful fixtures like faucets, showerheads, and even toilets are gaining popularity. In 2023, designers are introducing more bold and playful fixture designs that can add personality and charm to any small bathroom. Colorful fixtures can be a fun way to add some personality to a small space.
Minimalist Design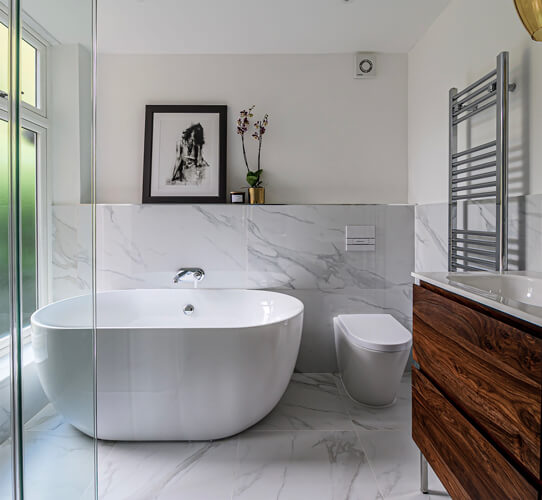 In a small bathroom, less is often more. Minimalist design is a trend that's been growing in popularity over the past few years, and it's perfect for small spaces. Simple, clean lines and a neutral color palette can help create a serene and uncluttered atmosphere in your small bathroom. Minimalism can also create the illusion of a larger space in a small bathroom.
Bold Wallpaper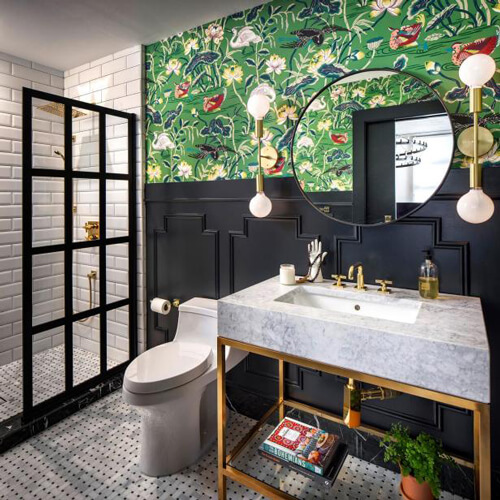 Wallpaper is back in a big way, and in 2023, designers are introducing more daring and bold designs that can transform a small bathroom into a work of art. From intricate patterns to bold prints, there are countless wallpaper options that can add depth and dimension to a small bathroom. Wallpaper can also be an easy way to add some color and pattern to a small bathroom.
Open Shelving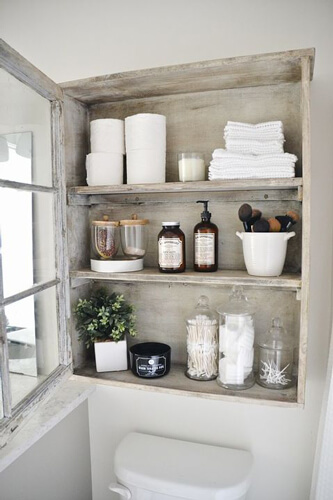 Open shelving is a popular trend in modern bathroom design, and it's a great way to add storage and style to a small space. By using open shelves instead of cabinets, you can create a more open and airy atmosphere in your small bathroom. Mix and match different styles and materials to create a unique display.
Mixed Metals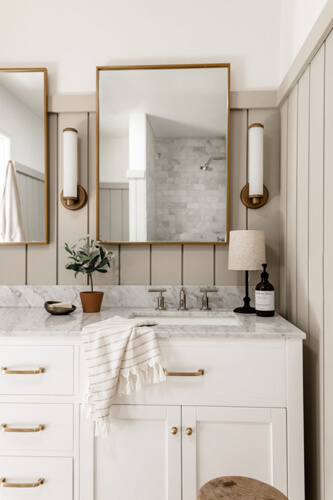 In 2023, we're seeing more bathrooms designed with mixed metals like brass, copper, and gold. These metals can add warmth and sophistication to a small bathroom, and they can be used to create a cohesive and stylish design.
High-Tech Features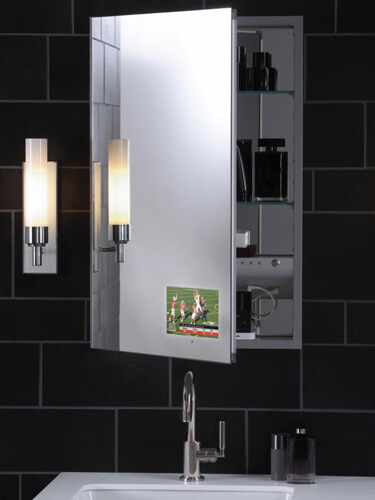 Finally, we're seeing more small bathrooms designed with high-tech features like smart mirrors, heated floors, and voice-activated lighting. These features can help make your small bathroom more comfortable and convenient, and they can add a touch of luxury to your daily routine.
Final Thoughts
In conclusion, there are many exciting design trends to look forward to in 2023. Whether you're renovating a small bathroom or building a new one, incorporating these trends can help you create a beautiful and functional space that you'll love. From smart storage solutions to bold wallpaper, there are endless possibilities for designing a small bathroom that's both stylish and practical.
(The pictures sources in the post: Instagram, Pinterest, Houzz, HALFWAYWHOLEISTIC)