High Arc Vs Low Arc Bathroom Faucets: What Are The Differences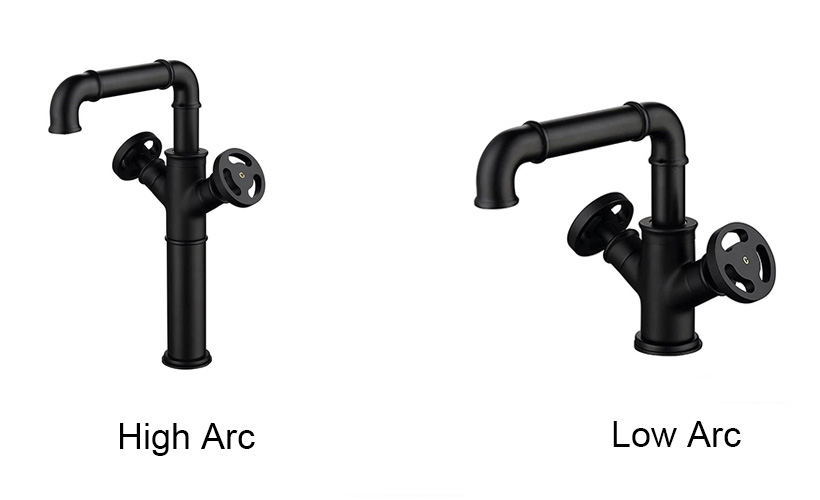 When you buy a new bathroom faucet in the market, you will find many different types of faucets, including single handle and double handle, widespread and centerset. Besides, modern bathroom faucets have high and low arc designs to meet your sink preferences. So, do you know which kind of faucet suits your sink? High arc or low arc? In this post, we will share with you the differences between high arc and low arc bathroom faucet and so on.
What is high arc bathroom faucet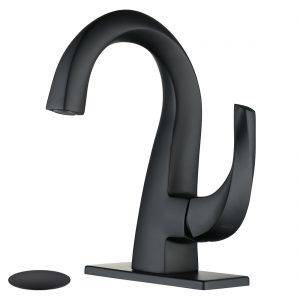 High arc bathroom faucets, as the name suggests: bathroom faucets whose water outlet is higher than the sink, are also often called gooseneck faucets. This type of bathroom faucet sits above the sink, usually 8 to 10 inches above the sink surface, with a hook or curve near the top.
The reason for the high-arc faucet extension is to allow more room for your sink. While it's more commonly found on kitchen sinks, a high-arc faucet can also make a great addition to any bathroom, especially if you have a deeper and larger sink. The high arc designation applies only to faucets that are mounted on sinks or countertops. A wall-mounted faucet is not considered a high-arc faucet, no matter how high it is above the sink.
Pros
Ensure high water pressure
The extended neck on high-arc faucets is used to increase the pressure of the water flow. So, for example, you won't have any problems doing laundry in the sink.
Create more space
The high arc faucet can make washing things more convenient. Since the nozzle is higher than the sink and countertop, you have plenty of room to clean.
Elegant faucet design
High-curved faucets in bathrooms look sleeker and more modern than low-curved faucets. Adding extra height and a more dramatic curve to the neck of the sink will give it a unique visual flair.
Cons
Easy to splash
If you are installing a shallow sink. Then installing a high-arc faucet will produce a lot of water splash. You don't want to be constantly dealing with a mess every time you turn on the tap. Plus, it can damage your countertops as well as furniture and appliances around the sink, while constant moisture can lead to mold and pests.
Block the line of sight
The raised height of the faucet looks sleek and modern, but it can disrupt the view, especially if there is a window directly above the sink.
What is low arc bathroom faucet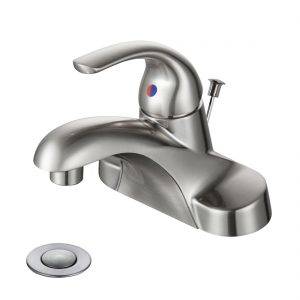 Low arc bathroom faucet has a slight low arc. The shape of these faucets is much lower than the tall and protruding arch of high arc faucets. Because of their smaller, more compact design, these faucets are ideal for small bathrooms.
Low arc faucets are as popular as traditional style faucets, so they are not common in modern style bathrooms. In other words, some designs are perfectly matched with modern color palettes, but they are not so rich.
The traditional style low arc faucet may seem outdated to some people, but for others, it may be the perfect traditional aesthetics. You can find low arc faucets with modern style, simple lines and fashionable finishes.
The advantages and disadvantages of low arc bathroom faucets are relative to those of high arc bathroom faucets. The advantage of high arc bathroom faucet is the disadvantage of low arc bathroom faucet, and vice versa.
High arc vs low arc bathroom faucet: what are the differences
Height
Height is the main factor to distinguish high arc faucets from low arc faucets, because the appearance of low arc faucets is much lower than the height of eye-catching high arc faucets. This is an important factor to consider when choosing a faucet for your bathroom.
Design
Last but not least is the design factor. This is one of the most obvious differences between the two, because each faucet provides different things. Generally speaking, the design of low arc faucets is most suitable for traditional style bathrooms, while high arc faucets are suitable for modern bathrooms.
Final thoughts
There are many advantages to choosing a high-arc faucet for your bathroom, such as convenience and functionality. This type of faucet also adds elegance and style to your bathroom design. While high-arc faucets are prone to splashing, most of the time it only occurs when the sink is shallow.
In this case, a low-profile faucet might be just right for you. Low arc center taps may work well because these models have a small footprint and low profile.