Granite Composite Sink Vs Porcelain Sink: Which Is Better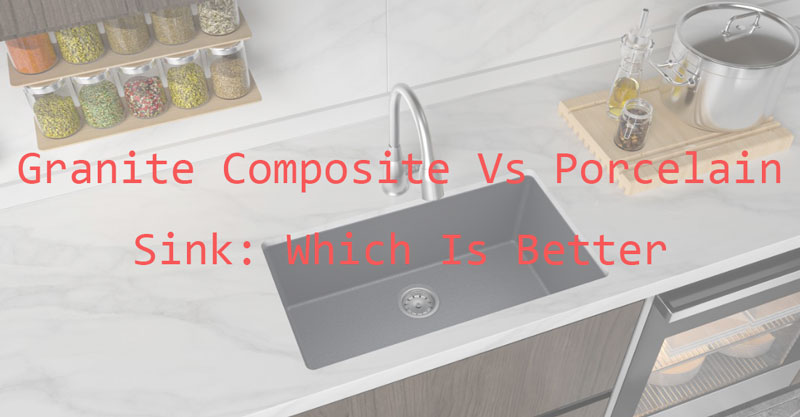 When it comes to choosing a kitchen sink, the options are endless. Kitchen sinks come in different sink materials, colors, shapes, sizes, etc. With so many options, picking the best sink for your kitchen can be quite a complicated process. In the choice of materials, it is difficult for many people to choose between granite composite materials and Porcelain. This article will focus on the functional similarities and differences of the two most commonly used sinks. Follow along with our in-depth Granite Composite Sink vs Porcelain discussion.
Granite Composite Sink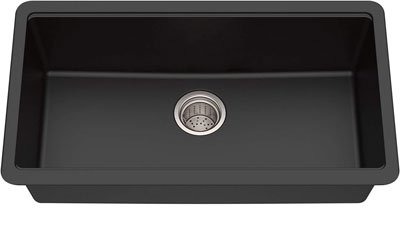 View on Amazon
The granite composite sink usually has two main components: granite and acrylic resin. The proportion of the two depends on different types of sinks, but usually this proportion is about 80% granite and 20% acrylic resin.
The cost of these sinks is much higher than that of composite sinks because it is difficult to obtain materials and the manufacturing process required for manufacturing materials. The granite composite water tank has a unified appearance, which does not look like natural stone.
The granite composite sink is both practical and beautiful. However, as a unique kitchen ware, granite composite sink has different styles. Moreover, it has good ductility, and can make the granite composite sink into any sink shape suitable for your taste.
Pros of Granite Composite Sinks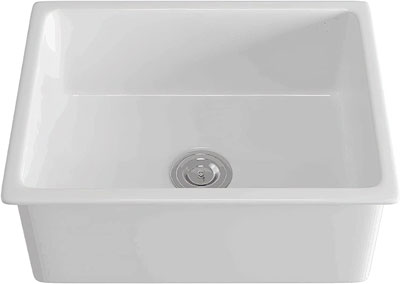 Granite composite sinks can certainly enhance the look of a space, but their benefits go far beyond that. Here are some advantages of granite composite sinks:
Easy to clean – All you need is dish soap, warm water and a non-abrasive sponge or cloth to keep your composite sink looking fresh and clean.
Stain Resistant – Granite composite sinks are very stain resistant. Constantly wiping, rinsing and drying your sink can be a hassle. These troubles can be avoided by using a granite composite sink.
Durable – Composite sinks are extremely hard and durable due to the presence of minerals. As a result, they are less likely to chip, dent, or scratch, and generally hold up to everyday wear and tear quite well.
Aesthetics – The color and style of a composite sink can blend or be closer to the color of the countertop material for an elegant, premium look.
Heat resistance – Minerals such as granite and quartz are highly heat resistant, but never place extremely hot pots and pans directly over the sink.
Cons of Granite Composite Sinks
Expensive – Although less expensive than solid granite, composite sinks cost on average more than similar stainless steel sinks, although the price difference is not significant in many cases. A quality composite sink will cost at least a few hundred dollars.
Harsh and caustic chemicals can also damage the appearance of your sink. As with almost all sink materials, harsh and corrosive chemicals such as metal items left in the sink can leave temporary rust spots on the composite.
Composite granite also doesn't look like real granite, so if you're trying to save money and match your sink to your granite countertop, composite granite won't be the perfect match.
Bulky – Composite sinks are also heavy, much like real stone. They may require additional support when installed compared to light gauge stainless steel sinks.
Composite sinks are also strong, but some composite sinks even run the risk of cracking from the impact of heavy objects.
Porcelain sink
Porcelain sinks have always been popular because porcelain is a non-porous, easy-to-clean material. Porcelain sinks can be solid porcelain or enamel coated with another material such as steel, iron, or fireclay. As a sink material, porcelain has different advantages and disadvantages compared with cast iron and stainless steel. See below for details.
Pros of porcelain sink
Porcelain sinks are a great choice and are durable, so if you take good care of them, your sink should last for many years. Sinks with porcelain-covered metal bases are stronger than solid porcelain sinks. No matter which type you choose, porcelain will sink, making them a good investment for your remodeling dollars.
White may be a common color for ceramic sinks, but it's not the only one you can choose from. If you want to create a unique look in your home, ceramic sinks give you a variety of color options, while stainless steel limits the look.
You don't have to do much maintenance to keep your ceramic sink looking great. Regular cleaning is important to remove food and any other substances that may stain the surface. You really want to avoid abrasive cleaners and cleaning tools that can scratch the surface of your sink.
Cons of porcelain sink
Despite its overall durability, porcelain does have a higher risk of chipping. This problem usually occurs if you drop something heavy on it, such as a heavy pot in the kitchen sink. In the bathroom, you're less likely to drop heavy objects over the sink, so you don't have to worry about chipping.
You also need to pay attention to the type of substances you put in your enameled sink and how long they stay there. Leaving bleach or other harsh or acidic substances in a sink for an extended period of time can damage the surface of a ceramic sink, leaving permanent marks. When you compare a ceramic coated fireclay sink to a stainless steel sink, you have to be more careful about what you put in it.
Porcelain is easier to stain than other materials. In the kitchen, this could mean stains from food being dumped down the sink or food not being wiped off the sink right away. In the bathroom, make-up can stain surfaces if spills are not wiped up immediately. Staining will be more noticeable if you have a white or light-colored porcelain sink.
Porcelain is heavier than some other sink materials, especially large porcelain kitchen sinks compared to stainless steel models. The weight makes installation a little more complicated, and undermount porcelain sinks are the easiest to install. If you opt for an undermount ceramic sink, installation will be much more difficult.
Granite composite sink Vs porcelain sink: which is better
It's hard to say which of the two sinks is better. In fact, both granite composite sinks and ceramic sinks are good options, and which one is better depends on your personal preferences and what you're looking for. For example, if you want an affordable sink that is durable and easy to install, a porcelain sink is a great choice. However, if you prefer the look of granite composite and its durability, then go for a granite composite sink. Ultimately, the decision is up to you, your preferences, and your budget. Each option has its pros and cons, so make the most of them!