Best Kitchen Faucets in 2023 – Latest Buying Guide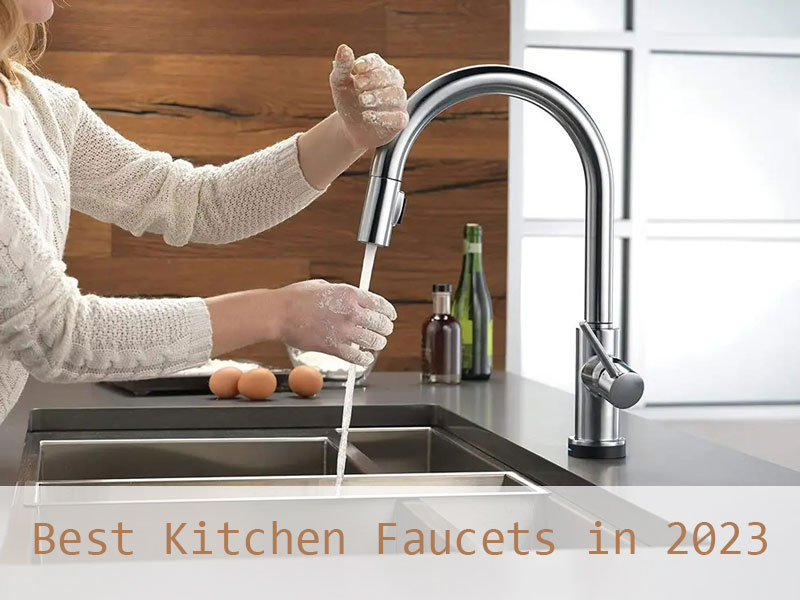 The look and function of your kitchen faucet can play a big role in design and practicality. We should think twice before buying a kitchen faucet – there are many factors to consider besides brand and price. With hundreds of styles to choose from, not to mention finishes and other features, picking the best kitchen faucet for your kitchen can seem like a daunting task.
If you're looking for the perfect faucet, check out our top picks list of best kitchen faucets in 2023. After carefully selecting the most popular products on the market, we have selected this group of products for comparison testing. Check out each result later in the individual reviews. Add the finishing touch to your kitchen with one of these highly-rated products.
Pfister Stellen Touchless Pull Down Kitchen Faucet with React Electronic Motion Sensor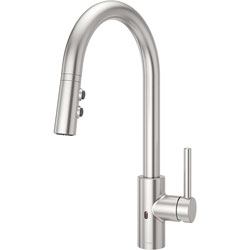 If you like a modern kitchen with the latest technology, this touchless sink from Pfister could be perfect for you. It's motion-activated, and you can turn the water on and off when you wave your hand near the sensor. You won't have to worry about accidentally forgetting to turn off the tap thanks to the handy Smart Stop feature, which automatically turns off the tap after three minutes of inactivity.
To use the sink in manual mode, simply push the handle in or use the manual override button. This touchless kitchen faucet also includes a stylish pull-down sprayer with three convenient functions: Spray, Stream, and Pause. You can seamlessly switch between functions with the tap of a button, so you don't have to hold down the button to maintain your desired spray pattern.
This faucet comes with a battery pack, which is a great option for keeping your sink working during unexpected power outages. However, it's sold separately, so you'll need to buy it on top of the cost of the faucet. It's also important to note that the spout hose on this faucet sometimes gets stuck when retracted, so you may have to wiggle it to get it back into place.
Moen 7594ESRS Arbor Motionsense Two-Sensor Touchless One-Handle Pulldown Kitchen Faucet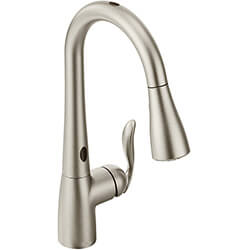 This Moen automatic kitchen faucet is one of the best touchless kitchen faucets you can buy. With a brushed stainless steel finish, this automatic kitchen faucet looks gorgeous, healthy and resistant to fingerprints, mineral build-up, and spots. It has two motion sensors (powered by batteries) installed in the spout. The first is activated by waving and is located at the top of the arc. And the other is under the spout, which is activated when you place your hand or an object (like a pot) under it.
Its retractable drop-down nozzle and magnetic docking system ensure it can reach hard-to-clean places. And it always comes back in place, so your kitchen space will always look neat. This faucet can easily switch between three spray modes at the touch of a button. PowerClean spray technology ensures that its spray power is 50% higher than other pull-down Moen faucets.
Kraus KPF-1650SS Modern Nola Kitchen Faucet, Stainless Steel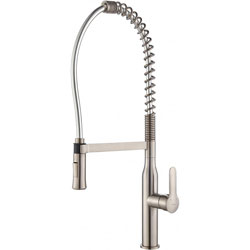 The Kraus KPF 1650SS is not only a beautiful faucet, but also a functional one. It features an all-metal construction and a responsive spout with a "commercial style" construction where the neck of the spout is a spring. You can pull the head closer to the sink bed, but the hose doesn't extend like a pull-down or pull-out faucet.
The whole body is made of brass. Available in chrome or stainless steel, it impresses with its build quality. Kraus offers several handy features, one of which is a magnetic butt armature. You simply guide the head over your hand and it attaches itself. The other is a durable ceramic cartridge that's been tested to last years of daily use.
KOHLER 23765-BMB Tone Kitchen Sink Faucet, Matte Black Moderne Brass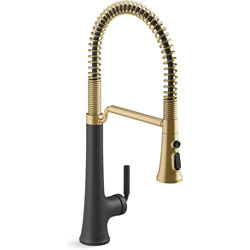 With clean lines and a soft teardrop-shaped base, the Tone kitchen faucet collection is a new take on mid-century modern style. Blending minimalism with warmth, this attractive design blends perfectly into any space. Paired with thoughtful functionality, the Tone collection is a dynamic beauty.
When it comes to functionality, you can rely on this drop-down high arch, which gives you plenty of room for tall cookware and pitchers. Professional style combined with pull-down functionality for maximum reach into sink space. Three-function pull-down spray head with touch controls lets you switch between Aerated Stream, Sweep Spray and Boost technology
WOWOW Black Kitchen Faucet with Sprayer, Pull Down Kitchen Sink Faucet Lead-Free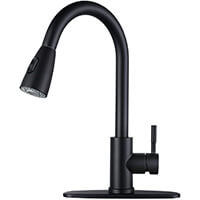 WOWOW black stainless kitchen faucet features a 1.5 m PX pull-out hose to expand the washing area. High-arc spout swivels 360° makes cooking more efficient and sanitary. Single handle kitchen faucet can control water temperature and water flow at the same time.
Steady and splash-free stream mode brings awesome convenience for filling the pans and pots. Powerful spray mode cleans the dishes and rinses your sink thoroughly. It also provides an optional Restricted model and the flow rate is 1.8 GPM after use.
Eco-friendly 304 black stainless steel kitchen faucet and Brass nut, ensures water safety and a long lifespan. Matte black surface, exquisite finish, retro style, the durability of a kitchen faucet is ensured, non-corrosion, non-rust, anti-scratch. Pre-installed water hose and quick connection design, help you install it by yourself in 25 minutes without a plumber.
Kohler 22974-CP Crue Touchless Pull Down Kitchen Sink Faucet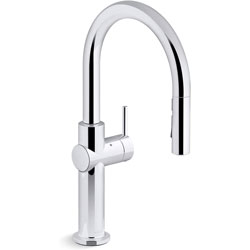 The latest innovation in kitchen faucet design is the touchless control, which turns the water flow on and off with just a wave of the built-in sensor. The technology can be a bit finicky, but we found the motion sensor on the Kohler Crue faucet to be very responsive. Plus, there's a lever handle for those who want to turn the water on and off the old-fashioned way.
The pull-out sprayer with magnetic dock easily switches between three modes: Aeration Stream, Ring Spray, and Power Wash. Faucets are solidly constructed and Kohler has a reputation for performance and reliability.
WOWOW Pot Filler Faucets Both Hot Cold Water Wall Faucet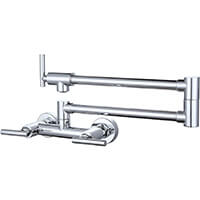 Not like traditional pot filler faucet chrome with just one hole for cold water, wowow pot filler faucet is designed 2 hole to mix cold & hot water, offering more convenience and user-friendly experience.
Solid copper faucet made of high density pure brass, better than other metal, the brass performs well in preventing lead, mineral and corrosion, so the water standard is ensured, protect the health of your families.
Mirror-like chrome finish, shiny and bright, which is no-fading and durable. Neoperl aerator can provide steady pressure and straight consistent water flow. high pressure ABS aerator is less splashing, drip free ceramic cartridge endures.
Delta Faucet Windemere 2-Handle Kitchen Sink Faucet with Side Sprayer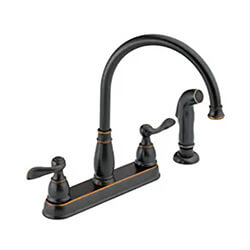 This is a standard two-handle faucet with a high curved gooseneck spout. Unlike the other options on this list, its body is made of plastic but has a metal finish, and the side sprayer is constructed the same way.
These materials make it lighter and attractively priced, but it makes sense that the plastic parts wouldn't be as tough as brass. There are three finish options: chrome, oil-brushed bronze and stainless steel. The bronze colour complements the Victorian details. Stainless steel doesn't look as good on this faucet, but it's more resistant to tarnishing.
FAQs About Finding the Best Kitchen Faucets
1. What's the best faucet for a kitchen sink?
First, take the time to look at your kitchen and determine your design preferences. The best kitchen taps end up catching your eye and acting as a seamless element of your overall design approach. Styles range from traditional to contemporary, and you can mix and match them for unique transitions. Also, consider the size of your kitchen and sink space.
2. What type of faucet do plumbers recommend?
Plumbers recommend choosing a high-quality brand of faucet, made of high-quality components. Some of the top brands include Delta, Moen, Kohler and hansgrohe. Look for brass, zinc alloy, or alloy steel construction for best results.
3. How long should a kitchen faucet last?
Modern, residential-quality kitchen faucets should last 15 years without too much trouble. A lifespan of 20 years is expected with a little TLC and minor repairs. Very high-quality faucets can exceed those limits but will still likely need occasional repairs.