Centerset Vs Single Hole Faucets: What Is The Difference?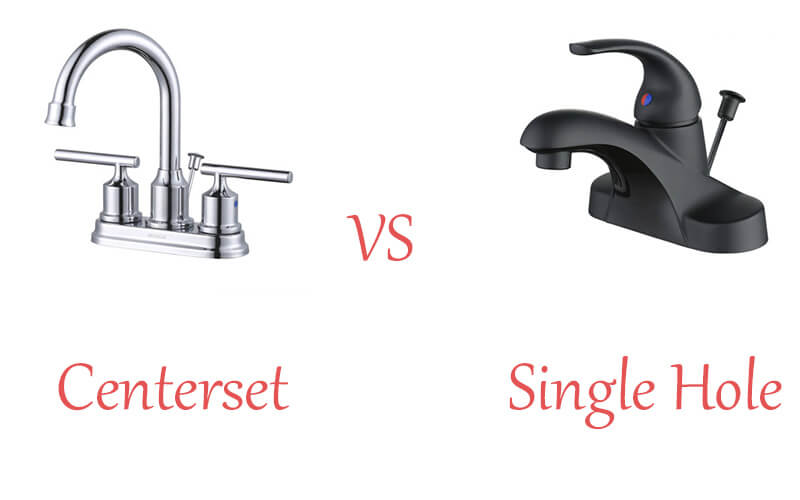 We are often confused when it comes to choosing a faucet. Faucets in the market come in different sink materials, colors, shapes, sizes, designs, number of bowls, price ranges, brands, etc. With so many options, it can be time-consuming and troublesome to pick the best sink for your kitchen or bathroom. As far as number of holes are concerned, there are different choices such as single hole, two hole, centerset, widespread and so on. Well, centerset vs single hole faucets, which is better? What's the difference between them? Well, that's what we're going to solve, so keep reading this post!
What is a centerset faucet?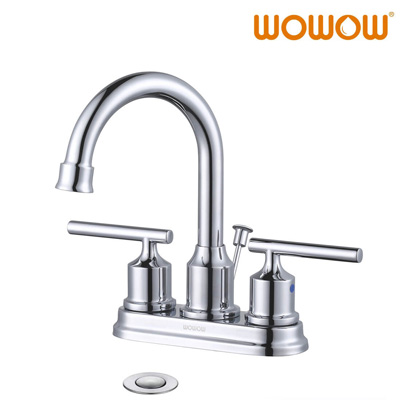 A centerset faucet is usually a 4-inch faucet that rests on a base. They are designed for bathrooms and feature three holes and handles with 4 inches of space between them. Both the handle and the spout are mounted on the same base plate, although some faucets have both handles mounted together on a 6-inch base. Given the faucet's design, these faucets are most commonly found in bathrooms, and while they may be used elsewhere, they're not that common. More details can be refered to: What is A Centerset Faucet – Centerset Faucet Definition.
What is a single hole faucet?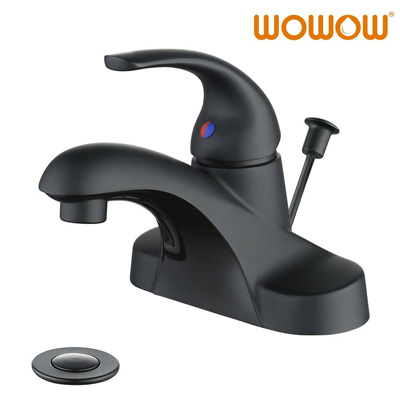 Single hole faucets are another popular choice for bathroom setups. While these faucets are standard in bathrooms, they are also a must-have in many kitchens. Instead of using three separate holes for installation, a single hole faucet requires one hole (as the name suggests).
All necessary wiring and connections go through a single hole in the countertop or sink deck. While it looks different than the central faucet setup, it works the same way. Generally speaking, single hole faucets have only one handle and can be used for both hot and cold water. But if you prefer the look of two single-hole faucets, there's no shortage of options.
What's the difference: Centerset vs Single hole faucet?
Knowing the key differences between center sets and single hole faucets is essential to choosing the best option for your home. Each option has its pros and cons, but there are some key differences to keep in mind.
Spacing
Spacing is the main difference between the two designs. The center faucet has a compact design with minimal spacing. The space between the holes is four inches, while other faucets, like the widely used ones, have more space. Spacing isn't a major issue with single-hole faucets, as everything gets water through one hole.
Installation
Installation type is an important aspect to consider when choosing a faucet. If you already have a sink/vanity/counter with pre-drilled holes, you will need to purchase a faucet that will work with that configuration.
For example, if the surface has a hole, look for a faucet that matches it. You can drill extra holes to accommodate different faucets, but this can be tricky depending on the counter/vanity/sink material.
Handle
The handle is another aspect to consider when deciding between the duo. While both types of faucets can use a single faucet to control hot and cold water, center-mounted faucets require three mounting holes. So if you already have a single hole faucet set up, you can't use it (unless you drill extra holes).
Which is better?
Choosing a better option between single-hole faucets and center-mounted faucets is complicated. Each option has its advantages, but the final decision is yours. Since every scenario is different, we cannot give an all-encompassing answer.
If you want a compact two-faucet for your bathroom, consider a center-mounted faucet. However, you can also find single hole faucets that offer the same options. If you have a center faucet setup (3 holes), then a center faucet might be better. That being said, if you prefer the look of a single hole faucet, you can cover the extra holes with a deck. With so many factors to consider, the decision really comes down to you and your personal preferences.
Frequently Asked Questions (FAQ)
Can a single hole faucet be used instead of a center faucet?
Yes, you can replace the central faucet with a single hole faucet. You'll need a deck board to cover the sink deck or the extra holes in the countertop, but it works.
However, unless you want to drill extra holes in the surface of a counter, vanity, or sink, you can't replace a single-hole faucet with a center faucet. Doing this requires careful measurements, so double-check your measurements before drilling additional holes.
How many holes does the central faucet have?
Generally speaking, the center faucet needs to punch three holes on the surface of the installation area (three-hole sink). They have a space for connecting each faucet and then a space for the mixing connection to the middle outlet.