Best Touchless Kitchen Faucets for 2023 – Latest Buyer's Guide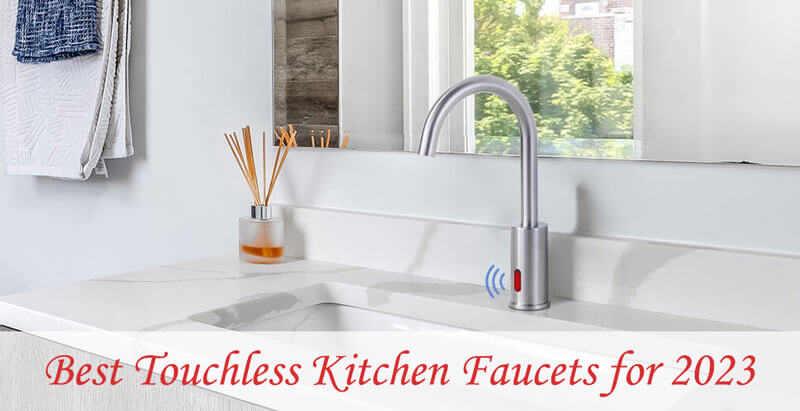 Touchless faucets are appearing more and more frequently in every kitchen. Unlike traditional models, these types of faucets don't require you to touch the handle to operate, helping you avoid unnecessary exposure to germs, dirt, and germs. Sensor faucets not only provide convenience and functionality to your life. They add a stylish and futuristic feel, taking your kitchen to a whole new level.
To find the best touchless faucets, we researched options keeping flow rates, spout heights, finishes, and certifications in mind. Finally, we've rounded up budget-friendly options, high-end, and everything in between and listed the best touchless kitchen faucets for 2023, so you can find a touchless kitchen faucet that meets your needs.
Best Touchless Kitchen Faucets of 2023 List
Moen 7594ESRS Arbor Motionsense Two-Sensor Touchless One-Handle Pulldown Kitchen Faucet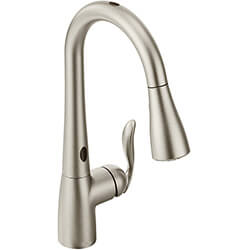 This Moen automatic kitchen faucet is one of the best no-touch kitchen faucets you can buy in 2023. This automatic kitchen faucet features a brushed stainless steel finish for a gorgeous, healthy look and resistance to fingerprints, mineral buildup and stains. It has two motion sensors installed in the nozzle. The first is activated by waving and is located at the top of the arc. The other is below the nozzle, which is activated when you place your hand or object under it.
Its retractable pull-down nozzle and magnetic docking system ensure it can reach hard-to-clean places. And it always returns to its original position, keeping your kitchen space tidy all the time. This faucet easily switches between three spray modes with the push of a button.
APPASO Bronze Kitchen Faucet with Pull Down Sprayer Single Handle High Arc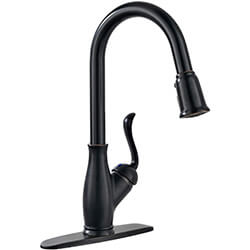 The price of this sensor faucet is very reasonable and attractive, if you prefer a cost-effective sensor kitchen faucet, it will be your best choice. This pull down kitchen faucet features a weighted ball that snaps your faucet spray wand into place and keeps it there. The wand stays docked when not in use and won't sag over time.
Rejecting aesthetic fatigue, this touch-free kitchen faucet gives you a new vision, highlights your uniqueness, and makes you shine. The Oil-Rubbed Bronze finish and dynamic shape exude a captivating atmosphere, transporting you back to the glorious Bronze Age and indulging in the culture of bronze excellence.
GIMILI Black Gold Touchless Kitchen Faucet with Pull Down Sprayer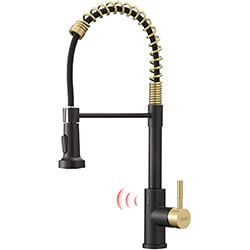 In order to better enjoy the convenience of the kitchen and the happiness of life, this sensor kitchen faucet introduces a new sensor technology. No need to touch it with your hands, the water will flow out through the induction system and shut off automatically within 3 minutes, which is definitely a good way to prevent unintentional touches.
This pull down sprayer kitchen faucet has 2 setting modes: stream for filling and spray for intensive cleaning. This touchless kitchen faucet offers a unique level of flexibility for kitchen operations, allowing you to easily switch from a splash-free aerated stream to a powerful pre-rinse spray. Lead-free solid brass body keeps family members safe from harm. And the ceramic filter element that has passed the 500,000-cycle test allows you to eliminate the trouble of faucet leakage.
WOWOW Touchless Bathroom Faucet – Tall Waterfall Automatic Bathroom Sink Faucet with Single Hole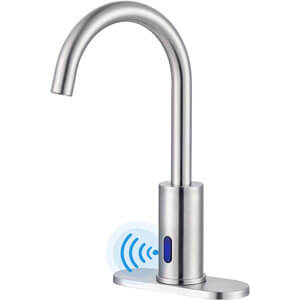 This fully automatic faucet is equipped with a smart sensor window, no need to touch, the water will be released quickly within 1 second, and the water will be automatically cut off when you leave your hands, bringing you a more convenient water experience. And this bathroom automatic faucet is equipped with a temperature mixer and hot and cold hoses, you can use the temperature mixer to adjust the water temperature according to your preference.
This touchless faucet reduces overall water usage without sacrificing water pressure, delivering water as soon as your hand is within range and stopping when you remove your hand, reducing water wastage and associated costs. The tap is equipped with a removable Neoperl aerator that reduces water shock, makes the water column even and soft, and prevents splashes.
Touchless Kitchen Faucets with Pull Down Sprayer, Infrared Motion Brushed Nickel Spring Sink Faucets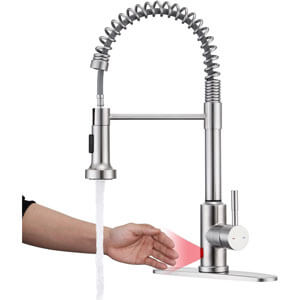 ARRISEA touchless kitchen faucet has two modes of manual function and infrared sensor function. Multi-flow two functional spray wand lets you easily and ergonomically switch from spray to stream to high flow for long-lasting powerful water ARRISEA kitchen faucet with 30-inch hose, pull-down spray wand reaches every area of your sink corner.
The water outlet adopts multi-layer rubber gasket sealing technology, which can guarantee no water leakage for 10 years, and the manual switch adopts three-level sealing design to ensure that it is as new as new. ARRISEA kitchen faucet adopts smooth stainless steel interior to better prevent leaks caused by inner rust.
Gangang Commercial Bathroom Touchless Automatic Motion Sensor Sink Faucet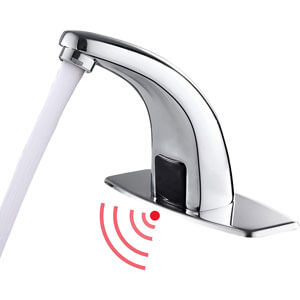 This touchless faucet is made of high quality H59 brass with multiple layers of nickel and chrome plating. Not only shiny but also beautiful, anti-drip, anti-rust, durable, suitable for bathroom. This sensor faucet faucet also features a brass mixing valve.
The factory setting sensing distance is about 5 inches. Put your hand within this distance and the water will flow automatically. Remove your hand and the water will stop. After removing your hands, the faucet will shut off within 1.5 seconds, which saves a lot of water. You can adjust the water temperature according to your preference. The commercial electric sensor faucet runs on 4AA alkaline batteries (batteries not included) and will last approximately 2 years with daily use.
Kohler 22036-VS SIMPLICE Kitchen Faucet, Vibrant Stainless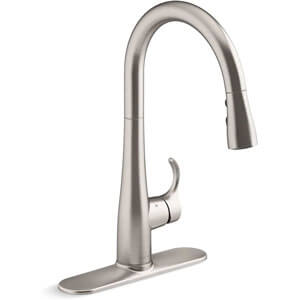 The Kohler Simplice features a modern, ergonomic gooseneck design with a pull-down spray head that has three functions: Stream, Boost and Sweep Spray. For stuck-on dirt, there's a boost technology that increases flow by 30 percent at the touch of a button.
A state-of-the-art motion sensor activates water flow for reliable, touch-free performance. There's an LED indicator to let you know when the faucet is running, and a temperature memory function to set your desired temperature before use. With a flow rate of 1.5 GPM, this faucet is extremely water efficient. This Kohler unit is easy to install and comes with an AC power adapter.
Artifacts® Single-Hole Kitchen Sink Faucet with 17-5/8″ Pull-Down spout and Turned Lever Handle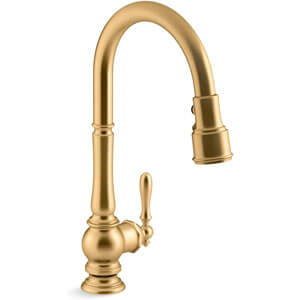 The Artifacts collection of faucets brings a classic design reimagined in a new way for a variety of task areas in the kitchen. This Artifacts kitchen sink faucet features a high arched spout and swivel handle for vintage style.
The unique three-function pull-down spray head lets you tackle kitchen tasks such as cleaning, rinsing and filling with Sweep Spray, BerrySoft Mist and Aeration Stream. The lightweight, quiet braided hose and swivel ball joint with ProMotion technology make the pull down sprayer easier and more comfortable to use.
CWM Touchless Kitchen Faucets with Pull Down Sprayer Stainless Steel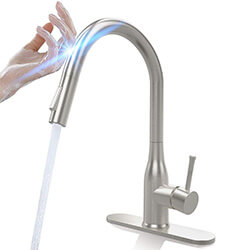 This touchless faucet differs from traditional touch taps in that you can use your wrist, back of your hand or forearm to start and stop the flow when your hands are a mess. Spray mode and stream mode can meet all tasks of kitchen cooker. A classic kitchen sprinkler design will be a smart addition to modern furniture.
High-quality ceramic filter elements reduce leak points. Moreover, the kitchen sink faucet and faucet hose are made of food-grade material, which is safe for your health in daily use. This non-touch kitchen faucet has excellent corrosion and rust resistance, prevents dirt from adhering to the surface of the kitchen faucet, you just need to clean the faucet with a cloth in daily use.
Pros and cons of touchless faucets
Pros
Conserve water – The automatic faucet only operates when your hands are under the water, ensuring you use the precise amount of water you need.
Hygienic – When those dirty or greasy hands need cleaning, they don't have to touch the faucet. There will be no bacteria to contaminate the faucet, and there is no need to clean the faucet after use.
Convenience – Perhaps the best part of a touch-sensitive faucet is its ease of use. It avoids the scalding temperatures that sometimes occur with other traditional faucets.
Cons
Expensive – Generally speaking, under the same quality, the price of induction kitchen faucets is much higher than other traditional faucets.
Sensor failure – In fact, the quality of sensor kitchen faucets varies widely. Whether the sensor kitchen faucet is good or bad, sensor failure may occur at any time, causing great trouble.
Difficulty changing flow and temperature – Changing the flow or temperature of water is a simple process in a manual faucet that is difficult to achieve in a no-touch kitchen faucet.
Conclusion
Touchless kitchen faucets are a great addition to any home. They are easy to use and help save time and effort. When shopping for a no-touch kitchen faucet, be sure to consider the factors outlined in this article. By doing this, you can ensure you are getting the best product for your needs. If you already have a no-touch kitchen faucet, make sure to follow the manufacturer's care instructions to keep it in good condition.