Best Rain Shower Systems in 2023 – Latest Reviews & Buying Guide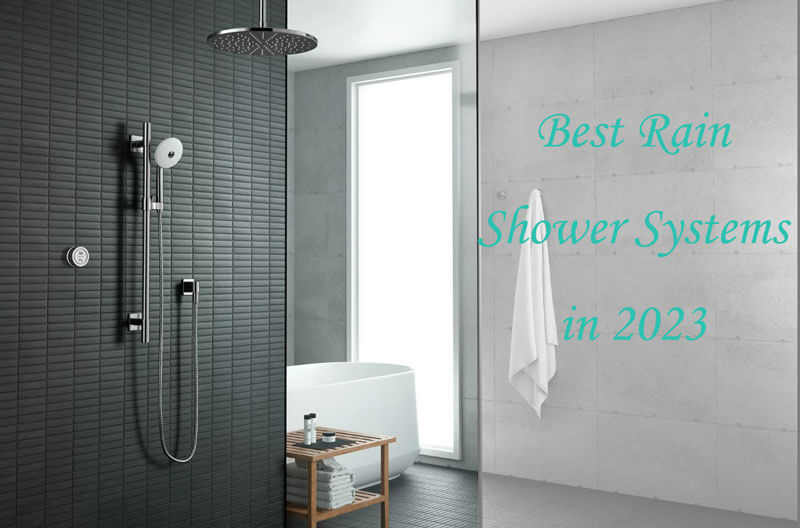 The right rain shower system can add a touch of comfort and luxury to your bathroom. Are you looking for a new rain shower system for your bathroom? Whether you're renovating a bathroom or building a brand new one, there are a variety of rain shower system options to choose from.
We've also listed our favorite products below to help you get the best rain shower systems in 2023. Whether you're looking for a luxury spa-like experience or something a little more budget-friendly, you can find the suitable one for yourself. So read on and find the perfect rain shower system for your next renovation!
List of Best Rain Shower Systems in 2023
Gabrylly Shower System, Wall Mounted Shower Faucet Set for Bathroom with High Pressure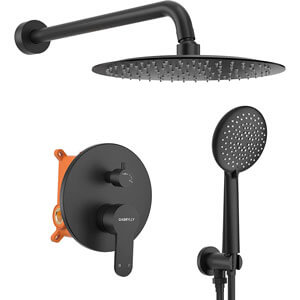 Even with low water pressure in your home, the GABRYLLY Wall Mounted Shower System with Faucet Set and 5-Function Hand Shower will not let you down. The shower system has a pressure equalizing valve that allows you to easily balance the water temperature and flow as needed.
The 10-inch rain shower head is the highlight of this product. The large overhead shower delivers a rain-like experience, ensuring a relaxing shower every time. The contemporary style and elegant matte black finish make it a great addition to any bathroom. It has a high-quality finish that is resistant to corrosion and tarnish. Adjust your shower angle or simply grab the hand held shower rod and enjoy a powerful rain shower every time.
Vanfoxle Shower Faucet Set Matte Black Shower System with Tub Spout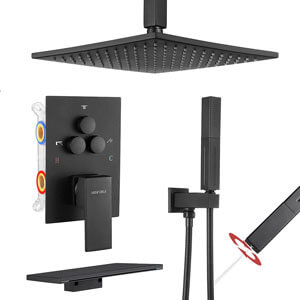 Vanfoxle shower systems are suitable for bathrooms of all sizes. The shower head is unique in that each round nozzle is individually attached to the sprayer, designed to provide the bather with a natural rain shower experience. The cUPC-certified pressure balance valve keeps the water temperature steady and prevents burns and scalds.
Another unique feature is the waterfall spout, which replaces the faucet and delivers water into the tub. It also doubles as a storage platform for soap while you shower. The system features a push-button diverter to control the flow of water to the showerhead, hand sprayer, and tub spout.
DELTA T17464-BL-I Ashlyn Monitor 17 Series Trim with In2ition Two-in-One Shower Tub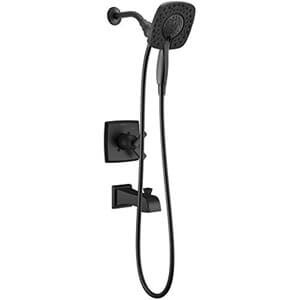 This shower faucet includes a handheld wand that uses magnets to hold inside a larger wall-mounted head. The head offers full body spray, massage spray, full body spray with massage and pause settings. Plus, you can pair this system with the rest of Delta Faucet's Ashlyn range of accessories if you want all your bathroom fixtures to match.
Many reviewers noted that this shower faucet is easy to install. They also love its excellent temperature control and beautiful design. In contrast, negative reviews noted that the hose was too long, causing it to frequently hit the shower wall.
KOJOX Ceiling Shower Fixture with 12 Inch Rainfall Shower head and Handheld Head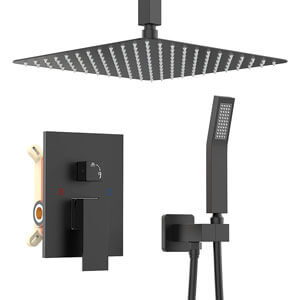 If you are looking for a luxurious and intoxicating shower experience? The Kojox Ceiling Shower is the one for you. This premium product comes with a 12″ Square Rain Shower Head, Hand Shower Head, 7.9″ Shower Arm, 1.5M Shower Hose and Brass Shower Holder. A pressure-balanced cartridge protects you from scalding water temperatures, while air-infusion technology simulates natural rainfall for an incredible bathing experience.
Everything you need to get started is included in the package, installation is simple, and immediate satisfaction is guaranteed! Highly recommend the Kojox Ceiling Shower Unit – perfect for any shower room! With its matte black exterior and multi-layer plating, it is corrosion resistant and durable.
SR SUN RISE SRSH-F5043 Bathroom Luxury Rain Mixer Combo Set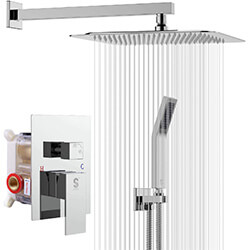 If a full panel shower faucet takes up too much space, you might consider the SR SUN RISE SRSH-F5043 Luxury Rainshower Faucet Shower Kit, which includes a 1.5 gpm hand shower wand, a 2.5 gpm shower head, and two temperature and flow rates Specific control speed. The set also features a solid metal shower arm, stainless steel shower hose, and shower rod holder to keep your shower set organized and efficient.
The single-tap mixer on this shower faucet set features a pressure equalization system for flow control, so sudden changes in hot or cold water flow, such as flushing a nearby toilet, won't leave you scalded or frozen in the shower. Bring a unique look to your bathroom with this shower faucet set in standard chrome or more expensive brass, nickel or matte black finishes.
Dream Spa Ultra-Luxury 9″ Rainfall Shower Head/Handheld Combo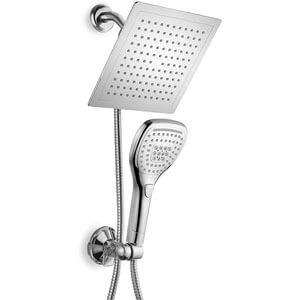 This model adds a hand shower head with a 5ft stainless steel hose as a major extra. We like that it can be mounted overhead and offers higher-pressure spray and waterfall options in addition to the standard rain shower head. It also comes with a suction cup mount for those who prefer to hang it on the wall. The downside is that it can't run at the same time, as the shower head and toggle switch are on the shower head, which may be out of reach when used in a bathroom with a high ceiling.
This shower head is chrome plated over ABS plastic, which has raised concerns about its long-term durability. We can easily install it on existing arms without using tools. Solid brass ball joint nuts allow for easy angle adjustment.
PULSE ShowerSpas 1011-III-BN Kauai III Shower System with 8″ Rain Showerhead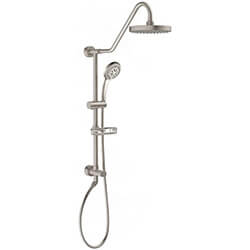 Pulse brings us a retro-inspired shower system, available in a variety of finishes: polished chrome, brushed nickel or oil-brushed bronze. You can choose the design that best suits your existing bathroom decor or a new renovation. You can also choose between two water streams, 1.8 or 2.5 GPM.
The set includes an 8-inch rain fixed shower head, a hand shower head with a hose, and a wall mount bar for height adjustment. There's also a wire tray on the shower rod to keep your soap within easy reach. The entire system is designed to be installed on your shower wall and comes pre-installed with plumbing for easy installation.
HOMEDEC 16 Inch LED Ceiling Rainfall Shower Head with 6pcs High Pressure Body Sprayers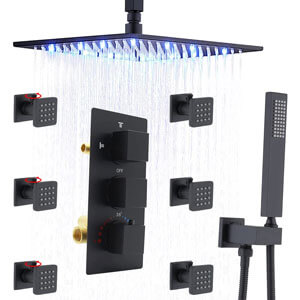 The Homedec shower system is another rather luxurious option, with no fewer than six spray heads, a massive square shower head, and a sleek rectangular hand-head. If you want to fully immerse yourself in the cascading water, you can choose the size of the overhead shower – 12″, 16″ or 20″.
It's one of the more expensive shower sets on our list, but it's worth every penny if you're looking for the ultimate shower experience. With LED lights on the head, you're sure to have a refreshing shower every day! These LEDs also serve as a safety feature – they change color depending on the water temperature. Every part of this shower head is metal for maximum durability – the hose, for example, is made of stainless steel.
WOWOW Black Shower Faucet Set Complete Shower System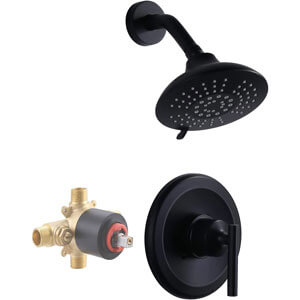 The body of the WOWOW Black Shower Faucet Set Complete Shower System is constructed of solid brass with a cUPC certified spool. Well made, sturdy and durable. The black finish looks expensive and chic with high cost performance. The modern design with a semi-industrial look that is very stylish.
WOWOW Black Shower Faucet Set Complete Shower System Rain Shower Head with 5 Functions: The shower head has 5 different water settings (pause, rain, power rain, mist, power spray), allowing you to fully enjoy this comfort shower experience.
How to choose the best rain shower system in 2023
There are several factors to consider when choosing the perfect shower faucet, including shower valve, configuration and type, water pressure and fittings.
When choosing a new shower faucet, the first thing you need to consider is the plumbing part of the shower valve that controls the flow of water from the shower faucet. When it comes to types of shower faucets, they generally fall into five main categories. These categories include: single-head mist shower heads, rain showers, dual and multi-head shower heads, hand-held shower heads and body sprays. Just remember to match it to your tub faucet (if you have one) and your other bathroom faucets. Also, consider how the faucet will match the rest of your bathroom's decor, as well as the finishes of other bathroom fixtures.
Final words
The best rain shower systems provide a better bathing experience than a shower head alone. That's because luxury shower systems include all the necessary fixtures such as rain shower heads, jet showers, and even hand showers. You can find shower systems in a variety of models, shapes and finishes to suit your needs. So, before you make your choice, it's important to know the important things to make the right decision.