Best Kitchen Sinks of 2022 – Reviews & Buying Guide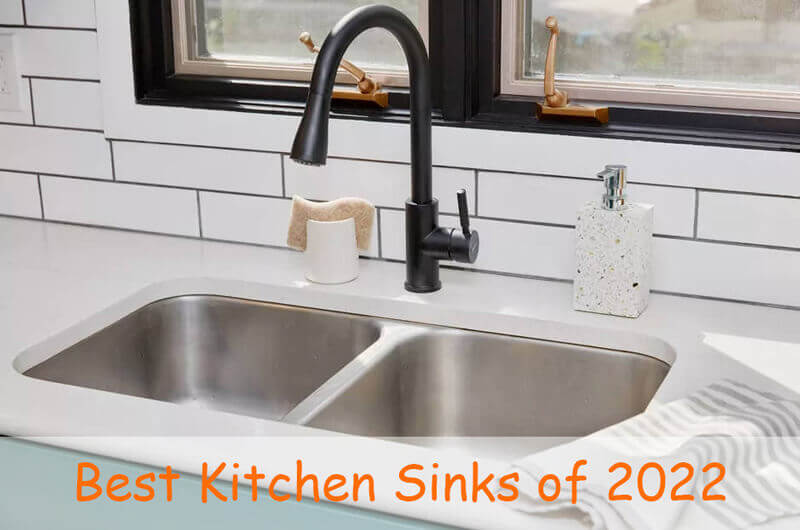 When it comes to renovating your kitchen or even building a new one, one of the most important thing is your kitchen sink. A suitable kitchen sink can make your kitchen more beautiful and cleaner. After a long time of researches, we have compared a large number of kitchen sinks on the market from various aspects such as price, matrials, size, etc. In this article, we have sumarized and listed the 10 best kitchen sinks in 2022. Read this post and pick the most suitable one for your kitchen.
Best kitchen sinks of 2022 List
Kraus KHU100-30 Kitchen Sink, 30 Inch, Stainless Steel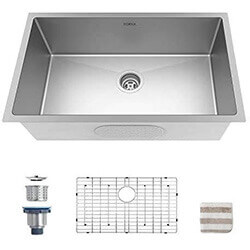 This kitchen sink from Krause tops our list of the best kitchen sinks of 2022. This top rated stainless steel sink can only be installed at the bottom, which means installation is more complicated. But they integrate seamlessly with the countertop, so that's not a downside at all.
The device is constructed for maximum reliability – it is 1.5mm thick 16 gauge TRU16 stainless steel. It's very rust and dent resistant, and the satin finish on the sink is commercial grade. So scratches won't be a big problem for this sink.
Lordear 36 inch Kitchen Sink Apron Front 16 Gauge Matte Gold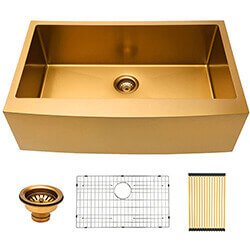 This Lordear farmhouse sink breaks the mold and offers a stainless steel kitchen sink with a luxurious matte gold finish. This sink is resistant to scratches, corrosion, and high temperatures without fading, tarnishing, or rusting. It's also easy to keep clean thanks to its rounded corners and smooth surface.
The sink is 10 inches deep and holds plenty of utensils and food. The sloping bottom prevents standing water from accumulating in the bowl, while also ensuring quick drainage. High-quality sound-absorbing pads are integrated into the structure of the sink to reduce noise.
KOHLER K-5827-0 Whitehaven Farmhouse Self-Trimming Undermount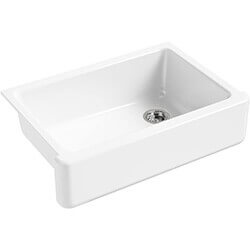 If you prefer farmhouse kitchen sinks, Kohler Whitehaven is definitely one of your top choices. Featuring a signature apron front, this single basin sink balances modern sophistication with traditional appeal. Made from ultra-durable cast iron with a glossy enamel finish, it's available in 12 colors, from traditional white to neutral taupe to stylish black. Among them, white finish is the most versatile choice for the kitchen. This farmhouse sink is on the pricey side, but the materials are guaranteed not to crack or burn and come with a limited lifetime warranty.
ZUHNE Drop In Kitchen, Bar and RV Stainless Steel Sink (33×22 Single Bowl)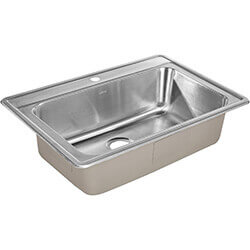 Zuhne recessed top mount sinks are our first choice for basic needs. There are no extra accessories for this single bowl oversized sink, making it very affordable. As for extra accessories like drains or handles, you can buy them as needed.
This is a commercial grade sink, 18 gauge stainless steel and brushed finish ensure the sink can withstand harsh conditions like boiling water or ice. It is scratch and corrosion resistant. The sink looks a little retro due to the rounded corners and flush mount. The latter can be installed quickly and easily without special tools, but it cannot be placed under a countertop.
Ruvati 30-inch Low-Divide Undermount Tight Radius 50/50 Double Bowl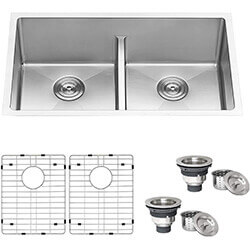 Low-divided kitchen sinks offer versatility. There are several good examples from different brands on the market. This Ruvati stainless steel low-end range is one of them. This Ruvati sink offers enough vertical space to hold anything smaller than a medium pot. Washing utensils and regular cooking tools will be as easy as in any full-size double basin.
If you use large tools a lot, a full divider is a better option. Low-profile sinks have less dedicated space than single- or double-basin sinks. With a low-partition kitchen sink, you can't completely soak bulky items without wasting water. Other than that, the Ruvati Low Partition 30″ Stainless Steel Sink is simply a premium product. 16 gauge T-304 grade stainless steel and heavy duty soundproofing speak for themselves. Additionally, the sink is covered by Ruvati's limited lifetime warranty.
Franke Double-Basin Composite Drop-in or Undermount 4-Hole Commercial Kitchen Sink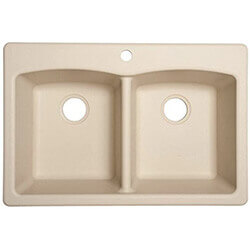 The Franke Ellipse Double Basin Sink is an attractive undercounter commercial sink. What sets this sink apart from others is the material. It is made of 80% quartz, which is harder than granite. Because it's made of quartz instead of metal, it won't rust or corrode.
Even if you don't feel the granite material, this sink is still tempting. The beautifully textured surfaces add a natural finish to the kitchen, while the colors blend well together. This double basin complements any modern or rustic kitchen, and the deep bowl makes the sink very practical. Plus, the sink is scratch and heat resistant and won't fade or chip. You can install the sink as top mount or bottom mount to suit your kitchen.
BLANCO Metallic Gray 440067 PERFORMA CASCADE SILGRANIT Undermount Kitchen Sink with Colander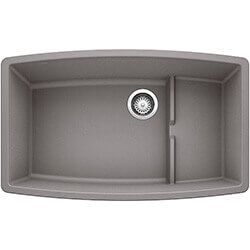 The internationally renowned German manufacturer Blanco produces high-quality sinks, and the Blanco Performa Cascade Super Single Bowl is no exception. Made of an 80% solid granite composite material, this sink is extremely durable and will last for years. It's easy to clean, and resistant to scratches and dust.
This sink combines the best of both single and double basin sinks. A ledge half the depth of the bowl acts as a boundary between the lower main section and the raised section. For one, you can fill the underside with water and use it independently of the raised part, just as if you had a double bowl sink. On the other hand, if you need more space for a large pan or wide plate.
MENSEAJOR Single Bowl Kitchen Sink Undermount Stainless Steel Kitchen Sink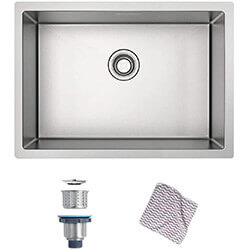 Mensarjor offers indestructible undercounter kitchen sinks made of 18 gauge SUS304 stainless steel with anti-condensation and thickening features to reduce noise. The single bowl sink is handcrafted with a commercial grade brushed finish and has a slightly sloped base for quick drainage. It has a 3.5″ drain and is compatible with most kitchen appliances and also works with most waste disposal systems.
TORVA 30-Inch Undermount Kitchen Sink, 16 Gauge Stainless Steel Undermount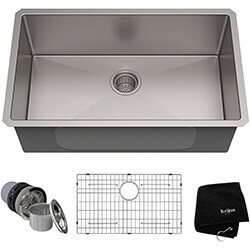 This kitchen sink is available in 8 different sizes from 13″ to 32″ long. Premium 16 gauge T304 stainless steel will give you premium all-around performance. The 10″ deep bowl is perfect for holding any object with ease. The 3.5″ diameter sink drain is perfect for your kitchen and provides effective drainage. Undercounter sinks are heat, stain and dent resistant.
MR Direct 3218A-16 Stainless Steel Undermount 32-1/4 in. Double Bowl Kitchen Sink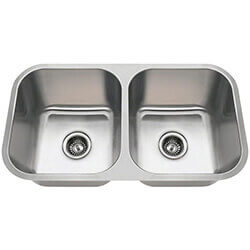 This sink is constructed from 16-gauge, 304 grade stainless steel. The stainless steel sinks contain 18% chromium and 8-10% nickel. The surface has a brushed satin finish to help mask small scratches that occur over time and will keep this sink looking beautiful for years. The overall dimensions of the 3218A-16 are 32-1/4 in. x 18 in. x 9-1/4 in. and a 33-inch minimum cabinet size is required. This sink is fully insulated and comes with sound dampening pads.
Last Verdict
With so many options for kitchen sinks on the market today, it can be hard to say which is the best one. You need to consider many aspects such as budget, purpose, etc., to choose the most suitable sink for your kitchen. The above sinks are carefully selected by us, you will not regret buying any of them.