10 Best Pull Down Kitchen Faucets in 2023 – Latest Buying Guide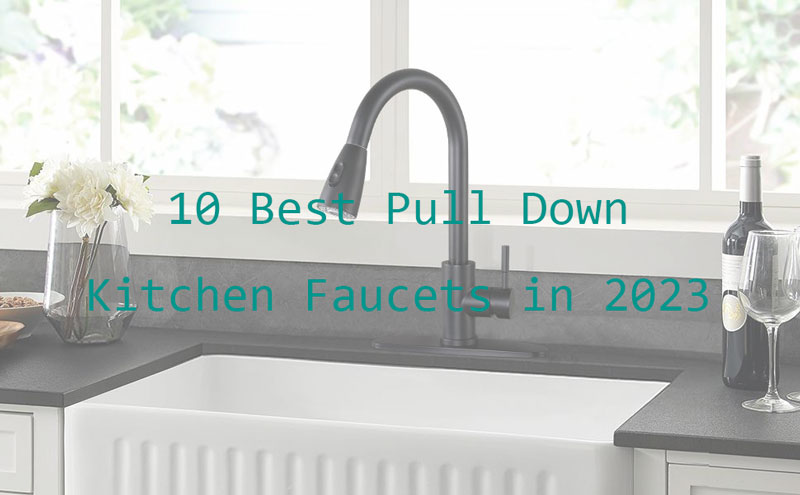 A kitchen faucet is essential for washing hands, dishes and dispensing water, but it's also the focal point of many kitchens. When choosing a faucet for your home, it's important to consider two things: functionality and aesthetics. Many owners prefer the pull-down kitchen faucet because it makes us more convenient and ergonomic when dealing with housework in the kitchen. There are many types of pull-down kitchen faucets on the market, and the quality varies. Picking a good kitchen faucet with a pull down sprayer takes a lot of time and effort. Do not worry! We've done a lot of research to round up and list the 10 best pull down kitchen faucets in 2023 for any type of sink. So, take a look at the products mentioned below to choose the one that suits your requirements.
List of 10 best pull down kitchen faucets in 2023
WOWOW Single Handle Brushed Nickel Kitchen Faucet with Sprayer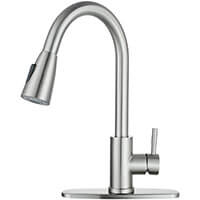 This is one of the best pull down kitchen faucet in 2023. Made of premium SUS 304 Stainless Steel, this WOWOW kitchen pull down faucet features 30-inch reach, 1.5 m PX pull out hose, which is perfect for both single and dual kitchen sinks. This pull out kitchen faucet with splash-free aerated stream is convenience to filling the bowls, pans and pots.
Modern kitchen faucet comes with brushed nickel, simple and stylish, is perfect match for your kitchen style. Powerful spray mode can wash dishes and sinks vigorously. Single handle kitchen faucet is more convenient and simple to control water temperature and water flow range.
Moen S72308EVSRS STO Smart Touchless Pull Down Sprayer Kitchen Faucet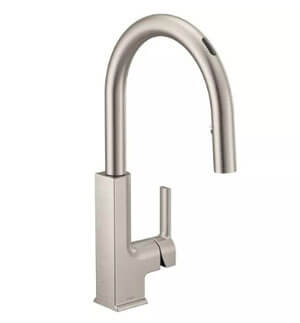 Designed with style and convenience in mind, the Moen STO Smart Single Handle Pull-Down Model is one of the great choices for kitchen faucets in 2023. It features four different control methods, including a wave sensor that starts and stops the water flow with a simple hand movement – perfect for when you get your hands dirty in the kitchen.
It also comes with voice control, so you can turn the water on or off with a simple command using a connected smart home device. You can even set up personalized presets for specific tasks, like filling a baby bottle or coffee pot. We also like that you can view specific data in the app, such as average water usage.
In addition to all the fun tech, this kitchen faucet packs a punch. The pull-down sprayer helps you clean tough, caked-on crumbs from your cookware faster than a regular faucet, and its sturdy, retractable spray head means you don't have to fiddle with the sprayer hose to put it back in place.
WEWE Single Handle High Arc Brushed Nickel Pull Out Kitchen Faucet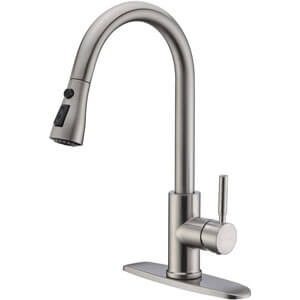 Standing 15.7 inches tall, the WEWE Single Lever Pullout Faucet is an affordable, best-selling model that offers plenty of room for filling large basins or pitchers. It features a pull-out spray function that sets it apart from other budget kitchen faucets by providing run, spray and pause functions using a button on the spray head. Typically, these features are found on high-end kitchen faucets, so this feature adds to the value of this affordable model.
This faucet also features a ceramic cartridge disc valve for long, leak-free service. This kitchen faucet offers great value for property renovations, apartments, or as an affordable upgrade to your sink.
Delta Faucet Leland Touch Kitchen Faucet Brushed Nickel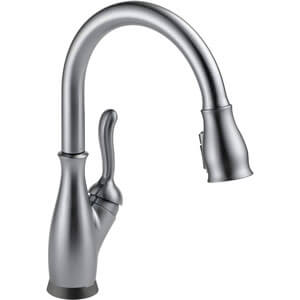 Delta is one of the world's leading manufacturers of home improvement and building products and one of the first companies to revolutionize faucet manufacturing. This top pick is the perfect mix of traditional style and modern features. This faucet is not just about looks. It combines everything shoppers love about a modern kitchen faucet: pull-down spout, gooseneck style, stain-resistant brushed finish option, single-handle function for water control, and touch activation for minimal touch operation.
The faucet uses Touch2O technology to turn the water on and off and utilizes magnets to properly connect the spout. There is an LED light to indicate water temperature and three different spray modes. Three other finishes are also available, including Chrome, Arctic Stainless Steel and Venetian Bronze.
Signature Hardware 953519 Finnian 1.75 GPM Pull-Down Kitchen Faucet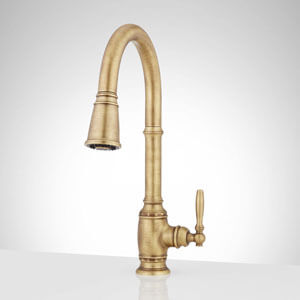 This kitchen faucet features a gorgeous, detailed design that the professionals approve of. The gooseneck shape gives this faucet a statement in the kitchen, and this kitchen faucet is available in six finishes such as aged brass, brushed gold and stainless steel to match the rest of the appliances in your home.
This shape is also practical, as it allows plenty of room for pots and pans. If your water flow requires more flexibility, you can use a pull down sprinkler, which has two functions, depending on how much power you need. It's rare to find a faucet that has such useful modern features while retaining its classic elegance. Since this faucet is made of zinc, it may not be as strong as stainless steel or brass, but it will last for decades.
KOHLER 596-VS Simplice Pull Down Kitchen Faucet High Arch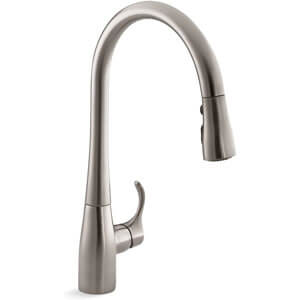 This kitchen faucet with pull-down sprayer allows you to control the water with one hand and reach out over the sink for other kitchen tasks. This kitchen faucet includes Ring, Boost, and Sweep Spray technologies that are perfect for everyday cleaning. The Sweep Spray features angled nozzles that create powerful blades to clean your dishes and sink.
Docknetik is a secure docking system inside the nozzle that slides smoothly and locks the nozzle securely in place, and Boost technology increases flow by 30% at the touch of a button. Ceramic disc valves outlast industry standards for durable performance in your kitchen. Easy to install with pre-installed hose and spray head, with flexible water supply line for easy access to water.
Grohe 32665DC3 Concetto Dual Spray Pull-Down Kitchen Faucet
With an innovative and beautiful design, simple accessibility and intuitive use, Grohe Concetto kitchen faucets are perfect for any kitchen. Its sleek, sophisticated design with a tall, swivel nozzle makes it easy to use in any home!
Grohe designs everything they do so you never have to worry about quality or performance. It features a high swivel nozzle that makes filling cans and cleaning the backs of dishes easy. With its 360-degree swivel radius span, it flows effortlessly around every corner.
The dual spray option lets you switch between regular water flow and spray at the touch of a button, making this design perfect for any sink size! This product features an anti-lime system made from lead and nickel-free materials like no other!
Hansgrohe 6-inch Tall Pull Down Kitchen Faucet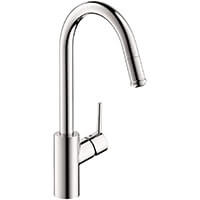 This is a simple but beautiful pull down faucet. While this model may not offer the modern look of some of its competitors, this faucet takes a simple and classic approach. The neck of the faucet also features a magnetic docking system that swivels 150 degrees and offers an old school style with few bells and whistles. Laminar sprays provide an air-free mixture and are ideal for reducing spatter. While this model's lack of spray functionality may limit some, others will find this simplicity a welcome option.
Delta Faucet Kate Pull Down Kitchen Faucet Brushed Nickel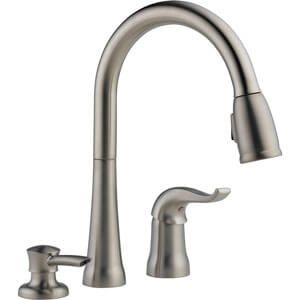 The Delta Faucet Kate Pull Down Kitchen Faucet is ideal for users who have a 3-point bracket installed in their kitchen sink. This faucet initially caught our attention for its contemporary style and finish, but we found that it has a lot more to offer than your average faucet. This kitchen sink faucet will refresh any kitchen with its beautiful chrome/metal finish and modern gooseneck design.
As far as its functionality goes, this tap is equipped with advanced Touch-Clean technology. The soft nubs attached to its spray tip do not allow mineral buildup, which makes cleaning the spray holes as easy as a quick wipe. It is equipped with DELTA's traditional Diamond Seal technology to prevent leaking taps. This is the ideal product for those who are looking for simplicity, ease of use, high efficiency and low maintenance.
WOWOW Brushed Nickel Gooseneck Kitchen Faucet with Sprayer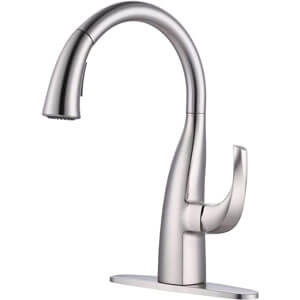 The swan neck faucet with US design patent is unique and exquisite. Kitchen sink faucets are a beautiful addition to your modern or farmhouse kitchen. This kitchen faucet sprayer features a smooth curved spout to beautify your kitchen and add dishwashing versatility.
This kitchen sink faucet features an explosion-proof hose and a retractable gel hose that provides high-pressure cleaning at any angle. The swivel adapter also bends, swivels and moves to help you reach every location. With a heavy ball, the applicator retracts smoothly and easily after use.
The sink faucet with sprayer features a quick button design that lets you choose between running water or a mist, and the ABS aerator provides a smooth flow of water while increasing overall water efficiency by up to 50%. Picture color American standard water supply pipeline, cUPC certification, to ensure lead-free and mineral-free, to protect the health of the family.
Advantages of Pull Down Kitchen Faucets
One of the most notable benefits of a pull down kitchen faucet is its impressive overall appearance when placed in any kitchen! This is certainly a visually stunning feature that provides a more modern and contemporary look than the average, basic and dull kitchen faucet. However, its practicality is also the reason why people prefer the pull-down kitchen faucet, and there are many of them. Simple and quick to install, they allow you to do more around your sink, especially those with a higher spout height.
They also ensure that you don't have to struggle to turn on the water if you have something on your hands or even dirty hands with a one-touch design. Their selection of spray modes also ensures you get just the right amount of hydraulic power when you need it (also consider a pull-out kitchen faucet if it's the main feature you're looking for). In the end, these are the models that are less likely to leak than those older faucets.
FAQs
Q1: How much does it cost to install a kitchen faucet?
The major factors in determining installation costs are the type of sink you buy and whether you hire a professional to install it. Countertop builders and plumbers typically charge by the prevalence of drill holes and faucets. The more labor and skill required to add all the sink components, the more likely the final installation will be expensive.
Q2: How to fix a leaky kitchen faucet?
If your faucet suddenly leaks, it can be fairly simple to fix. Most kitchen sink faucets leak because of worn sink strainers. To fix a leaky kitchen faucet, you'll need to replace this part. Remember that sink filters are specific to each make and model of faucet. The process of replacing a sink filter involves unscrewing the faucet handle, removing the retaining nut that holds the filter in place, and inserting the replacement filter before reinstalling the handle.
Q3: Will any kitchen faucet fit my sink?
Kitchen sinks may have one, two, three or four mounting holes. Typically, you will choose a kitchen faucet that matches the sink hole in which it will be installed. However, even a single-lever faucet can be installed on sinks with multiple mounting holes—you just need to cover the unused holes with a deck.
Other factors to consider when deciding whether a faucet will fit your kitchen sink include the gap between the sink and backsplash, especially for faucets with swivel handles to adjust the water temperature and flow.