From Outdated to Up-to-Date: Kitchen Renovation Trends to Watch for in 2023

Kitchen renovation trends for 2023 are now available and they're more stylish and innovative than ever before. As the saying goes, out with the old and in with the new. 
When it comes to the look and feel of your kitchen, regular updates are necessary in order to keep it looking its best. 
From sustainable materials to modern touches, here are the top trends to watch for when it comes to kitchen design in 2023.
Open Floor Plan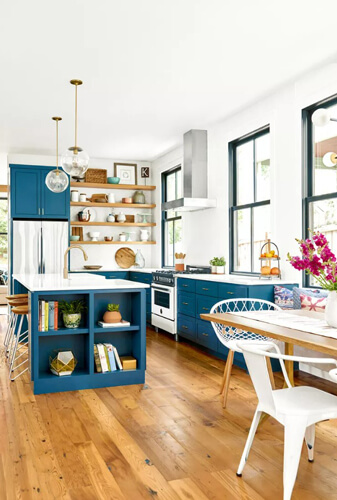 Open floor plan is one of the most popular kitchen renovation trends that has been continuously gaining popularity. 
Open floor plans can provide increased function and a more spacious feel to the kitchen by removing walls and opening up the space for larger social gatherings or open air cooking. 
This trend also allows for better lighting, creating a warm atmosphere in which to gather and entertain.
Sleek, Minimalist Design
The minimalist design trend is here to stay and will be the driving force of kitchen renovation trends in 2023. 
This look focuses on removing unnecessary clutter and decorative elements from the kitchen, leaving only necessary components that are stylishly designed. 
Expect to see cabinets with clean lines, countertops made of materials such as quartz or marble, simple backsplashes and unfussy hardware.
Smart Appliances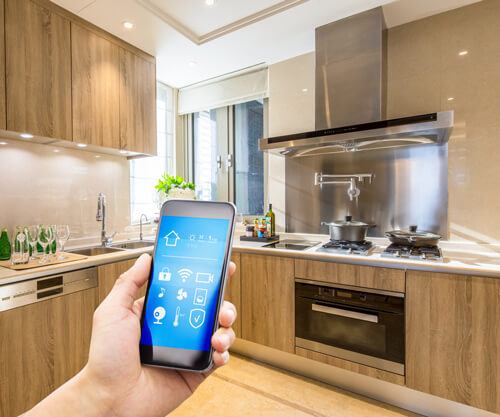 Smart appliances are the future of kitchen technology. These cutting-edge devices offer numerous benefits that make them a great addition to any home. 
They can help save energy and money with features like automatic temperature regulation and timers that turn off the appliance when it is not in use.
Many smart appliances come with voice control capabilities so you can operate them with just a few words. 
Smart appliances also feature built-in diagnostics that alert you to problems with the appliance before they become costly repairs. This not only saves time and money but also helps ensure your kitchen is running as efficiently as possible. 
They are also designed for convenience and ease of use. Many devices will have intuitive interfaces that make them easy to operate, even if you aren't tech-savvy. 
Some of the best appliances will be compatible with smartphone apps or home automation systems. This makes them even easier to use since you can control them from anywhere in your home. 
With features like energy saving timers, voice control, and intuitive interfaces, these devices offer a variety of benefits that make them worth considering for your next kitchen appliance upgrade. 
Smart Microwaves
Smart microwaves offer the same convenience as regular ones, but come with more advanced technology and connectivity options. 
Many come with voice-activated features that allow users to easily control the microwave's settings without having to manually adjust them.
Smart Refrigerators
Smart refrigerators are great for busy households as they offer a variety of functions and features such as energy efficiency, automatic temperature control, and access to online shopping. 
You can also connect many of these refrigerators to other smart devices in your home, such as Alexa or Google Home.
Smart Dishwashers
Smart dishwashers are designed to make cleaning dishes easier and more efficient. 
With connected app technology, many of these dishwashers can be controlled remotely and will remind you when the load is done so that you don't have to worry about forgetting your dishes in the washer.
Smart Coffee Makers
Smart coffee makers come with a wide range of features that make them perfect for those who need their caffeine fix first thing in the morning. 
They can be programmed with the specific grind and strength of your cup of joe, as well as access to recipes for specialty drinks. 
Some even come with features that allow you to control the temperature and brew time of your coffee from your smartphone or voice command.
With the ability to control elements remotely and learn from user feedback, smart appliances are designed for convenience and efficiency.
Natural Lighting & Ventilation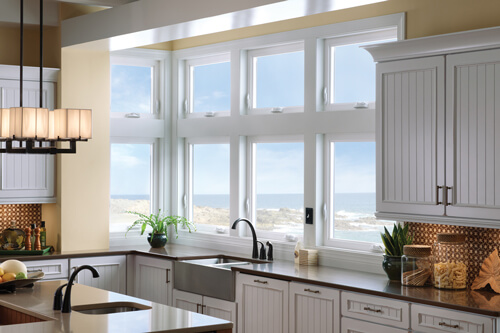 Natural lighting and ventilation are quickly becoming popular elements in kitchen renovations. 
With the rise of eco-friendly designs and organic materials, more people are looking for ways to bring natural elements into their kitchens. 
This can include glass sunrooms, sliding doors, energy-efficient windows, skylights, solar tubes, clerestory windows and sun tunnels.
These are all great ways to get natural light into your kitchen without sacrificing privacy or energy efficiency. 
Adding plants is also a great way to bring in more oxygen while providing a pleasant atmosphere.
Bold Color Schemes and Textures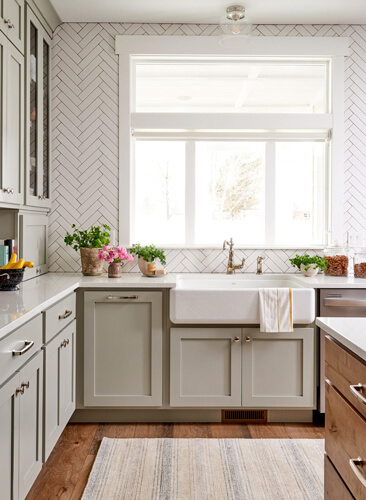 One of the top kitchen renovation trends for 2023 is bold color schemes and textures. 
From bright oranges and yellows to rich blues and greens, homeowners are opting for unique, eye-catching colors that stand out from the crowd. 
Textures such as wood grain, stone, tile and metal can also be used to create a unique look in your kitchen.
Unique Storage Solutions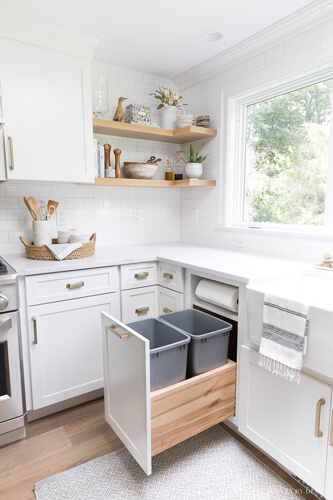 When it comes to storage in the kitchen, there are a variety of unique and creative ways to maximize space.
Pull-out drawers can be installed beneath countertops or cabinets to increase overall storage capacity. 

Open shelving and built-in cabinets offering extra shelving space can provide an attractive way to store items while also making them easily accessible. 

Utilizing the space above cabinets is another great way to make use of an otherwise unused area in your kitchen. 

To add a unique touch, consider adding display cubbies or wicker baskets to store and organize items. 

Custom-made corner storage solutions can help maximize corners for easy access and extra organization. 
Features and Materials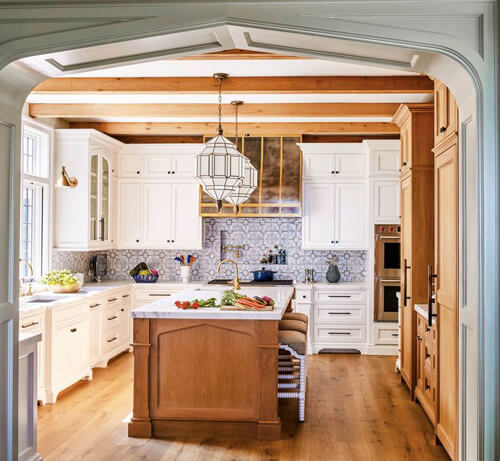 Natural, eco-friendly, durable, textured, colorful, from bamboo or cork flooring, natural stone countertops, to low-VOC paint. 
These are just a few of the options that are becoming increasingly popular. 
Countertop Materials
When it comes to countertops, quartz is becoming increasingly popular in 2021. 
Quartz is a great option for homeowners looking for a durable and low-maintenance material that requires minimal upkeep. 
Quartz can be used to create unique and interesting patterns which add an extra element of interest to the kitchen. 
Natural stone options such as granite and marble are also becoming increasingly popular, offering a classic yet luxurious look to any kitchen. 
Concrete countertops are another popular choice due to their industrial feel and low-maintenance design. 
For an eco-friendly option, recycled glass countertops are a great way to add color while being sustainable. 
Flooring Options
Tile flooring remains one of the most popular choices among homeowners when it comes to kitchen renovations. 
For a classic look, ceramic or porcelain tile can be used in either a solid color or patterned design. 
For a more contemporary look, stone or concrete tiles may be used. 
Hardwood flooring is another great option for kitchen renovations due to its durability and ability to add warmth and character to the room. 
Vinyl planks are also gaining popularity as they are easy to install and require minimal maintenance. 
Cork floors are an eco-friendly option that offers insulation and sound absorption. 
Final Word
By considering the latest trends in kitchen design and materials, you can create a beautiful space that will last for years to come. 
With the right materials, storage solutions and flooring options, your kitchen can be transformed into a unique and stylish space.  
Kitchen renovations are always changing and evolving, but 2023 is sure to bring some exciting new trends. Whether you're looking for bold colors or modern appliances, there's something out there for everyone. 
No matter what style you decide on, it's important to remember that the key is to focus on making your kitchen a place where you feel comfortable and inspired. 
With the right combination of style, function, and technology, there's no limit to what your dream kitchen can look like in 2023.
(Picture sources: Drivenbydecor, BHG , Milgard, Extraspace, Pinterest )