Best Towel Racks & Bars for Bathroom in 2022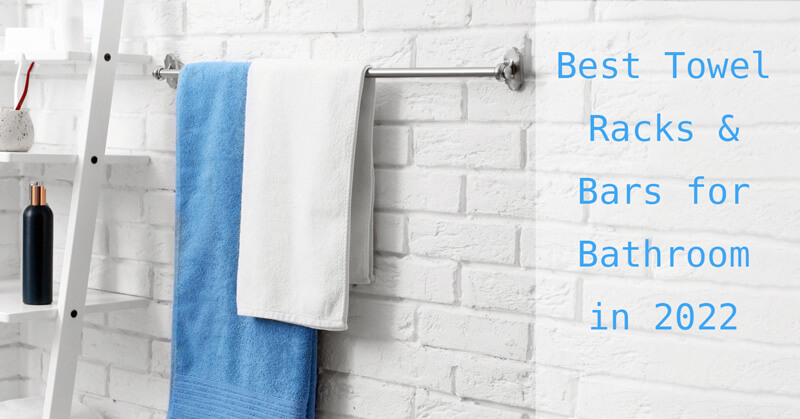 Small bathroom accessories like towel racks or towel bar are often overlooked. However, a towel rack is very important in your bathroom as it can not only save the space, but also decorate your bathroom. But there are so many types of towel racks on the market and their quality varies. It takes a lot of time and effort to pick out a good towel rack or bar. Take it easy! We have done this trivial matter for you. We have done a lot of research and summarized and listed the best towel racks and Bars for bathroom in 2022. So, check out the products mentioned below to choose the one that suits your requirements.
Franklin Brass KIN5PC-ORB Kinla Bathroom Accessory Kit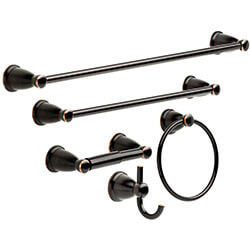 The Franklin Brass Kinla set helps give your bathroom both style and function, putting everything you need at your fingertips. This handy 5-piece tub accessory set in oil-rubbed bronze will instantly enhance the look and feel of your space. The set includes a wall mounted towel ring, wall mounted towel hook, wall mounted spring-loaded toilet paper holder, 24″ wall mounted towel rail and 18″ wall mounted towel rail.
Towel rings, towel hooks and towel rails provide ample storage space in the master and guest bathrooms as towel rails. A wall-mounted towel rack adds a stylish, functional touch to the collection. All mounting hardware and mounting templates are included, making setup a breeze for weekend DIYers.
JSVER Wall Mounted Towel Bar, Swivel Towel Rack SUS304 Stainless Steel Towel Bar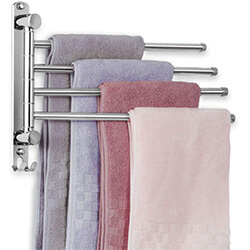 Made with rustproof materials and SUS304 stainless steel, this towel rack is corrosion-resistant, long-lasting and easy to clean. It will be a great solution for organizing towels in a small space. With four sturdy arms, you'll have extra storage for towels, washcloths and more without taking up space.
Multiple swivel arms allows you to spread out the desired arms for easy drying, and swivel them back against the wall to save space. This towel rack brings practical function to your space while adding some warmth and style to your decor.
WOWOW Bathroom Towel Bar 24 Inch Bath Towel Holder Wall Mount 304 Stainless Steel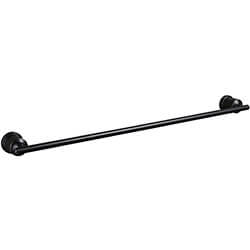 The metal bathroom towel rail is made of food grade 304 stainless steel, which is more resistant to rust, corrosion and scratches in wet bathroomsWith the stylish and exquisite polishing process, WOWOW Towel Bar would bring a modern and sleek appeal to your house, and complements the most kind of decor.
Wall-mounted bathroom towel holders can not only help you creatively hang towels, but also works well with removable S-Hooks to organize your clothes and bags, which allows you to enjoy a simpler and more convenient life. Besides, 2.4″ heightening spacing allows several bath towels to air out faster and not develop a smell.
2PCS Rustic Towel Rack for Bathroom Wall Mounted, Wall Mounted Wood Hanging Bathroom Towel Holder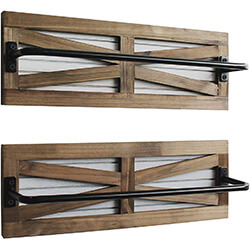 Made of solid fir and black sturdy metal towel rail, the wood wall mounted towel rail has a barn door trim style for a rustic and stylish look. This hanging bathroom towel rack will add a unique rustic charm to your space. The Barn Door Antique Towel Rack is perfect for use in the bathroom or kitchen. Hang dish towels and dry spices in the kitchen, or keep towels in the bathroom.
Soduku Towel Bar Wall Mounted Metal Wine Rack Towel Shelf for Bathroom Black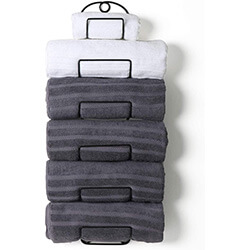 The 6-tier towel rack helps to store towels of different sizes, making it easier for you to reach them, and the stylish towel rack wall-mounted design is an easy way to maximize space and decorate your home. The wire scarf organizer is sturdy and durable, and the anti-rust coating eliminates your worries about water vapor in the bathroom. The towel rack is easy to install and can be hung directly on the door or fixed to the wall with screws.
Naturous Standing Towel Rack, 4 Swive Arm Freestanding Hand Towel Bar Stand with Round Base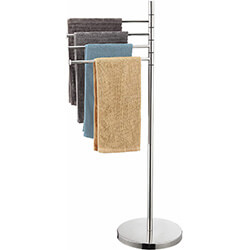 This towel rack features four independently movable swivel arms to hang wet and dry towels at the same time, providing ample space for storing multiple towels while letting them air dry. This stainless steel towel rack measures 12.2 inches long and 37.8 inches high, ensuring it can hold your large towels.
Besides, the towel rack is just the right height for you to put or take the towels. The sturdy base keeps the stand upright and helps prevent tipping; its small footprint allows it to be used in any bathroom without sacrificing valuable storage space.
BOZWELL Bathroom Lavatory Towel Rack with Two Towel Bars,24-Inch Stainless Steel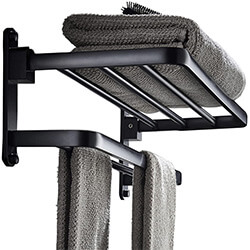 This three-layer matte black towel bar is suitable for any scene, and will definitely add a more beautiful scenery to your bathroom. It can be folded at right angles, it saves more space when you don't want to use the bathrobe rack.The bracket can be used not only in the bathroom, but also in the balcony, hall, etc. It is very easy to install; no welding, all fixed with screws to make the product stronger.
Towel Warmer 4 Bars Wall Mounted Heated Towel Racks for Bathroom Plug-in/Hardwired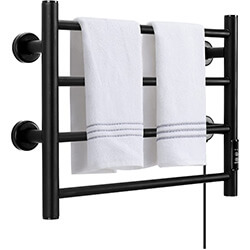 This heated towel rail has a 4-bar design and is made of durable stainless steel, which is easy to clean without any rust issues. A towel warmer can help warm towels and dry them before use. The towel warmer has a built-in timer and visual LED indicators. It provides you with a pleasant and comfortable heating or drying experience, especially during the colder months.
And this hot towel rack is very power-saving, and it is no problem to power on for a week, and it does not consume power. Towel rails are the perfect towel heating solution in your home. Its wall-mounted design maximizes your floor space and its contemporary style makes it suitable for your decor.
Closing thoughts on best towel racks & bars
There are various styles of towel racks and bars like freestanding, wall mounted, heated, multi-layers. A towel rack is very important in your bathroom as it can not only save the space, but also decorate your bathroom. When it comes to which one is the best, actually, it depends on your taste and need. In a word, there is no the best but the most suitable.