Best Kitchen Sink Strainers in 2022 – Latest Reviews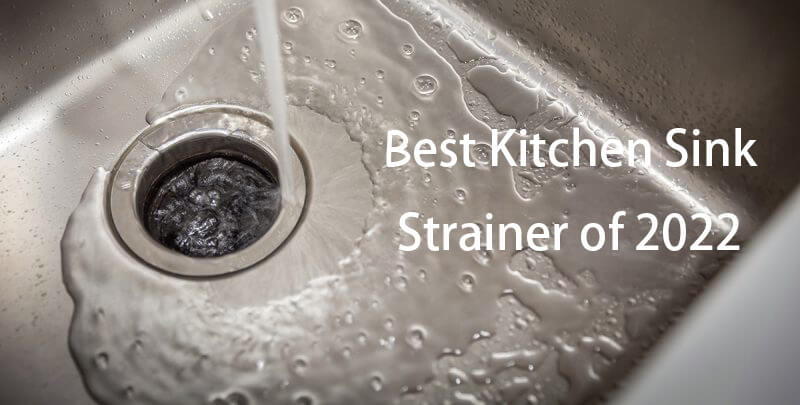 A kitchen sink strainer is a useful tool, which is usually made of metal. It looks like a mesh or perforated sieve and helps filter out solid debris present in the water, keeping the drainage system and sink clean. But there are so many types of sink strainer on the market and their quality varies. It takes a lot of time and effort to pick out a good quality sink drain assembly. Take it easy! We have done this trivial matter for you. We have done a lot of research and summarized and listed the 10 best kitchen sink strainers in 2022. So, check out the products mentioned below to choose the one that suits your requirements.
Moen 22036 3-1/2 Inch Kitchen Sink Stainless Steel Basket Strainer with Drain Assembly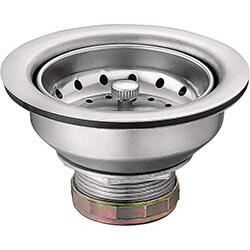 This entire strainer is a blend of reliable performance and smart design. The 3.5in kitchen sink strainer fits most sinks and prevents food particles from entering the drainage and clogging it. Compatible with Moen composite sinks, this drain assembly combines reliable performance with a durable design.
The built-in strainer keeps pieces of food and debris from entering your drain to help prevent expensive and disruptive plumbing clogs. This stainless composite drain assembly fits in easily with contemporary kitchens, making it a versatile piece of hardware.
Kitchen Sink Drain 3-1/2 Inch Sink Drain Assembly Kit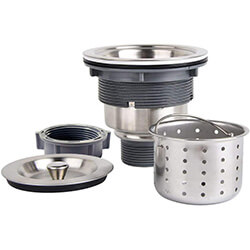 This kitchen sink strainer is one of the best kitchen sink strainer in 2022. It consists of a rubber gasket seal and a removable basket filter. It is also constructed of 304 stainless steel. It comes with PVC waterproof pad, rubber washer and lock nut.
The depth of the basket allows for more holes, making it easier to drain while keeping food particles out. This is an added advantage as the increased surface area means more waste is captured. It also reduces the number of times you need to clean it.
RSVP International Endurance® Stainless Steel Large Sink Strainer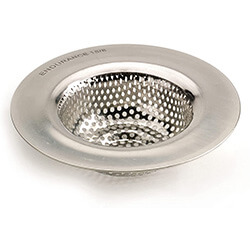 This stylish and beautiful kitchen tool is powerful because it comes in premium stainless steel and a polished mirror finish. The product has a smooth surface, is resistant to corrosion, rust, stains, and is easy to use and clean. The broad side measures 4 inches and is flush with the bottom of the sink. The filter's strongly drawn smooth rounded bottom measures 1″ and fits most sinks as well as garbage disposals.
This wide-brimmed stainless steel (18/8) sink filter has tiny precision perforations that allow water to drain freely while capturing food scraps and other debris that can clog drains and pipes. Its up-to-date design and charm will definitely add charm to your bar.
OXO Good Grips 2-in-1 Sink Strainer Stopper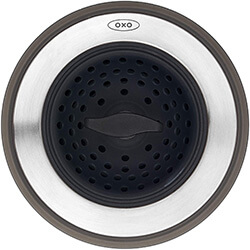 When it comes to kitchen sink filters, the OXO kitchen sink filter is the all-around smart choice. This one acts as both a filter and a stopper, preventing backflow while still protecting your pipes from large particles – and allowing you to fill your sink with water for cleaning your cookware.
Thanks to its BPA- and PVC-free silicone basket, it can be flipped inside out with a single pull, and easily cleaned by simply pulling on its center tab. Twist the same tab from left to right to switch between filter and stopper. Compared to other sink filters, this one is so convenient.
2 Pack – Kitchen Sink Strainer and Stopper Combo Basket Replacement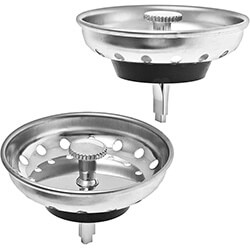 View on Amazon
This 2 pacK Kitchen Basket Strainer and Stopper Combo is durable, corrosion-resistant and built for long-term use. It features durable materials made of stainless steel and chrome-plated, high-quality plastic knobs; and its simple and unobstructed design complements any style of sink. You just empty by taking the basket out and installing a handle in the center, stain free and easy to clean; sink filter is dishwasher safe
It effectively prevents food, waste, waste from flowing into the drain and clogging the pipes in the kitchen. Use the Stopper to fill the sink with water for cleaning and soaking. The basket has 32 holes for smooth and fast drainage.
CORNERJOY 4 PCS Silicone Kitchen Sink Strainer,Large Wide Rim 4.5″ Diameter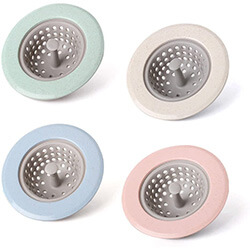 What sets this kitchen sink drain apart from the others on this list is that it comes in a variety of color options, so you can pick the color you like and add life and beauty to your kitchen. Besides, it is made of high-quality silicone and plastic, and the silicone underside will not scratch the sink nor deform. It permanently prevents clogging and keeps the downpipe clean and safe. You just need to pick up the center post and take it out for cleaning. Its soft, firm silicone is reversible, which makes it easy to remove debris.
4 Pack – Kitchen Sink Strainers and Stopper Plug Combo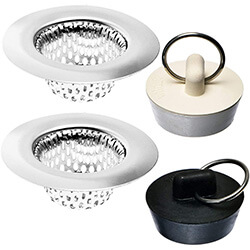 This strainer comes with a flat metal edge and is perfect for kitchen sinks. Made of high quality rust-proof, durable and reliable stainless steel. It's perfect for small sinks for everyday use and provides long-lasting resistance to drain clogging. This drain plug can be installed and removed without tools. During use, press into the drain to prevent water from flowing into the drain. Fits most sinks perfectly and will not leak.
4PCS Stainless Steel Kitchen and Bathroom Sink Strainer Set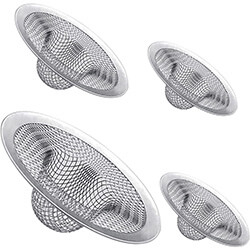 View on Amazon
When looking for a kitchen sink filter, the size of the  kitchen sink drain is important because different sinks have different drain holes. And Maxware Stainless Steel Sink Strainer Sets are available for filters of different diameters. In addition to a perfect fit for the kitchen sink, the set also includes models for bathroom sinks and even bathtubs. This means that every sink can fit this very stylish filter.
Each strainer is made of stainless steel mesh, which is very strong and flexible. The mesh allows water to flow through easily while catching any debris. The edges of the mesh filter are slightly flexible so that a plug can be installed on top. When needed, simply pop the filter out of the drain hole. While cleaning can be a little tricky, the flexible design helps make it as easy as possible. The strainer also stays firmly in place when in use.
BLANCO, Biscuit 441092 SILGRANIT-Matched Kitchen Drain Basket Strainer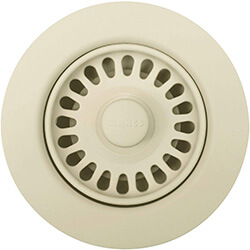 View on Amazon
Products manufactured by Blanco are known primarily for their high-end finishes and dependable durability. This filter, in particular, is available in various finishes from various construction materials such as stainless steel and anthracite.
The filter has a basket design that integrates seamlessly into your kitchen's existing filtration and drainage system. Additionally, the design is easy to remove and replace for quick cleaning and maintenance. Blanco filters are very reasonably priced and if you are more of a value for money, this filter will be one of your first choices.
Keeney K1439BLK Deep Thread 3.5-in. Cast Brass Kitchen Sink Strainer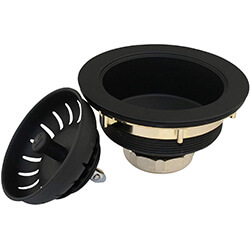 Made from a heavy duty brass body, Keeney K1439BLK is a heavy duty filter that is perfect for your sink. The filter is a complete unit, ideal for replacement or first-time installation. It has all the required parts like nuts and washers.
The basic feature of the filter is a power basket that can be easily attached to the drain at any time. Made of durable brass, it will work with any standard 3.5″ size sink drain and you can choose from a variety of finishes including oil-rubbed bronze, stainless steel, white and black.
Bottom Line on Best Kitchen Sink Strainers
A kitchen sink filter is a small but important part of your kitchen and the cheapest way to protect your plumbing. Without a filter, you may incur avoidable plumbing charges.
When choosing materials, stainless steel and silicone are the main choices. They all have pros and cons, so the final choice is a matter of personal preference. Stainless steel can look better, but scratches will appear. The rubber is more scratch resistant though, but some customers find it doesn't look as good. In general, which sink filter to buy is entirely up to your own preference.