Best Handheld Shower Heads in 2022 – Latest Reviews

When it comes to select the best handheld shower heads for your bathroom, there are a lot of options to consider within the marketplace. From the finish to material, flow rate, and weight, all of these factors can make you very hesitant and confusing. To help you decide on the best handheld shower head for your home or apartment bathroom, we put together this handy guide of best handheld shower heads in 2022 to help you with your purchase. Go for it!
Best handheld shower heads 2022 List
Moen 26112SRN Engage Magnetix Six-Function 5.5-Inch Handheld Shower head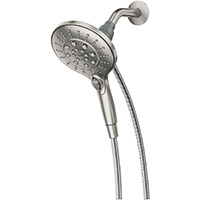 As far as the shower head itself is concerned, it has a 5.5-inch diameter jet capable of delivering 2 gallons per minute and 6 spray settings that can be cycled through at the click of a button. If you're looking for an affordable and simple yet powerful hand shower, this one is certainly worth considering.
For those who like simplicity and elegance, this hand shower is one of the best options. Unlike many of the other shower systems on this list, it takes a more classic approach to design, offering an ergonomic shower head that can be detached from its magnetic docking station and used as a handheld shower head.
WOWOW Shower Head with handheld, 5 Setting Handheld Shower Heads Oil Rubbed Bronze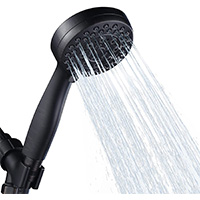 View on Amazon
This detachable shower head with ideal balance and weight in the hand,ergonomic design makes for superior comfort and ease of use. The artfully sculpted sprayface reveals simple, architectural forms that complement vintage and minimalist baths.
This shower head has 5 spray options,including Rain,Pulsating Massage,Power Spray,Rain+Massage,Rain+Power Spray. 5 different setting make a pressure boosting effect for the ultimate shower experience even at low pressure.
Its spray nozzles cover full area of shower heads,40 qualified self-cleaning flexible rubber nozzles and 18 ABS nozzles,these anti-clog rub-clean jets for easy cleaning and preventing lime buildup.
Oil rubbed bronze plated premium ABS shower, bracket and 59″ PVC hose,making it durable, rust-proof, fade-proof, resists fingerprints and water spots. 360° swivel-adjustable bracket for adjust the angles and directions as you need.
If you are looking for a high quality handheld shower heads with a reasonable price, it should be considered undoubtedly.
Delta Faucet 5-Spray H2Okinetic In2ition 2-in-1 Dual HandHeld Shower Head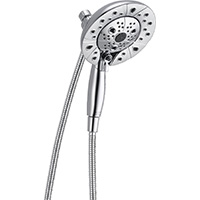 View on Amazon
This high-end shower has an innovative design that can be used as a rain shower when installed on a faucet. It consists of a handheld shower head that fits inside the mounted shower head using a simple magnetic connection. When used as a mounted shower head, it has a wide face with a diameter of 7 inches, nearly twice the size of a handheld device.
This showerhead also features H20kinetic technology, which allows its nozzle to produce larger droplets than a standard shower, providing better coverage and intensity than other showerheads, while using only 1.75 gallons per minute. This technology enables it to offer five powerful spray modes, including Kinetic Shower, Full Body, Massage and Full Body Spray with Massage.
Vida Alegría H5+ Handheld Shower Head; with Steel Hose, Holder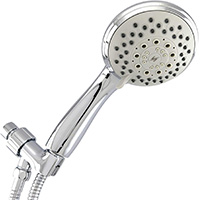 This hand shower is available in three different finishes: Polished Chrome Brushed Nickel and Matte Bronze. It comes with a flexible and stretchable hose that is 5 feet long in its usual position. However, when stretched, it can reach a length of 7 feet.
Silicone nozzles are very easy to clean. It's reasonable to expect minerals to build up in the shower head, especially if you don't have a whole-house filter or shower filter. With this shower head, however, all you have to do is flicking the nozzle. There are six different spray options to choose from.
AquaDance High Pressure 6-Setting 3.5″ Chrome Face Handheld Shower Head with Hose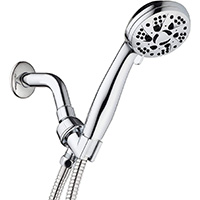 This product comes with a lifetime warranty, tied with the highest indicators on this list, and a shower head that can be used in handheld or overhead mode, available in 3 gorgeous finishes, each with 6 pressure options. While the colors offered are very good, the material used in the manufacturing process is mostly plastic, although this plastic is BPA free and of high quality.
The AquaDance High Pressure Chrome Facial Handheld Shower Head comes in three gorgeous finishes and comes with a lifetime warranty, the longest on this list. The shower head itself has six different water pressure settings, including rain, mist, and massage, among others. We also love the design, which can be used for overhead use in addition to being a hand shower.
Kohler Freespin Bellerose 3-Spray Patterns 5.25 in. Wall Mount Dual Shower Heads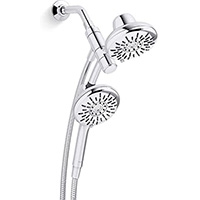 The Kohler Freespin Bellerose 3-Spray Dual-Spray Combination offers exceptional versatility and a clever design that allows you to maneuver two shower heads in a complete circle – one fixed and the other detachable handheld.
When it's not detached, the hand-held unit is like its attached counterpart, nestled in a swivel stand that lets you adjust the flow of water in all directions and hit different areas. So this option is perfect for families made up of people with different body types and spray preferences (there are 15 to choose from).
Couradric Handheld Shower Head, 6 Spray Setting High Pressure Shower Head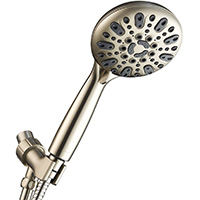 If you are looking for something of a little higher quality than the most basic handheld Shower heads available, this option might be the right one for you. It is made of non-toxic ABS plastic with a brushed nickel finish that resists spots and watermarks, helping to keep your bathroom looking shiny and clean.
It has an extra-large face with a 5" diameter and incorporates 48 self-cleaning medical nozzles that resist hard water deposit build-up while also keeping the water clean and hygienic to protect your family from illness.
It features a good range of six spray settings – Bubbling Rain, Bubbling Water, Power Rain, Shampoo Rinsing, Pulsating Massage, and Water Saving mode – allowing you to enjoy spa-like shower settings as well as stopping the water for shampooing, etc.
This is a high-quality shower head that will bring a touch of elegance to your bathroom. It is also sturdy and built to last, allowing you and your family to enjoy it for a long time to come.
Grohe Sena Stick Handheld Shower Head – 1 Spray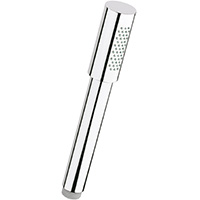 With the exception of the rubber sprayer, this Sena handheld shower head is entirely metal. This usually means that the shower head is prone to wear and tear, but it's actually resistant to scratches and limescale.
As with other Grohe products, if limescale does build up around the nozzle area, just one wipe will make the nozzle work like new again. The jets run at 2.5 GPM, which makes it a powerful wash.
But despite all the features the Sena Stick offers, it's actually a very limited system. First, it only has one shower setup. No pulsing or massage, just the standard rain setting for easy cleaning.
WOWOW Brushed Nickel High Pressure Dual Shower Head Combo with Handheld and 59″ Hose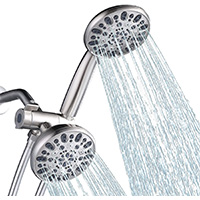 Brushed nickel plated premium ABS shower, bracket and 59″ PVC shower hose,high-temperature resistance, fingerpaint free and more durable. Dual solid brass hose nuts for a reliable leak-free connection.
The 3-way water diverter with an anti-swivel lock nut makes it easy to switch from showerhead to handheld showers or to use both shower heads at the same time. It also features a built-in 360° swivel-adjustable hand shower bracket for overhead use and storage.
4.5 inch dual shower heads system, included handheld shower head and rainfall shower head. Each high pressure shower head has 7 settings, Rain, Pulsating Massage, SPA Massage, Power Spray, Rain+SPA Massage, Rain+Pulsating Massage and Water Saving. You can choose from 48 full and combined water flow patterns.
Spray nozzles cover the full area of the showerhead, each shower has 58 qualified self-cleaning flexible rubber nozzles and 14 ABS nozzles, these anti-clog rub-clean jets for easy cleaning and preventing lime buildup.
ANZA Shower Head With Handheld and 6 Spray Settings, 5″ Detachable Hand held Showerhead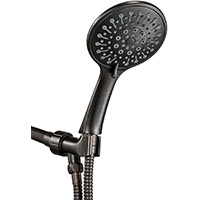 ANZA high pressure hand showers have impressive features of their own. The shower head has a 4.7″ diameter round surface with 76 ergonomically positioned anti-clogging nozzles.
ANZA shower heads are available in frosted bronze and brushed nickel with 6 spray settings, rain shower, full cover rain, wide massage, strong massage, rain massage and water saving pause. All of these options are accessible at the push of a dial. In fact, I can change them with my eyes closed.