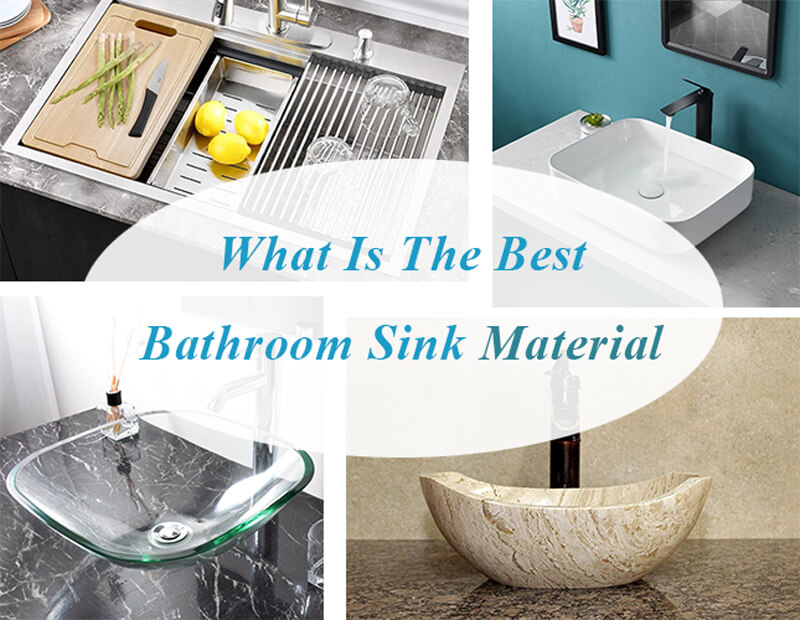 Designing or renovating a bathroom involves a multitude of decisions, and among them, choosing the right bathroom sink material is paramount. The sink isn't merely a utilitarian fixture; it plays a pivotal role in defining the aesthetic and functionality of the space. With an abundance of sink materials available, each possessing its unique advantages and drawbacks, it's imperative to delve into the pros and cons of these materials to make an informed decision.
The Best Bathroom Sink Material
Porcelain/Ceramic Sinks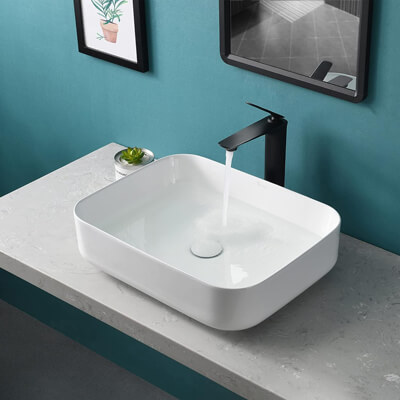 Porcelain and ceramic sinks are timeless classics that have retained their popularity over the years. These sinks are crafted from a blend of clay and mineral components, followed by firing at high temperatures to create a durable finished product.
Pros:
Versatility in Design: One of the standout features of porcelain and ceramic sinks is their extensive range of shapes, sizes, and colors. This versatility ensures that you can effortlessly find a sink that complements your bathroom's design theme.
Durability: These sinks boast impressive resistance against stains, scratches, and fading, guaranteeing a long lifespan if properly maintained.
Affordability: In comparison to other sink materials, porcelain and ceramic sinks are generally budget-friendly, making them an attractive option for cost-conscious homeowners.
Cons:
Susceptible to Chipping: While durability is a hallmark, porcelain and ceramic sinks can chip or crack if subjected to the impact of heavy objects.
Heat Sensitivity: Direct exposure to high temperatures may lead to thermal shock, potentially causing damage to the sink's surface.
Stainless Steel Sinks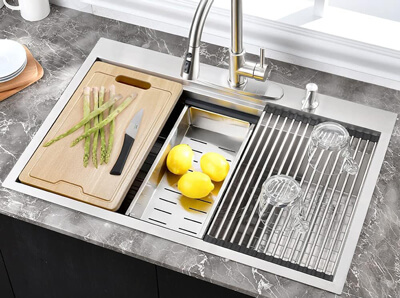 Stainless steel sinks have emerged as a modern and sleek choice for contemporary bathrooms. Comprising a blend of steel, chromium, and nickel, these sinks are cherished for their elegant appearance.
Pros:
Contemporary Aesthetics: The minimalist charm of stainless steel seamlessly complements modern bathroom designs, contributing to an overall sleek and streamlined look.
Hygiene-Friendly: Thanks to their non-porous nature, stainless steel sinks are inherently resistant to bacteria accumulation, ensuring easy cleaning and maintenance.
Resilience to Heat and Stains: With remarkable resistance to high temperatures and stains, stainless steel sinks effortlessly withstand the rigors of everyday use.
Cons:
Prone to Scratches: While stainless steel is durable, it's not impervious to scratches and can develop fine lines over time.
Visible Water Spots: Stainless steel's reflective surface can highlight water spots and fingerprints, necessitating frequent cleaning to maintain its pristine appearance.
Natural Stone Sinks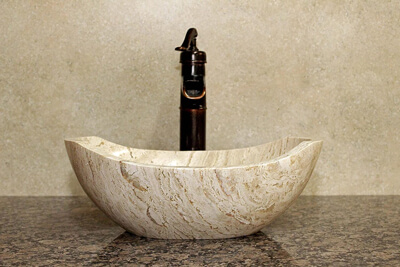 For a touch of opulence and uniqueness, natural stone sinks like granite, marble, and travertine stand out. These sinks are carved from solid blocks of stone, ensuring an exclusive and distinctive look.
Pros:
Aesthetic Grandeur: The innate variations in patterns and colors within natural stone guarantee that each sink is a piece of art, elevating the bathroom's visual appeal.
Unyielding Durability: The robustness of stone sinks allows them to endure heavy usage, making them suitable for both residential and commercial settings.
Heat Endurance: Natural stone sinks exhibit exceptional tolerance for high temperatures, an advantage in bathrooms where hot styling tools might come into play.
Cons:
Maintenance Demands: Regular sealing is imperative to prevent staining and water damage in natural stone sinks, which adds to their long-term maintenance requirements.
Chemical Sensitivity: Some cleaning agents can harm the surface of these sinks due to their susceptibility to acidic substances, necessitating careful consideration of cleaning products.
Glass Sinks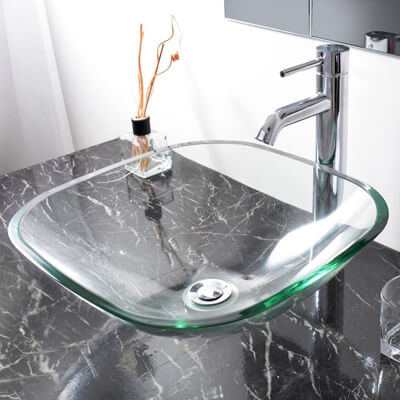 Adding a contemporary artistic flair to bathrooms, glass sinks, often constructed from tempered glass for safety, create a striking focal point in the space.
Pros:
Artistic Finesse: Available in an array of colors and styles, glass sinks lend an artistic touch that transforms the bathroom into a sophisticated haven.
Effortless Maintenance: The non-porous nature of glass makes cleaning a breeze, ensuring the sink's allure remains intact over time.
Light Manipulation: Glass sinks can manipulate light, introducing brightness and a sense of spaciousness to the bathroom.
Cons:
Fragility Factor: Despite the strength of tempered glass, it remains breakable and susceptible to chips when exposed to significant force.
Visible Water Imperfections: The reflective surface of glass sinks can amplify the appearance of water spots and smudges, necessitating consistent cleaning.
Conclusion
Choosing the ideal bathroom sink material requires a judicious balance between aesthetics, durability, maintenance considerations, and budget limitations. The selection process involves a thorough assessment of each material's merits and limitations, aligning them with your personal preferences and the overall bathroom design. Whether you opt for the timeless allure of porcelain, the modern elegance of stainless steel, the luxuriousness of natural stone, or the artistic flair of glass, your chosen sink material will indubitably contribute to both the practicality and visual splendor of your bathroom sanctuary.