10 Best Bathroom Faucets in 2022 – Latest Reviews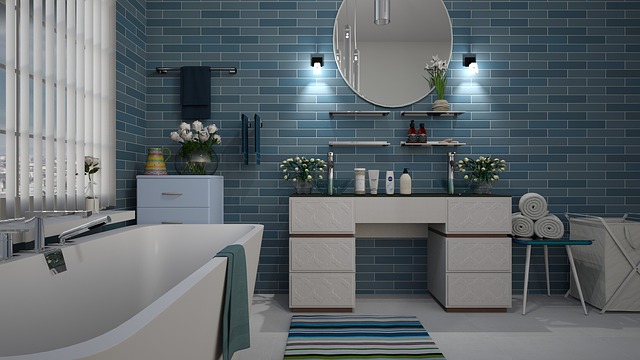 A bathroom faucet is a small thing that can, aesthetically, have a significant impact on your bathroom style. If you are building a new bathroom or renovating an old one, you should choose a faucet carefully. With the right faucet, you can drastically change the look of your bathroom.
There are many bathroom faucets to be found in the market. However, not all of them are good. Some might even look good but have poor quality. If you want to buy a new faucet for your bathroom, this article is right for you. In this article, we are presenting you with the best bathroom faucets in 2022 that you can find on the market.
Best bathroom Faucets 2022 List
Moen 6410BN Eva Two-Handle Centerset Bathroom Faucet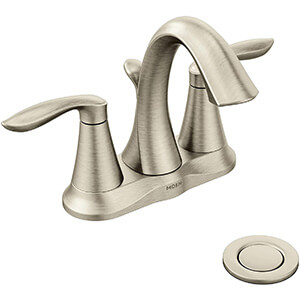 This is one of the best bathroom faucets in 2022. With a swan-like spout, this will be the perfect elegant choice. It features two handles that looks like a petal. They are responsible for adjusting the level of water and temperature. The faucet requires a 4" three holes for an easy install. Its flawless brushed nickel finish prevents the faucet from corroding or flaking.
This faucet meets the WaterSense standards with 1.2 gallons per minute (GPM). It is ideal for your everyday tasks like hand washing. The height of the spout measures 7.95 inches giving you more space to work with. Last but not least, expect a lifetime limited warranty against defects and drips. The product also includes a metal pop-up drain for easy assembly.
Delta Modern Single Hole Bathroom Faucet Chrome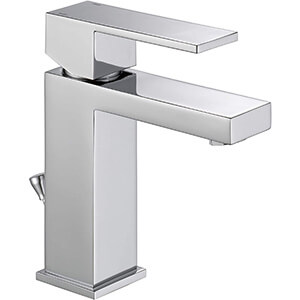 This stylish faucet has a stunning glossy look that pairs beautifully with bright whites and crisp lines. Creating a modern contrast, it also works well with traditional spaces and retro-inspired bathrooms. A coordinating pop-up drain assembly including a plug and plated flange with tap.
This is a faucet with the Water-Sense label that uses 20% less water than other faucets. This saves you time while still giving you the performance you expect from a Delta product. Additionally, the Delta Modern single lever faucet is ADA compliant.
With its nice clean lines, this is a product that is easy to maintain and clean. Additionally, the design allows easy control of temperature and water flow. Designed to fit 3-hole or 1-hole configuration, it is necessary to purchase a separate deck plate for 3-hole installation.
WOWOW Widespread Bathroom Faucet Brass Bathroom Sink Faucet Black Stainless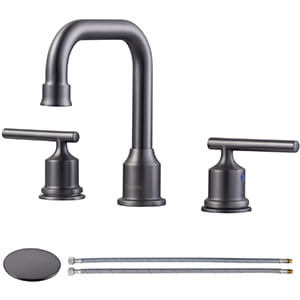 Exquisite finish, retro widespread bathroom style, the durability of this bathroom faucet is ensured, non-corrosion, non-rust, anti-scratch. Unique fast connect construction, the hot and cold water can be mixed by quick-install pipe without wrench, through technique to prevent pipe burst.
4 -16 inch widespread bathroom faucets 3-hole mount, the installing distance can be adjusted on requirements, comes with the pop up drain. Double handle, 3 pieces design is convenient for precise controlling in both volume and water temperature. High sealing ceramic cartridge, have drip-free performance. And water-saving NEOPERL aerator is equipped.
BWE Waterfall Bathroom Faucet Oil Rubbed Bronze Single-Handle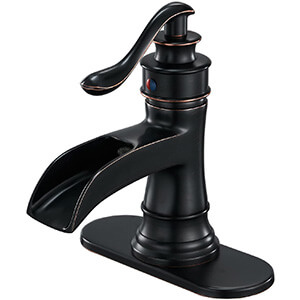 Waterfall faucets are nothing new on the market. However, this one has a very unique and intricate design. Ideal for any bathroom, it's available as a one-piece faucet or a three-piece package.
If you buy a single pack, you'll notice that it comes with a nifty, handy lever. It's a bit curved and might remind you of some old-school equipment, and it looks great. If you order a set of three, instead of that level, you'll have two separate levers for hot and cold water. These look great too.
After all, considering the price tag and quality, we can say that this is a very satisfying faucet. If you don't want to invest a lot of money in a new valve, and still want promising quality, it's probably the best option for you!
Grohe Euroeco Cosmopolitan E Single Hole Touchless Electronic Bathroom Faucet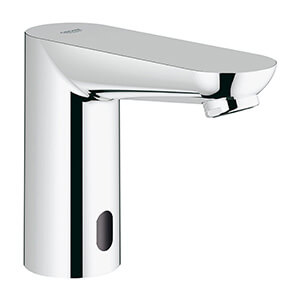 This is one of the most stylish touchless faucets with a chrome finish that easily matches any sink. Grohe faucets give your bathroom a glamorous look. The company gives the faucet a modern look and mixes with other bathroom accessories to give the bathroom a luxurious feel. This T-shaped design single hole touchless bathroom faucet with temperature control is perfect for All have a hole. The faucet doesn't have a deck plate, so if you have a three-hole sink, then you'll have to buy a deck plate for it.
It has a single pole infrared sensor for mixing hot and cold water that works according to preset temperature and flows water according to preset temperature. This sensor bathroom faucet is not suitable for those on a low budget because the price of the faucet is high and the reason for this is the use of high quality brass material and high precision sensors in the faucet. Due to the brass body, the faucet works much better than other faucets in the list. many.
Delta Faucet Trinsic Wall Mount Faucet, Matte Black Bathroom Faucet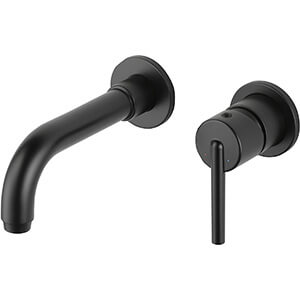 Delta Black Wall Mounted Bathroom Faucet is definitely one of the best matte black wall mounted bathroom faucets. The material used to make this faucet (spout and handle) is brass and that's where it gets all its strength. At 414 kPa, this faucet delivers approximately 1.20 gallons per minute, comparable to any other quality standard wall-mounted faucet on the market.
For installation purposes, you must use a two-hole mounting mechanism, and you should be aware that there is no roughing kit available for this black bathroom faucet, however, a trim kit is included in the package.
American Standard Berwick Widespread Lavatory Faucet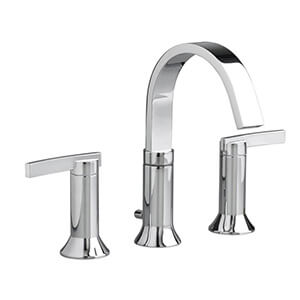 This American Standard Hampton faucet creates an atmosphere for ensuring traditional décor. It has extreme durability and lasts for a longer time. This bathroom faucet is offering ceramic disc valve which is completely drip-down free.
Also, you don't have to get tensed about the maintenance as the valve offers swift handle control and can fight with the regardless of the temperature as well as hard water.
The Hampton bathroom faucet provides brass construction to promote the durability of the sink faucet. You will notice the enhanced durability for the excellent properties of the Brass.
The Brass is ideal for an extended period of contact with water. Also, the design of the faucet is made with the Physical Vapor Deposition method. This method makes the finish to become a part of the faucet in lieu of just an outside splotch.
WOWOW Single Handle Commercial Bathroom Faucet Oiled Rubbed Bronze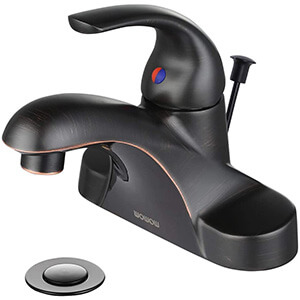 This ingle handle bathroom faucet fits standard 4-Inch installation. Classic faucet comes with lift rod and pop up stopper. Material of bathroom faucet single: Zinc alloy / Stainless steel; Surface: Brushed nickel and finger print free finish can resist corrosion.
The handle of sink faucet is very easy to move back-and-forth up-and-down. Easy to control water volume and water temperature. Fast, tool free installation lavatory faucet, 1.2 inch maximum mounting depth. The bathroom faucet brushed nickel come with metal drain assembly, water come out of faucet sink through pressing down the lift rod, avoiding mucking up your washed hands.
Bathroom faucet 3 hole has fashion classic retro design. Deck mounted vanity faucet fits for rent house, new condo, single-apartment, motor home, travel trailer and family use.
Premier Faucet 284443 Sanibel Lead Free Single Handle Lavatory Faucet, Chrome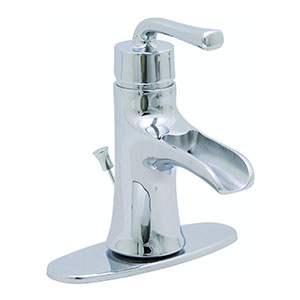 Premier's bathroom sink faucet is a single handle waterfall faucet that looks great with a traditional sink. However, due to the low outlet clearance, it is really not suitable for container sink. The total height of the faucet is less than 7.5 inches, and the outlet clearance is only 3 inches. The length of the outlet is 4 inches.The waterfall faucet has a lever on the top to control the water temperature and flow.
This bathroom faucet is designed for single hole installation, but with the included hole cover, it can be easily installed even if you have two or three holes. The deck plate is 6.5 inches from side to side. The maximum deck thickness installed is 1.25 inches. This faucet is designed to connect 1 / 2 inch water line, but you can also use an adapter to convert it to 3 / 8 inch if necessary.
The bathroom faucet kit comes with an easily installable pop-up drain. It is not clear whether the drain assembly is compatible with a sink with an overflow drain. The faucet uses ceramic disc filter element, which can provide longer service life without replacement or lubrication. In addition, Premier provides a limited lifetime warranty for the operation and finish of its bathroom faucets.
KOHLER K-72218-B7-VS Sensate Touchless Kitchen Faucet, Vibrant Stainless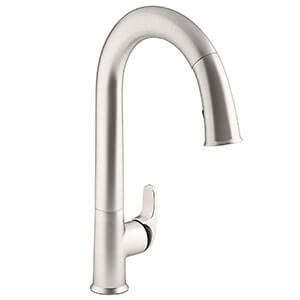 The toughness of this material makes it very suitable for large houses with heavy kitchen traffic. It comes in 4 beautiful colors, namely bright stainless steel, bright stainless steel with a black tone, polished chrome and polished chrome finish with a black tone. Motion sensor technology responds within 20 milliseconds, which is the fastest response technology on the market. The built-in "precise activation" window prevents false activation, and because it uses an AC adapter, you don't need to worry about running out of battery.
Due to the easy-to-locate buttons on the sprinklers, using the flow and sweep spraying functions is a piece of cake. In addition, promotional technology allows you to move easily while performing kitchen tasks. Whether you are at work or washing your hands, the nylon hose will move with your movements instead of forcing you to make uncomfortable twists. The uniqueness of this motion-controlled kitchen faucet is that the sprinkler also responds to the sensor, giving you a completely touch-free experience.