7 Best Granite Composite Sink Brands in 2022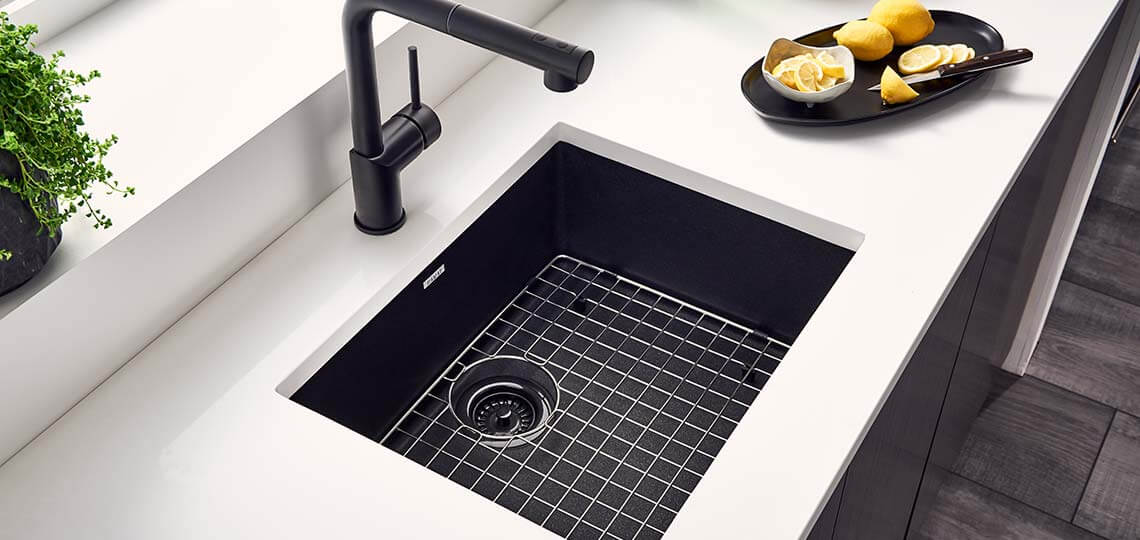 Whether you're shopping for a kitchen or bathroom sink, there are plenty of options. Granite composite is an excellent alternative to solid stone because it has a lower price and many of the same benefits.
However, the abundance of options is a double-edged sword. Sometimes, having too many options can make narrowing the playing field tricky. So, to make it easier for you to find the right granite composite sink, we've researched some of the top granite composite sink brands, as well as some excellent models, so keep reading to learn more about 7 best granite composite sink brands in 2022!
What is granite composite?
Granite composites are engineered mixtures of crushed stone and acrylic resin. Generally, crushed stone consists of quartz and stone dust. The two materials are mixed together and shaped to produce the final result.
While granite composite is not pure stone, it mimics the same benefits of solid granite. Granite composite sinks are very durable and low maintenance. Products made from granite composites are generally much lighter than solid granite, but still hold up well in everyday use.
Is a granite composite sink any good?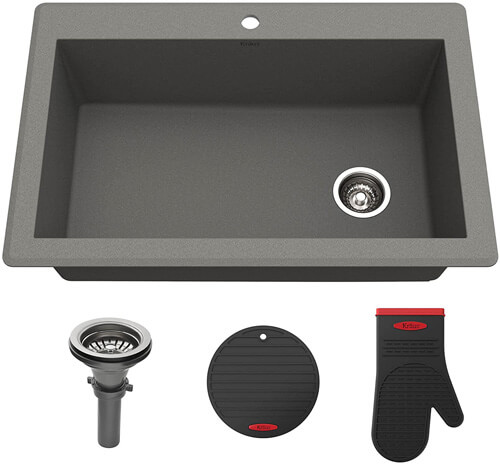 Granite composite sinks are a popular choice on the market, mainly because of their excellent durability. This material is one of the most scratch-resistant sink materials on the market today, making it an excellent choice for high-traffic kitchens.
While these sinks can be expensive (not as expensive as solid granite), you get what you pay for. They withstand chemicals, scratches, dents and dents well. Durability is related to the high density of rock particles on the surface of the sink.
If you appreciate the look of natural granite, a composite sink may not meet your expectations. Since the rock in the sink is crushed, it can be mixed with the resin and the result will look more uniform than natural granite.
Some of the advantages and disadvantages of granite composite kitchen sinks include:
Advantages
Cheaper than solid granite sinks
Durable
Various sizes, styles and shapes
Non-porous, hygienic, heat-resistant
Easy to clean
Disadvantages
Cheaper kitchen sinks available (stainless steel, etc.)
Potential for chipping and cracking
Quite heavy
May require specific maintenance
Possibility of dyeing with lighter colors
Best Granite Composite Sink Brands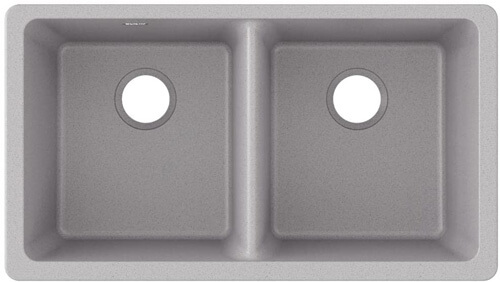 To simplify your search for the best granite composite sinks, we're going to take a look at some of the top brands. Plus, we're going to look at one of the brand's best granite composite sink options. Hopefully this breakdown will make it easier for you to find the best granite composite sink.
Ruvati
Headquartered in Texas, Ruvati is another young company on our list. It was established in 2009, but quickly became a well-known brand for its high-quality products. In addition to kitchen sinks, Ruvati also offers other kitchen and bathroom accessories, including faucets and showers. While the brand prioritizes superior quality, the pricing isn't outrageous. The brand's great value for money makes it a popular choice, especially among homeowners in the United States.
Kraus
Founded in 2007 and headquartered in New York, Kraus is a popular kitchen and bathroom brand. Despite its relative youth, the company quickly made a name for itself and jumped to the forefront of the industry. The company offers a wide range of kitchen and bathroom fixtures, including shower and bathtub fixtures, kitchen and bathroom faucets, and kitchen and bathroom sinks. Fixtures come in a variety of finishes, colors and designs to suit almost any aesthetic preference. The company's focus on quality is reflected in its sinks. Several of its granite composite sinks are very popular in homes across the United States.
Hauser
As one of America's leading stainless steel sink brands, Hauser is a common choice in many homes. The company produces quality products at affordable prices. These sinks are built to last and are available in many styles.
Elkay
With over 100 years of history, Elkay knows the bathroom industry inside out. Elkay is the largest stainless steel sink company in the United States, offering a wealth of options for any scene. In addition to kitchen sinks, Elkay manufactures faucets, chillers, water dispensers, water bottle fillers and a wide range of kitchen and bathroom products.
Franke
Headquartered in Aalborg, Switzerland, Franke is a reliable choice for a wide range of kitchen and bathroom equipment. The company's sinks are known for their durability and longevity. Kitchen sink materials include refractory clay, stainless steel and granite composites.
Blanco
As a well-known brand in the industry, Blanco offers a wide selection of products. The company operates in 100 countries around the world, with subsidiaries in North America and Europe. Blanco specializes in the manufacture and sale of kitchen sinks, but also offers other products, including a variety of kitchen fixtures. The overall quality of its products is excellent, setting it apart from many other brands. Its granite composite sink is also very popular.
Swanstone
Swanstone's products are found across many online commerce platforms, including Wayfair and Amazon, and are a very solid brand. The company prioritizes quality, which is reflected in the prices of its products. Although they are expensive, Swanstone's designs are innovative and unmatched by most other companies.