Ruvati Vs Kraus Sinks: Pros, Cons, Differences

When you're looking for a new kitchen sink, you'll find a lot of options, with different brands on the market. Ruvati and Kraus top the list of the best sink products in the world. We are often confused when considering which one is the best sink. Because both brands have reputations and their products are of good quality. This article covers various aspects such as function, style and feature comparison of Ruvati and Kraus sinks so that you can decide which brand to buy for your new kitchen sink.
Ruvati

It is an American brand that produces different products for kitchens and bathrooms. Among the various items in the kitchen, the sink is the most popular product among them.
However, the brand is not that old. It was established in 2009 and continues to produce high-end products for customers.
Most of Ruvati's kitchen sinks are made of stainless steel. Most of their sinks are made of top quality T-304 stainless steel and 16 gauge thickness. Therefore, the sink is durable enough to withstand heavy loads.
Depending on your sink model, the installation process may vary. They have sinks for under-mount, above-mount, and flush-mount.
In addition to the finest materials, the sink features a spacious design, which is essential to accommodate messy plates and cutlery. You'll find single and double bowl kitchen sinks from them.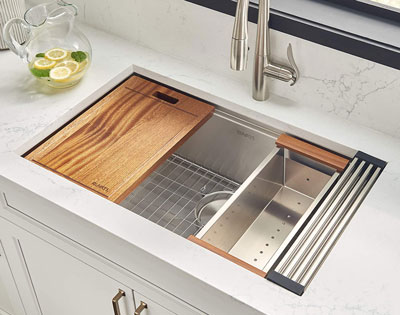 Pros
Good quality and suitable for testing
Reasonably priced compared to the quality
Safely protected and includes all necessary accessories
Cons
Price is higher than before
Kraus

Kraus is an American brand that was launched in 2007. The company mainly produces kitchen products and bathroom products.
There are many manufacturers of kitchen sinks, Klaus is a leading manufacturer among them. They use advanced new technologies to raise the bar for kitchen sinks, vanities and more.
Compared to Ruvati, Kraus sinks are made of high-quality materials to ensure the best quality of kitchen sinks. The cutting-edge design also enhances the quality of Kraus kitchen sinks.
The manufacturer Kraus produces kitchen sinks according to the prevailing fashion on the market. They also focus on their features to make their products more popular with customers.
Kraus manufacturers not only focus on quality, but also on budget. They have many experts who observe and search for the best and most modern design ideas according to the needs of the clients.
Kraus kitchen sinks manufacture sinks from stainless steel, ceramic, granite composites, and CeramTek materials.
Their products feature a space-saving design for most of the sinks. You can use your sink as a countertop when you're not working in it.
For this, they provide a wooden board that you can place on top of the sink, which you can use as a cutting board. This feature is really useful if you live in a small space.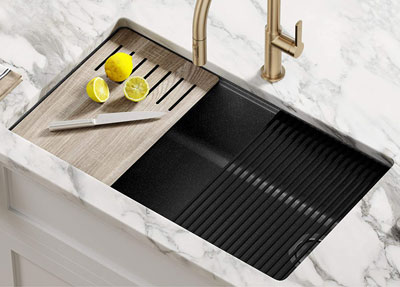 Pros
Easy to install all required accessories
Many different options, styles, materials and designs
Adopt noise reduction technology to create a quiet working environment
Great usability with extra accessories to get the job done with ease
Cons
High price
Prone to scratches
Final words on ruvati vs kraus sinks
Ruvati and Kraus are the world's best-selling sink brands. Durable products and extreme cost performance make them the choice of countless families. If you're thinking of buying, make sure you've considered all requirements and styles. Ruvati is perfect for ordinary to busy kitchens. However, Claus workstations are best suited for super busy kitchens. Whichever you choose, it will be a perfect match for your kitchen.
FAQs
Do Kraus sinks any good?
The sink is the flagship product in the Claus product line, and of course it is of first-class quality. However, since they source their products from Chinese manufacturers, they can offer better stainless steel sinks at a lower price than their peers.
Is Kohler a good brand?
Kohler is one of the best kitchen sink brands for multitaskers. It will maximize your productivity thanks to its compact design, allowing the sink to work like a single unit.
Do Ruvati sinks scratch easily?
Ruvati sinks rarely scratch unless used continuously in a rough fashion. This is because the high-quality materials used to manufacture these sinks are highly resistant to damage. However, through everyday use and grinding of tools, these Ruvati sinks can get minor scratches here and there, despite their limited rust warranty. But with proper use and care, they are completely avoidable.