Best Towel Hooks for Bathroom in 2022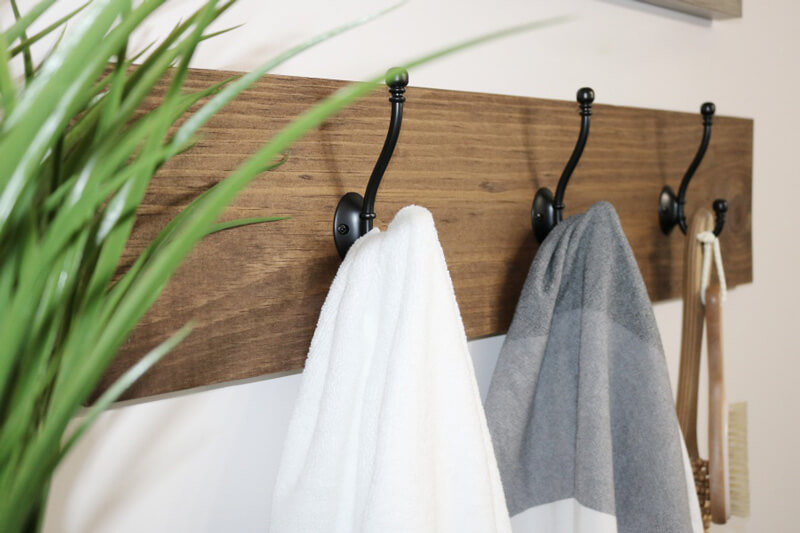 Small bathroom accessories like towel hooks are often overlooked. However, a towel hook is very important in your bathroom as it can not only save the space, but also decorate your bathroom. But there are so many types of towel hooks on the market and their quality varies. It takes a lot of time and effort to pick out a good towel hook. Take it easy! We have done this trivial matter for you. We have done a lot of research and summarized and listed the best towel hooks for bathroom in 2022. So, check out the products mentioned below to choose the one that suits your requirements.
Best towel hooks for bathroom of 2022 list
Nolimas Bathroom Towel Hook SUS304 Stainless Steel Square Clothes Coat Robe Hooks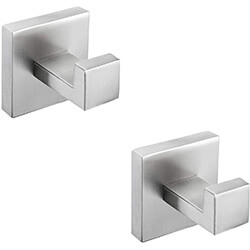 Made of rock solid SUS304 tempered steel and 18/10 chrome/nickel, this towel hook is 100% rust and corrosion resistant. It is a strong material that resists corrosion and prevents rust from lining up on the surface.
The surface is very smooth and smooth. You won't find any sharp edges nor tear off any of your clothing. You can keep your shirts, coats, bathrobes, showers, bags and other things. It's also fingerprint proof, and if you're renovating your house, you can install them too. It will add a nice touch and also add a premium style to your bathroom or toilet.
Liberty Hardware B59104Z-AB-C Double Prong Robe Hook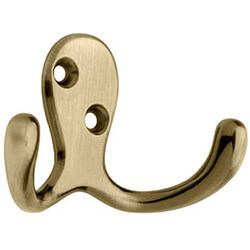 This two claw robe hook offers practical storage in a small package. Made of antique brass, this hook is perfect for use in bedrooms, bathrooms and closets. Maximum weight is 35 lbs when mounted on solid wood or studs.
The beauty of this bathroom hook isn't its style — it's a hook you'll find at any hardware store — but its material and how well it fits into the overall bathroom style. Sometimes all you need is a small detail to bring the space together rather than something dramatic and eye-catching.
WOWOW Bathroom Towel Hook Black 304 Stainless Steel Towel Hook for Bathroom Coat Robe Clothes Hook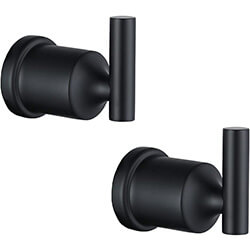 Made of Type 304 premium grade stainless steel, this towel hook is no fade and stain-proof and suitable for humid environments such as toilets, bathrooms, kitchens, etc. Come with unique base design and modern style design, this matte black towel hook can easily create an eye-catching stylish and modern home.
This space-saving wall-mounted coat hooks allow you to easily organize your belongings and give you a clean and spacious home. And you don't need to worried about imstallation. It is very easy to install and comes with all hardware screw accessories.
DELTA Dansant Towel Hook, Robe Hook Satin Nickel Towel Holder for Bathroom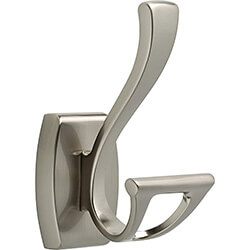 The Delta Dansant Towel Hook features elegant curve which coordinate with any transitional décor. The multipurpose towel hook securely holds all types of towels for bathing convenience. It is made of a high-quality zinc die-cast base and has a brushed nickel finish. Its production features SpotShield technology to resist water spots, stains, and fingerprints. The double hook conveniently increases the hanging capacity.
Razor Holder Shaver Hook Hanger Stand(2 Pack)Self Adhesive Stainless Steel Heavy Duty Utility Storage Hook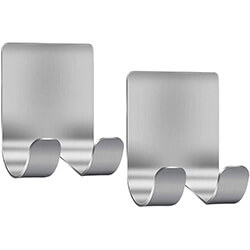 The biggest feature of this towel hook is that it does not need to be connected by drilling holes in the wall. Instead, both parts come with adhesive backed with a protective layer that you can remove for installation. The 304 stainless steel construction makes the hook durable as the material resists rust. Also, thanks to the brushed finish, it matches most bathrooms, as the design blends perfectly with the decor. Use them to hang other items like towels, hats, robes or umbrellas.
Over The Door Hooks, Towel Holder for Bathroom, Door Mount Towel Rack Towel Hooks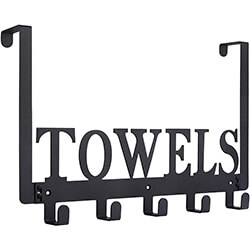 This towel rack is removable. It can be assembled to hang on the door or disassembled to be nailed to the wall. Two detachable rods that can be removed in a very simple way without any tools. It is made of high quality high manganese steel, black sandblasted, smooth to the touch, finely carved, durable, waterproof and rustproof.
Towel rack is suitable for bathroom, kitchen, cabinet, living room, bedroom, swimming pool, etc. The towel rack is perfect for hanging towels, bathrobes, coats, beach towels, bags, umbrellas and kitchenware.
KES Solid Metal Swivel Hook Heavy Duty Folding Swing Arm Triple Coat Hook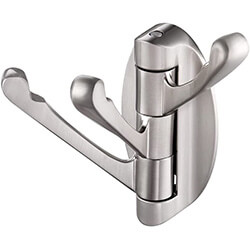 Kes solid metal swivel bathroom hooks are made of strong and durable zinc alloy, so they are durable and rust resistant. Its mounting bracket is SUS 304 stainless steel, so it is resistant to corrosion and rust, especially it also contains chromium and nickel.
This hook can stay in the wet and has a very interesting design as it has three swinging hooks. It can be installed in tight spaces and fits into any bathroom decor. The hooks can be stowed away when the hanger is not in use.
JINSHUNFA Wall Hooks 13lb(Max) Transparent Reusable Seamless Hooks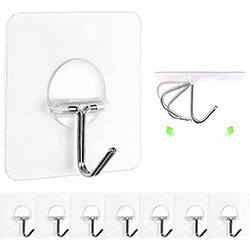 They come with a unique transparent design great in complementing your bathroom's décor. The hooks invisible appearance makes them almost trace-less, thereby enhancing its style. You don't drill or use nails in installing them. Also, they get removed without damaging the walls, meaning you can use them repeatedly after cleaning.
Thanks to the PC and reliable stainless steel used in their making, they are stable and durable. These hooks are ideal to use on wood, metal, ceramic, tile, and plastic surface. But you shouldn't use them on painted walls because the hooks may not fall off.
Adhesive Hooks Heavy Duty Wall Hooks Waterproof Stainless Steel Hooks for Hanging Coat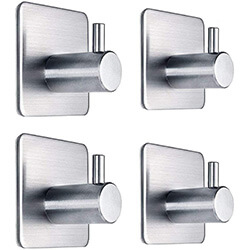 Made of 304 brushed stainless steel, this towel hook set is sure to complement the rest of your bathroom decor. The hooks are waterproof and rust-resistant, so you don't have to worry about the steam from the shower damaging the hooks. To install the hook, all you need to do is remove the backing to expose the adhesive.
Final Words
If you have little wall space, you may find it difficult to accommodate multiple towels, especially if you have roommates or a large family. Towel hooks are a great solution for hanging multiple towels in the bathroom. They are easy to install and can be customized almost infinitely.
The first choice is WOWOW Bathroom Towel Hook Black 304 Stainless Steel Towel Hook for Bathroom Coat Robe Clothes Hook, but depending on your bathroom, you need to consider all options before choosing the right towel hook for you.